I. Only. Smoke. Girl. Blunts. – Just A Few Magical Musical Moments Of (my) Burning Man 2019 Metamorphoses
One last reflection on Burning Man 2019 – the Music. In the past, I've been guilty of (mistakenly) approaching BM not unlike a music festival, in that I planned my activities around when this or that DJ (or occasionally a band) was slated to appear at a particular sound camp and/or art car. While this can be an enjoyable way to "do" Burning Man, it is- without question- as the Burners say "doing it wrong."
Previously, I've published articles about favorite music I encountered on the Playa, and for a time, I considered creating something for this year's event, Metamorphoses. But in lieu of a feature that's more "official", I offer something of a first-person social media post, or blog post, instead. I didn't put the music first this year, so I couldn't in good conscience write a thorough piece on the topic. Had to switch it up a little bit in 2019, beginning with the modus operandi.
My virgin year, Cargo Cult in 2013, I just took everything in, danced my ass off, then came home totally flabbergasted and in complete astonishment, & wrote something up for JamBase. In 2016, I was asked to put something similar, but more focused, together for Everfest. This year, attending with my partner Alicia, we set an intention to approach BM differently, that is to say, with little to no plan at all, and not to allow who's (supposed to be) playing when to dictate our daily adventure schedule. I didn't even look at the Kate Houston – Rock Star Librarian until Friday morning of Burn week! Blasphemy, I know, but I was dedicated to indifference this year. Should be noted, we were also camping with Abraxas, so just rolling with the Dragon crew has built in epic musical happenings morning and night, especially this year with the Funktion1 rig, thanks to Szaman & the Cosmic Synergy .
This is in no way a complete accounting of the music of Burning Man, nor the "Best of" anything, only a small slice of my own dancefloor journeys this particular year.
Sure, we chased music around the playa a little bit each night, and certainly the most rewarding and fulfilling experiences were the dance sessions that we shared with friends old and new, getting loose to some of our favorite selectahs. But mostly, we just followed our random muse, biked around to look at and play on Big Art, and of course, visited several theme camps for silliness, food, drink, and general BM shenanigans.
However, in spite of what some people say, the music found throughout Black Rock City can be otherworldly. This year, though I caught decidedly less DJ sets (and almost no bands), there were still a couple of all time Zen-aerobics dance sessions, and magical musical endeavors to be had. Instead of a full blown article, I think I'll just rundown a few of my faves here on my FB page, on Upful Life, and on *The Upful LIFE Podcast*, to show love to these brave cats who battle the elements, forgo the raging, and risk certain equipment and bodily failure to bless up the dancefloors we so thoroughly enjoy ravaging.
First things first, shoutout to
Reverbia Camp
camp for once again hosting another round of fine live bands, no small feat on the Playa. This year's lineup included
TV Broken 3rd Eye Open
, and
Elektric Voodoo
. And LARGE UP to hardest working band on the Playa,
The Crossroads Collective
, who showed up once again and did the damn thing proper at their own live venue sound camp, busting out all the hits over 4 decades, topped off with an extra slab of FUNK for three consecutive nights. Hats off to
Uriah Duffy
on the bass!
Not a live performance, but definitely music-related, was the Tool "Fear Inoculum" listening party onboard Abraxas. Sunset, Friday. Hosted by Alex Grey. Word on the street was that somebody would skydive into BRC with the album, and by Friday afternoon, the master plan had spread throughout the Playa. Around 6pm, hundreds (maybe more than a thousand) biked along with the dragon out towards deep playa to set up shop & soak in this LP, coming together in collective wonder. Fear Inoculum, a record 13 years in the making, heard live & direkt through the blessed-up Funktion1 sound rig aboard Abraxas. Without question, a peak Burning Man experience for this guy.
Now onto my personal dancefloor faves, delivered in no particular order (except first!)-
Morillo
– post-Man Burn on Abraxas dragon. JFC. Talk about an all-timer!! This dance party was absolutely unhinged. I remember discussing his DJ slot with
Rachel
as she was putting together the Abraxas lineup, I'm a huge fan of Morillo, he's a drummer & musician first, an inventive bass producer, and a top flight selectah. We both were confident dude would deliver, but did I know he'd captain the most thrilling dance utopia of the entire Burn, and mercilessly uncork an instant classic? Quite frankly, I did not know he would take it all the way there, and I'm not sure Rachel knew either. Everything from Mos Def to Timberlake/Tosh, Manu Chao, Fela Kuti, plus a bunch of deep dubstep, gully trap, and a gang of unreleased original music. Dude packed the pressure busspipe, dropped the bomb, AND made it clap. Morillo came, saw, kicked down the ((((VIBES)))), conquered, then humbly rode the dragon back to our camp, packed up his stuff, biked over to Mount Neverest, and then dropped another hour of shock and awe on that spot at around 3am. A stunning, riveting performance from the dragon throne. Morillo on Abraxas after the Man burned.
#NeverForget  
We lucked into not one but two incredible sets from
an-ten-nae
, one half of Dimond Saints, and the man behind the magic of
Medicine Crunk
, and not for nothin, probably my favorite producer out there. Tbh, I hadn't been paying as much attention to him of late, and like they say, absence makes the heart grow fonder. an-ten-nae played on Abraxas (before Morillo) for two hours, he masterfully harnessed the tricky, wacky, and unbridled energy that surrounds the main event of Burning the Man, and it was a tremendous set, highlighted by a moving edit of John Lennon's "Imagine". But if we are splitting hairs (I am), an-ten-nae's hour-long sojourn deep into the night (around 3am on Wednesday night at Camp Mystic) was everything I could have hoped for, and more. This is the type of electronic music that speaks to me most profoundly, and I find myself digging even further on the dancefloor. The "Medicine Crunk" style is just what I love most about this particular slice of sound art, a decadent dalliance of the female vocal, atop the inherent sensuality woven deeply within the aggressive surge of bass music frequencies. This balance is not easy to come by, but when an-ten-nae dials in the Medicine, all is right in my world. As an artist, an-ten-nae spreads himself pretty thin, trying a lot of different projects, some slay, others don't resonate with me as much. But this week in the desert, I was picking up what homeboy was putting down. And on Weds night, my man touched greatness once again. A worthy successor to the first three volumes of Medicine Crunk, delivered in the lusty confines of the regal and riotous Camp Mystic. (Adam, if you are reading, please release this set!)
After a solemn Temple Burn, we were treated to a sweet set from longtime scene godfather Dov1, who made sure to serenade the massive with just the right elements of longing and release. Next, Abraxas invited Naughty Princess to royally run the trap for the final night of music on the Playa. Jasmine has come so far in just a few years, she's always been an entertaining DJ and a joy to watch atop the wheels of steel, but on this night, she took hold of the dancefloor in a way I'd yet to experience with her, she brought us into her bosom, and held us there for two full hours and one helluva journey, all the while propelling us to dig deep within our weary selves for one final dance session throwdown with the Dragon family . There was a tangible emotional quotient to her song choices, transitions, the mood and vibrations manifested, and the energies revealed were positively perfect for this one-of-a-kind occasion, the post Temple Burn seance. Never too crunk, never too hyper-sexualized, never too street, but still all things Naughty, Sunday night's set was by far and away the most patient and potent of the dozen or so I've taken in from Naughty Princess. Thank you Jasmin. You did the damn thang, with grace and panache, and a boatload of swag taboot. Take a freaking bow, sis!
A large percentage of the best music I caught the whole week was on Weds night, at the legendary super-sexy soiree hosted at Camp Mystic. Nobody does it quite like Mystic does, each and every year. In 2019, the vibes and the container would be more of the same: saucy and sensual. For the duration of our nearly four-hour stay, the hotspot was packed to the gills, and their art car Mystic Flyer (thankfully) was parked out front, offering sound and space to the hundreds spilling outside of the camp venue. The evening's musical menu was once again expertly curated by David Block, we enjoyed lovely sets from Black Rock City standard bearer Random Rab, who opened the evening's festivities like only he does. Then a diverse-in-style, heart-filling frame from The Human Experience – David Block, with help from his Gone Gone Beyond collaborators Kat Factor & Mel Semé Music. Awesome set from David and friends, which forwarded many of my favorite tracks he's released through the years (including my all time BM theme song "Dusted Compass" Phutureprimitive rmx), lustily setting the table for something spectacular. David asked CloZee to make Mystic her official Burning Man debut, taking the decks on the Playa for the very first time at around 1am and delivering tour de force in global bass creations. CloZee took the opportunity to try out new stuff and reach deep into her now-voluminous songbook, the dance energy launched skyward and never looked back. After CloZee, an-ten-nae commandeered the Mystic ship, and the rest, as they say, is history.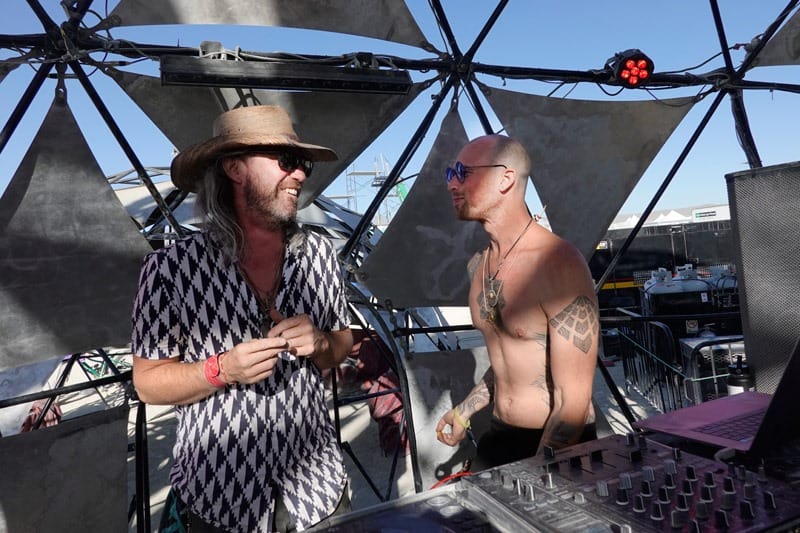 Camp Questionmark
is always a goliath sound camp on the 2:00 side that perennially hosts the best of the cutting edge in low-end theory and bombastic bass, and this year would be no different. We didn't spend as much time at Camp ? as in years past, but when we did, shit was proper and the system crunk. Never more so than when a few of my favorite underground champs took the decks way up high, as is the custom at Camp ?. Specifically, I LOVED the sets from Nevada City, CA wizard
Andreilien
, followed by Portland, OR's,
PRSN
. This was super late on Weds night, post Mystic (technically Thurs morning), but before the white procession at sunrise. Andreilien is a playa legend dating back to the Heyoka days, and predictably, my man delivered that dark, post-dub ferocity that got us steppin hard and heavy in the very wee hours. But then came PRSN, and in an instant, dude flipped the dancehall, grime, half-time, and the bass gymnastics like he's wont to do. In short order, the natives were restless. Homie hit us with the Shaggy joint and we lost it! Freaking insane hour from PRSN, Portland's finest blessed us up proper. Thanks Bryce!
Also must dap up
The
Librarian
, who dropped an ill set at Hookahdome after the Folly burned, revving up the BPMs to what sounded like juke levels, still flirting with half-time and crunk bass too. Then she flipped it totally different at Camp ? the next evening, way after the Man Burned at around 4am. The Librarian laced us up with the proper half-time DnB vibes and atypically-thorough bass tracks too, all with her smart, specialized touch. Word is Librarian did a b2b sunrise set with PRSN on the Surly Bird art car… but we missed that one. Alas, felt lucky to have gotten a taste of both on the massive Camp ? stacks.
Coming on at Camp ? directly after Andrea was another of my favorites, BC bully
Leland River
. As soon as money took over the wheel, many hardcore dancers emerged from the shadows, and the situation got serious on the dancefloor. Leland continued with half-time beats for a bit, then really dug into things with some choice hip-hop reworks (I can recall Outkast "SpottieOttie" but I know there were others) and his always inventive approach to bass music. One of the highlights of the entire week was Leland unveiling a positively ethereal Portishead remix that sent us into a veritable dithers. (BTW Leland, I need that track stat, please!). The next morning dude told me that he dug the next set at Mount Neverest better. I can only hope he makes a triumphant return to the Dragon sometime soon.
As is their custom, Abraxas hosted the white procession on Thursday morning out near the Temple, and due to another DJ being unable to make it out to the Burn, brand-new on the scene DJ Bambu was drafted to take the decks on this sacred morning. Did he ever deliver! Stunning display of vibes from the Nevada City upstart. When I asked him about the set in the immediate aftermath, he shared with me that he was pretty new at this DJ thing, and that I probably hadn't heard of him. (Even though I lived in Nevada City for most of 2013-2018, he was right!) On the dancefloor or atop the dragon, one couldn't tell he was the least bit green whatsoever! Things started off pretty spiritualized as Abraxas cruised the playa and the sun began to rise, Bambu took a quick detour to some ratchet rap, but once homie hit the OAKK "Dirty Dane" edit, sh*t got real with a quickness, and my man never let up on the gas pedal. Even snuck in a choice remix of Shai's timeless early 90's R&B panty-dropper "If I Ever Fall In Love", no doubt a Playa first. Bambu didn't reinvent the wheel, he just spun the right records on what is always a very special morning with the dragon squad. And in doing so, gained a bunch of new fans. Raspekt due, selectah!
Also must acknowledge the surprise, secret, and criminally short set from Detox Unit, on Abraxas Sunday morning around 9am. Apparently he was filling in for a DJ who was late to arrive, so Detox Unit's brief excursion was unplanned, and unfinished, but it was without question some of the highest art I experienced on the Playa all week, sonically or otherwise. I'd been seeing and hearing all the hype about this dude for a long time, but never really gave him a chance or enough of my attention. That is until the SZA brought him out to the Dragon, and for about 40 minutes, he blessed us up with a bunch of unreleased music, apparently his forthcoming album. Definitely heavily influenced by Tipper, Detox Unit doesn't shy away from hip hop beats, and his sound-design prowess appears to be light years beyond his contemporaries. Word is he torched Mount Neverest earlier that night, but I felt lucky to have in essence a private show from this prodigal son, right there on the Abraxas Funktion1 rig. I only caught less than an hour, but it was more than enough to convince me that this cat is onto something special.
Honorable mentions to Bedouin on the Mayan Warrior, Lee Burridge at Robot Heart (they went head to head at sunrise one morning, so we caught a bit of both), plus Damian Lazarus for the MW/RH tie up, which we happened by for a good while as well. I must admit, I quite often love the music at both Mayan Warrior and Robot Heart (I'm a sucker for Playa house in the morning), but there remains a "see and be seen" elitism and "Instagram influencer" vibe prevalent at these art cars come sunrise, and quite frankly, that runs in stark contrast with what BM means to me. As such, I can only take these otherwise epic scenes in smaller doses, but will always make it a point to slide thru a couple of times every year I am lucky enough to the return to the Playa.
Mayan Warrior by Karl Baba
Robot Heart doing its thing in the morning

I must find out, however, who was the janky art car, a double decker bus threatening to fall apart at any moment, that was THUMPING the hardstyle jungle/DnB just beyond Camp ? around 2-4am Sat night after the Man Burn. Two DJs getting busy up top. Incredible!
There was plenty more music that mattered, but I'm gonna stop here. I've gone on long enough.
Signing off one final time for Burning Man 2019, Metamorphoses.
In dragons & dust we trust!
~B.Getz~
Upful Life