Greyboy Allstars featuring Fred Wesley – Live in Colorado
West Coast Boogaloo Revisited
Photo Essay by Jon Prins / Transcendental Photography
March 30th-31st, 2012 / Denver and Boulder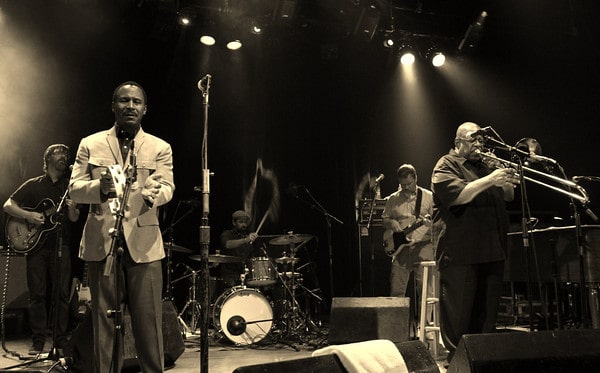 OGDEN THEATER- Denver & BOULDER THEATER- Boulder, CO.
Words by Nate Etter/HeyReverb
More than 15 years after its release, "West Coast Boogaloo" has stood the test of time. Featuring the legendary Fred Wesley (James Brown) on trombone, the Greyboy Allstars' independently-released, underground classic debut record became a staple of the funk-jazz genre and ignited a groove movement that continues to this day. On Saturday, Karl Denson and company reunited with Wesley and followed Friday's Ogden Theatre show in Denver with a funk-filled performance at the Boulder Theater.
A positively blistering opening set from Los Angeles warhorse Orgone, dripping with sensuality, grit, fiery hunger, announced the dawn of a new dirty groove is upon us. Yet the weekend belonged to the Greyboy Allstars; and they began by playing their 1995 seminal debut "West Coast Boogaloo", in its entirety. From the fiery horn solos on "Fried Grease" to the cerebral odd bassline of "Gravee," the band burned through the album with an energy that emanated into the moderate but energized crowd.
As usual, frontman Karl Denson was in fine form. Throughout the show he juggled duties between saxophone, flute, an assortment of percussive shakers and tambourines — and lead vocals. His complex melodies in tandem with Wesley was the driving force of the music and his soulful vocals impressed on tracks like "Tenor Man" and the James Brown segment of the show.
Just as absorbing was the organ playing of Robert Walter, a master of his instrument. In contrast to the more animated personality of Denson and others in the band, Walter and bass player Chris Stillwell held the band together in an effortless fashion that seemed distant from the speedy funk coming out of their fingers.
Following the album, the band played a dance-friendly new original track that was on par, if not better, than anything played before it (we can only hope for a new album soon). They then broke into a string of James Brown hits with Wesley leading the way, including "Sex Machine," "Gonna Have a Funky Good Time," and an encore of "The Big Payback." Even after over an hour of tight-knit Greyboy originals, the Godfather of Soul's music remained as fresh and timeless as ever.
Greyboy Allstars w/ Fred Wesley " Soul Dream " – Denver 3/30/12
Greyboy Allstars w/ Fred Wesley " Big Payback " – Boulder 3/31/12