Break Science / Pretty Lights Music Spring Tour 2012 w/ Gramatik – FLORIDA
The PRETTY LIGHTS MUSIC SPRING TOUR 2012 kicked off in FLORIDA in late March. This feature sought to capture the promising future of tour headliner BREAK SCIENCE- below you will find an interview with founder/drummer ADAM DEITCH, a series of HQ Photos & Videos from the opening nights of the tour, and a FREE SOUNDBOARD STREAM or DOWNLOAD of      "BREAK SCIENCE Live @ *CRUNCHAY SUNDAY* 2012". Part 1 of a series of conversations with Adam Deitch of BREAK SCIENCE & LETTUCE!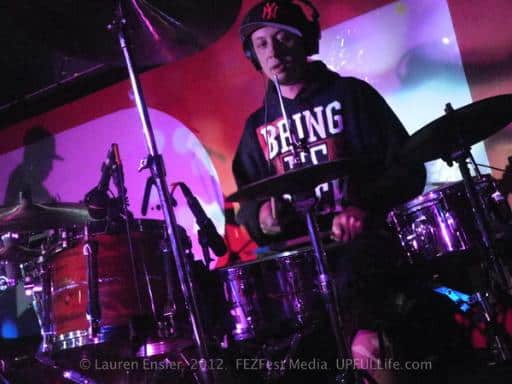 Adam Deitch chops it up all things *BREAK SCIENCE* :
Reported Live! from the *Pretty Lights Music Spring Tour 2012*
Interview by ~B.GETZ~ for The UPFUL Life&Times
*MEKKA*- WINTER MUSIC CONFERENCE- ULTRA After-Party March 24.2012 – MIAMI, FL *CRUNCHAY SUNDAY @ CLUB TSI * March 25. 2012 Jacksonville, FL
At the forefront of the digital live electronic dance music movement is BREAK SCIENCE; the amalgamation of drummer/producer wunderkind ADAM DEITCH (LETTUCE, ex-John Scofield, Wyclef Jean, Meshell Ndegeocello, produced for Talib Kweli, 50 Cent, Redman, & more) and keyboardist/DJ/ producer and arranger BORAHM LEE — (current keyboardist for Kanye West, formerly with Wyclef/Fugees). The duo crafts an innovative, dazzling and refreshing mash-up of electronic music, hip-hop and live instrumentation. Their newest EP, 'Monolith Code', available on Pretty Lights Records as a *FREE DOWNLOAD* (like all PLM artists), showcases astounding dance music; the music is huge on bass and potent drums, deftly working in sampling and digital technology. While a gang of guest MCs (including Talib Kweli) blessed their first release 'Further Than Our Eyes Can See', the focus here is on live instruments, and the evolution of new music. As another writer aptly noted, Break Science possesses "just the right amount of swagger that will make you proud to dance like everybody's looking."
Break Science describes their goal "to evoke a wide spectrum of electronic genres filtered through a musician's lens, all while moving people spiritually AND on the dance floor."
Over the course of the past year, The UPFUL Life & Times' B.Getz was privileged enough to interview Adam Deitch on several occasions, and the ubiquitous drummer/producer shared many gems, stories, and record-crates filled with perspective. Our dialogue took place at a variety of times; backstage at Bear Creek Music Festival in both Nov. 2010 & Nov. 2011, by phone while Adam was on tour and most recently, the tour bus during Break Science's PLM Spring Tour stop *LIVE FROM CRUNCHAY SUNDAY*- a weekly EDM party every Sunday night in Jacksonville, FL. The content of this particular article will focus on his main project, the aforementioned Break Science. Conversations regarding the myriad of other projects Deitch has his hands in will be published in the coming weeks. You can DOWNLOAD or STREAM a SOUNDBOARD COPY of BREAK SCIENCE- LIVE AT CRUNCHAY SUNDAY 2012- after the interview below.
B.GETZ for upfulLIFE: Thank you so much for sitting down and talking with me. Although you have your hand a ton of projects, Break Science is clearly your main gig right now. Let's focus on that project today. As a DJ/drummer duo' can you shed some light on your creative process when making records with Borahm as Break Science?
ADAM DEITCH of BREAK SCIENCE: We Kick it at my studio for long periods of time… we lose track of time, really… it'll all of a sudden be 5am and time to bounce. We just immerse ourselves in the craft while the time flies. It becomes us. The music, that is… Borahm's not just a keyboardist, nor just a DJ. He's a top-flight producer, he's a brilliant sound designer, engineer, and he's just a mastermind. So we just got our collective heads together and its productivity, creativity, inspiration, all night. Just flowing from us. That's how it happens.
Borahm also is excellent with mixing and production and we just bounce things back and forth til we flesh out the idea and it becomes a fully realized track. The production software just keeps getting better, and more specialized, so we have evolved our own sound at a really fast pace"
"We try to stay away from the labels, the descriptions or putting us in a box. We can leave that up to you guys to make up new categories and names (laughs)…. But I guess you will hear us mixing dubstep, or a lot of drumstep, with dirty-south bounce and big 808 drum sounds, with East Coast hip hop styles and some funky West Coast hip hop styles. Then we like to get the glitch in there, take it on some drum & bass, jungle styles, channel that Clyde Stubblefield, mix in some bossa. Like anything, it always comes back to "The Funky Drummer". (laughs). But we really mix up the rhythms, try to keep it interesting and at the same time show love to the source material that inspires us."
BG: That's a heady, heavy menu Adam; with cooks in the proverbial kitchen like you & Borahm, you have so much at your disposal. So I must ask, where do you start? How do you stick to a form to, in essence, 'write a song' in the Break Science setting?
AD: "Dubstep, drumstep, drum & bass, jungle; like any genre it has an established form; we are making it within the form but unleashing some of our own ideas… because first, we're jazz musicians, trained musicians, that's who we are. We come from a lifestyle of travelling, shedding, and gigging for years; we have always loved songwriting, making songs, we have both been doing it for years in styles like hip-hop, funk and jazz. So in essence the same thing applies to Break Science, in that there are forms to the styles we incorporate, but the "form" is just a vehicle for playing something, and we come with something original… yet always showing our roots too. You can do whatever you want. So somewhere in there a song takes shape, and then we shape the song. The form is just a skeleton in the very beginning.
We understand that to bring our vision to life, we have to spend just as much time on the programmed elements as we do on the live elements. Our goal is to blend these elements seamlessly, so everything comes together in an organic way. Our music is layered with different frequencies and sonic textures so it becomes something you can listen to multiple times and STILL hear new elements you might have missed the first time."
BG: So that's how you approach electronic stuff as a musician. Yet you are an accomplished producer, in the hip hop sense, too…
AD: "Dude, I've been choppin samples, breaks, droppin' basslines, loopin' up beats, and programming drums for as long as I can remember. I've been making beats since I started digging hip hop as a kid. I mean, my dad (Bobby Deitch, renowned drummer in his own right) had the studio… before I really even was trained on the gear, I had the dual-cassette dubbing drums on one side and looped up to add instrumentation on top."
BG: Pause Tapes?
AD: Exactly.(laughs). I got an Ensoniq ASR 10, I started messing around with some people's MPCs- seriously my main gig in high school was making hard beats for a big, local hip hop crew. So I have always been a producer, as well as a drummer. Break Science is just the most natural, seamless blend of the two worlds- electronic/hip hop music and production; and my live thing, being a jazz drummer, a funk drummer. Break Science lets me be all of my selves at the same time, and invites me, and Borahm to become more."
As far as the technology goes, I have been using Pro-Tools software for my work, for a variety of projects and collaborations, well before I got together with Borahm and Break Science took off. He works on Ableton, creates amazing ideas and then they spring to life; its true collaboration in the definition sense. We create individually and collectively, and the music comes together as an extension of all three elements- his ideas, mine, and the combination of them making new music. That's what Scofield (ed. John Scofield, guitarist, legendary sideman to Miles Davis and longtime jazz bandleader with whom Deitch worked and wrote for over three years) always called it: "New music". He didn't bother with the labels, or genre types, to him it was all just "new music". So Borahm and I try to adopt that as well.
BG: Laterally, you have been a professional gigging drummer on the traditional sense, alongside your electronic/production endeavors. I'd even wager to say that most music fans know you as a drummer first, if not exclusively, due to your work with luminaries ranging from John Scofield to DJ Quik; you also are recognized for playing with the Average White Band, Wyclef Jean, Meshell Ndegeocello, GZA, Slick Rick, and of course, your 'other band', LETTUCE.
So do you find that you progress more as artist in the band setting like with the aforementioned, or in the live electronic/production element, with Break Science or Pretty Lights? (ed. Pretty Lights: electronic music superstar Derek Vincent Smith, with whom Deitch played live drums for 2 years and whose label, PRETTY LIGHTS MUSIC, Break Science is signed.)
AD: "Look, I mean I grew up playing in bands. My earliest and most formative music experiences were in the band setting. So I was like a sponge and I always listened to what other cats where doing. Even amongst small groups or even solo artists, we feed off of one another, I step up my game when I hear Kraz or Shmeans… A guy like D.Parks (ed. Deantoni Parks, KUDU/MARS VOLTA/DARK ANGELS/VATO NEGRO/ASTROID POWER-UP and a fellow Berklee trained drummer who was at the forefront of the live breaks revolution), just testing the limits of electronic music and drumming. Being a drummer first but taking it to new places and uncovering its new potentials. D. put it down first and he was somebody who showed me that I didn't have to be one kind of artist or the other. I could do it all, whatever I wanted. So it was finding a spark from within my crew; and also from the best drummers and producers in the game.
Beginning with my parents exposing me to so much as a kid growing up, to the peers and instructors that I met along the way of my training, I can sit here and name them all but you can look them up on the internet (laughs), but it's been my whole life's training: all the way up through Berklee and linking up with the LETTUCE cats, touring and writing with John Scofield, Meshell Ndegeocello, touring all over the world in a variety of bands, putting together my own project in New York, which evolved from a traditional four-piece band set-up to the current duo thing with Borahm, and also right on up through my experience with Derek (PRETTY LIGHTS).
The Royal Family (ed. www.RoyalFamilyRecords.com) is a great collection to be a part of. I mean, I get to sponge off of guys like Kraz & Neal (Eric Krasno & Neal Evans of Soulive); I'm finishing the new LETTUCE record, and its great to create with those guys. When spending time with Adam "Shmeans" Smirnoff (Lettuce guitarist, ex-Robert Randolph Family Band, Lady Gaga), I learn alot, not just about music but about life. Louis Cato is always in the Royal Fam mix, that's one cat that's serious on any instrument he touches. I have a front-row seat watching the growth of a musical superstar right before my eyes, in Nigel Hall, we've been recording his album and it's insane!
Collaboration at its best. Plus with Kraz producing that record, I can check out where he's at behind the boards, getting his Quincy Jones on (laughs). The artistic evolution is on display everywhere around me! Even these days, when I go out and hear a guy like Lil John Roberts play, it will just blow my mind and I'll be back at my own kit, super inspired. I have always just been a huge sponge; it's made me a better listener and shaped my playing and writing, even production, immensely."
Published April 2012 by The UPFUL Life & Times. special thanks to Vlad the Inhaler & Crunchay Sunday, Mark B. Levin & Lauren Enslah of FEZFest MEDIA, & Videographer Joe Fuller.
Break Science LIVE @ Crunchay Sunday 3/25/12 (10 minutes)