Way Down By the River: A Field Report From the Inaugural Suwannee Rising 2019
words: Scott T / photos: Staged Right & Jeffrey Dupuis
"The real Suwannee River does not rise in any part of Georgia. It rises in the highest mountains of the human soul and is fed by the deepest springs in the human heart. It does not flow through the northern part of Florida, but through the pleasant, sunny lands of memory. It does not empty into a material sea, but into the glorious ocean of unfulfilled dreams… Those who would find the true Suwannee River must hunt not among the Florida streams, but among the majestic streams of infinite tenderness and love." –James Craig (The New York Telegram and Evening Mail, 1893) 
It is said the Timucuan lived in awe of live oak trees. These trees were honored as the doublet of the World Tree, the Cosmic Tree, or the Tree of Life. As a sacred tree, the oak was thought to hold within its branches not only the secrets of creation and life on this earth, but also as a symbol of promise of immortality. Timucuan believed the Suwannee River lived in sacred relation to the Sun God. The Moon of the Suwannee put the colors of the rainbow into the earth and the sun drew the colors out in flowers. The Timucuan word "Suwani" means 'Echo River'.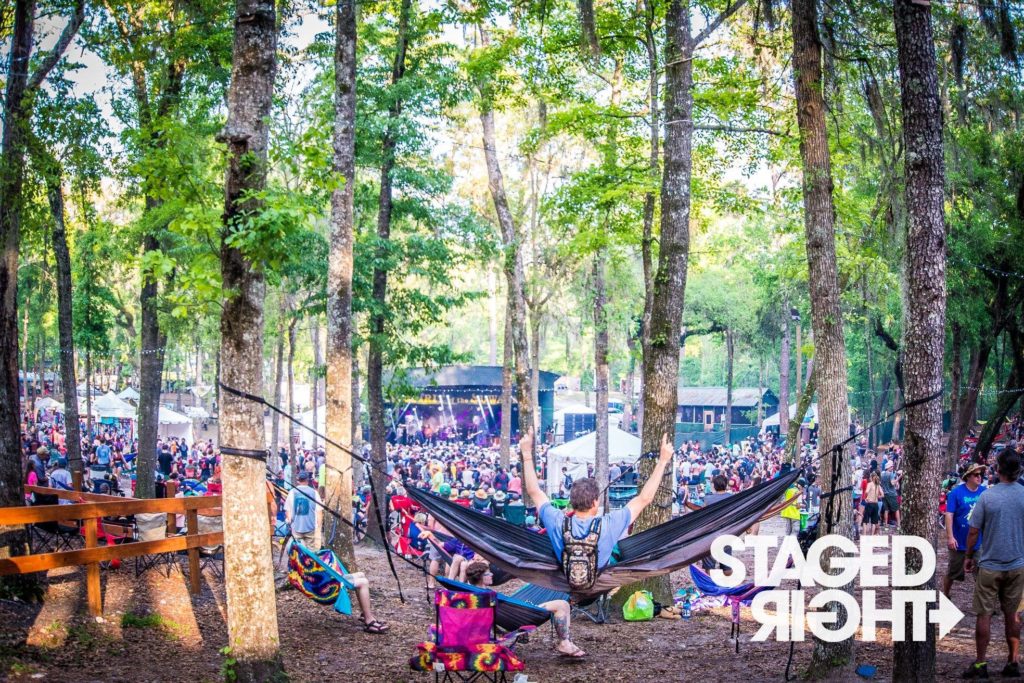 The Earth's annual lesson of revival rings true every year when springtime inevitably comes no matter how dark or cold the winter. For many, over the past 13 years, springtime has meant gathering at the annual Wanee Music Festival. Wanee was envisioned by Butch Trucks and actualized by the Allman Brothers Band family. The venue for Wanee was made possible through happiness pursued by Bob & Jean Cornett, who dared to manifest their dream of having a winter home for hosting bluegrass festivals. The essence of their intention was centered around community, family, sharing, and cultivating the conditions conducive for people coming together in service of one another and in celebration of the life our lives-shared create. 
In 1985 the Spirit of The Suwannee Music Park was founded. The amphitheater stage was first constructed in a dream of Jean Cornett's one spring and was physically built by a community of volunteers who joined Bob & Jean. Many years of Spring and Fall bluegrass festivals preceded the first Wanee and contributed to the spiritual reservoirs of community and natural ritual that all festivals within the music park's environs have access to. Wanee grew into a large festival, which paved the way for logistical possibilities of an even larger festival, Hulaween. All the while there continued to be Springfests, Magnolia fests, Roots Revivals, Tipper festivals, Purple Hatters Balls, and the legendary Bear Creek Festivals. Needless to say, The Spirit of The Suwannee Music Park is a special place. On the surface, its a lovely little campground. At its depths, it is a metaphysical vortex of transformation.
In an official statement, the Wanee Festival cited the Easter holiday as reason for being unable to continue at the park and moved the event to South Florida with different dates. In the wake of this, Suwannee Rising Festival picked up the baton for those who, after years of attending Wanee, Bear Creek, and the like, have become more attracted to that which goes beyond songbooks, festival titles, and bands on the bill. There's a spirit flowing through all of us who go to the Spirit of The Suwannee Music Park and it comes into contact with itself through our relationships, our friendships, our laughter, our communications, our miscommunications, our dance moves, our hugs & kisses, our lovemaking, our sorrows & joys, our wonder & despair, our support, understanding, and Love for one another.
Suwannee Rising Festival could cheaply be observed as a bunch of freaks, maniacs, weirdos, and wooks partying in the woods. From another perspective, attendees co-create heritage & culture, simultaneously living and preserving these forms. The word "festival" comes from the word "feast". Feast is an apt word for annual religious celebrations or gatherings. At its best, what we have here at the Spirit of The Suwannee Music Park during a festival like Suwannee Rising is improvisational transcendence that precedes institutionalization and dogma. Our human incarnations are sensory whirlpools of self-reflective subjectivity, which sometimes obfuscates our view of the eternally-whole part of our Self. When set within liminal spaces opened through ritual, such as a festival, especially one at a place of natural wonder infused with foundations of community and music, the Spirit has an easier time coming into contact with itself: indicated by our laughter, tears, frisson, goosebumps, creative sparks, and embodiment & integration of insights learned through experience.
Arriving at the Spirit of The Suwannee Music Park immediately thrusts my heart, mind, and soul into a space of epic and mysterious proportions. There is anticipation of seeing loved ones who are already at camp, anticipation of seeing friends within the context of this wonderful place. Whether I see their faces often outside of the park or whether I hardly ever see them except for at the park, the level of Love is of equal magnitude. When the music starts, it lights the fuse for an explosion of organismic phantasmagoria so powerful that one may naturally be so wrapped up in the magic and wonder of the people and music happening throughout the campgrounds that going to one of the official festival stages may not occur for hours on end.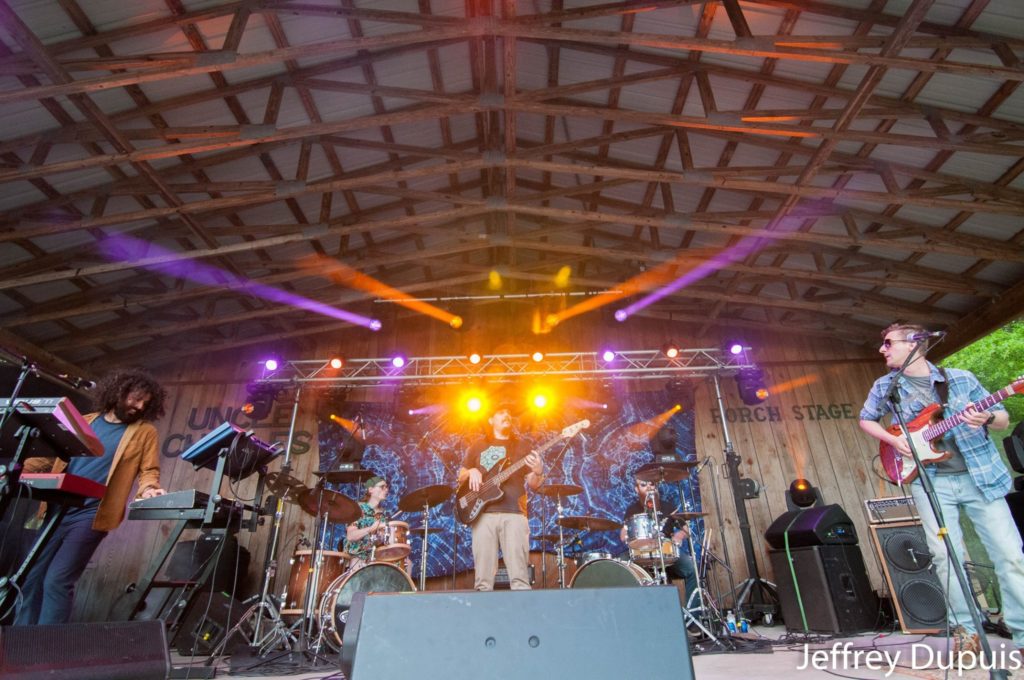 Sounds of the lead-off band travel from the amphitheater and into the campsites courtesy of Custard Pie. A tri-fecta of deep, unwavering Love & friendship, flanked by more friends of their own, Custard Pie soaks the Suwannee faithful with music made up of the soul of the southeastern United States of America. Bassist Aaron Webb roots down into the core of the Earth. Rory Joseph, with trancelike subtle swerves of the hips, shuffles the strings on his guitar like some well-off gambler. Sometime after summoning the ghost of Bear Creek past (paying homage to Bootsy Collins), drummer Brandon Howell, with a thwack of his snare drum, suddenly begins a relatively slow motion isotopic teleportation process. Following his trail, I find him across the road on the porch stage playing with Ben Strok & The Full Electric. The late afternoon light and air electromagnifies the essence of the weekend, accented by the wizardry of Ben Strok's guitar playing. Wizards know how to read & spell the language of the soul and transpose the Word of the here & now with precision and grace into sound vibration. Ben emits guitar tones of mean guttural grit and soaring sounds. Drummers Brandon Howell & Shaun Tauntun break out into drum solos like a boxing match, taking turns like honorable gentleman slugging it out in sonic combat tradition. Melody Trucks Band blesses those present back at the amphitheater- everyone in her band playing in humble service to one another behind her lead, and her father Butch smiles down (and possesses Shaun Tauntun, who in certain lighting eerily shares appearance similarities).
Night rolls in, and so too does the 10 piece Afro-Cuban salsa band LPT. Cultures of the natural order dance from cradle to grave and the music of LPT is rooted in these traditions where dancing remains a vital festal expression. The music makes 360 degree turns in such a way that it may steer the ship of transculturation toward the Sun. A hypnotizing trance inducing trio of JP Salvat (Congas), Jonah Pierre (Bongos), and Milan Algood (Timbales) weave together innovation and sacred rhythms of ritual drumming. Horns galore, featuring Bryant Patterson blowing down the walls of hell with his trombone and Juan Rollan climbing extra terrestrial mountains and neutralizing violent volcanoes with his tenor saxophone. Josue Cruz fronts the massive group with style and class, leading the way for this monstrously magnificent world class manifestation of joyful noise.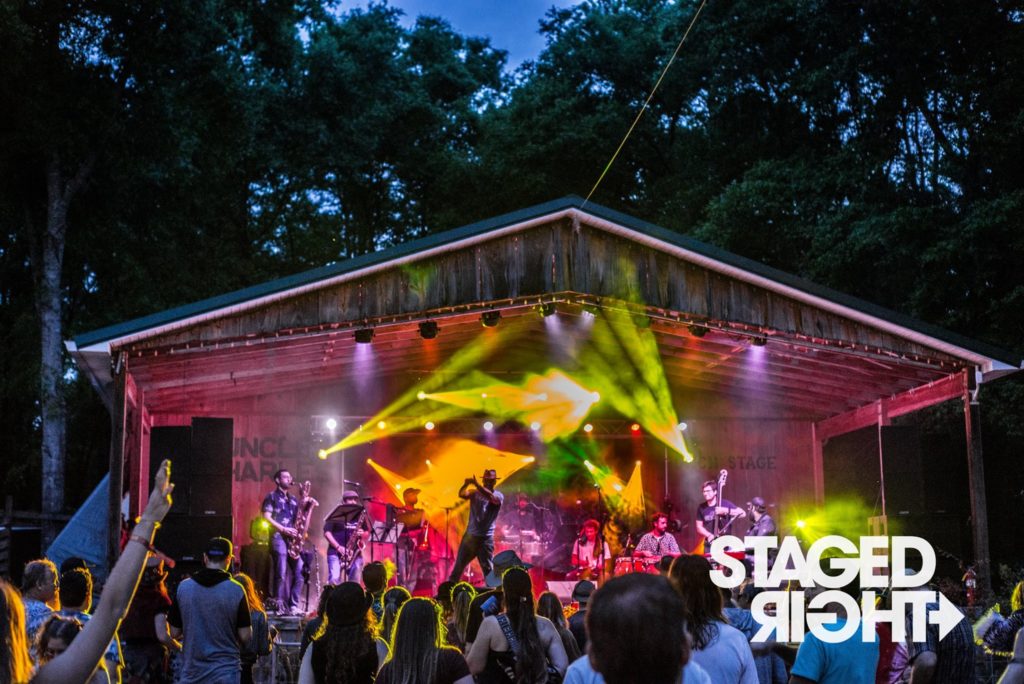 Rainstorms approach. I take in the rest of the evening music from the campsite while battening down hatches and tending to a fire that could outlast the rain. Ready or not, it rains. Listening to the sounds of raindrops drumming natural rhythmic patterns on the roofs of campers, tents, and the ground, I consider the ways in which music festivals can restore humanity to its full sense of relatedness. It continues to rain. Some bunker down asleep. Others bunker down awakened. Huddled in sheltered moments like these, friendships are forged and pathways of new growth are established through old friendships. Insights are traded like memes. Synchronicities and hilarities abound. Maybe there's a puddle in your tent. Maybe you're not supposed to be in your tent. Maybe you packed your waterproof pants, shoes, and rain jacket. Maybe you embrace your waterproof skin and fling yourself face first with no inhibition into cliches of transmuting the rainstorms of life into rainbows with your own primordial light.
Eventually, Thursday night becomes Friday morning and Friday afternoon is rolling. Bee Getz taps me with the honor to interview Oteil Burbridge for Upful Life. I meet Oteil behind the amphitheater while the sounds of Good Talk make their way to us from the porch stage despite their drummer being captured by pirates sometime in the night.
As I'm about to begin the interview, Adam Smirnoff crashes our session, immediately pulls his phone out, and shows Oteil a video of his baby child crying/laughing/singing in PERFECT melody and rhythm on top of a blues riff Shmeeans is playing on a guitar. He prefaces it with "I need to show you a video too precious to share on social media". Oteil and Adam's faces are full of wonder and excitement as they watch the phone's screen. They are laughing and slapping each other and kicking their legs. I can't believe what I'm hearing from his phone. It's the best 1930s blues recording I've never heard, but it was made recently, and I'm hearing it from a phone speaker not a 78 Victrola.
To start the interview, I begin "Coming to you from behind the mushroom stage at the Spirit of The Suwannee Music Park in Live Oak, Florida, United States of America, Spaceship Earth, Milky Way Galaxy, corresponding for the Upful Life Podcast, this is Scott T and I'm here with Oteil Burbridge". As I say this, Oteil's hand reaches toward the sky and at the end of the intro he halfway stands up while saluting exclaiming "Reporting for duty!"  Suddenly I can see stars above us shining despite the sun being out and the sky blue.
We remember his recently passed brother, Kofi Burbridge. He reminisces about their shared wavelengths of synchronized spontaneous creativity while both being members of Tedeschi Trucks Band: "We would be improvising and both decide to go for it at the exact same moment, and sometimes we would both fuck up at the exact same time! It was wild."
Kofi's laptop is now in Oteil's possession and it is full of original music, much of which has not been heard by more than a select few. Also, Oteil discovered a file on Kofi's laptop titled "Patterns". It's filled with pictures of naturally occurring patterns, golden ratios, etc. Oteil, while navigating his own life, always keeps his eyes open for patterns. Recently, following patterns of 'ashes', he met an amazing person with the exact same tattoo he has. For advice on how to keep an eye out for patterns in life without slipping to a place where the clock is telling you something crazy every time you check the time, he spoke of following your gut: "It's easy drive yourself crazy if that's what you want, but with a centered sense of self, you can tell the difference between an actual pattern of personal or cosmic significance and the static & noise of meaningless symbols."
On how he practices for cultivating a centered sense of self: "Lately I've been finding deep spiritual work in the mundane. Washing dishes…slicing vegetables…the things you may be quick to 'make a thing' out of like "Ugh I have to wash all of these dishes or whatever", Instead it's just practicing present moment awareness. You wash dishes. You slice vegetables. And you do it. Transmuting the mundane is a key to deeper realms of Being."
The velocity of our conversation increases. Thinking the interview is being recorded, I don't have to stop to think to remember the names of authors and musicians Oteil is referencing. We discuss the wonder of the Spirit of The Suwannee Music Park. "This place is so special," he says. "The last Wanee the Allman Brothers Band played, I actually camped on site that year, and there was this magical moment out near our campsite where the moonlight was shining on my wife's face. The sightline I had of it combined with the timing of when she turned around and the whole thing- something about it. Wow. This place…Magical…"
Oteil has had the unique opportunity to be in two incredible bands with amazingly rich songbooks, The Allman Brothers Band and Dead & Co. When asked what common threads he's found between the two, his answer is quick and simple: "The common thread is roots American music. Their music sounds a little different because they came from different areas of the country, but both are drawing from that same deep spirit thing".
He continues, "Howlin Wolf might not have known what a diminished 7th is, but it doesn't matter. I mean, he probably did, but the point is the expression and there being honesty and sincerity. I'd see Colonel Bruce Hampton tell the most amazing musician who can play anything to tell him about their stomach hurting or being constipated, and he'd say 'play me that'." Suddenly an enormous frog covered in cheese hops up on the table and hops off the table, but I don't see it touch the ground. "You know, you can play something or do something that is extraordinarily proficient technically and theoretically, but if you're just going through the motions or being super mechanical about it, then it means nothing. Life is like that too, like someone can go through the motions of a ritual and have zero connection to the meaning behind any of it."
I ask about further teachings of the colonel that have had a lasting impact.
"At one point, Col. Bruce told me 'you're not talented enough to be humble. All those masters who are amazing and just super humble, forget it. You're not them. You'll never be as great as they are, so stop being humble and try out an ego instead.' Also, something important he did for me, he showed me that who I thought I was, was just a small box. And he destroyed that small box to show me who I really am, which is actually infinite."
Next thing I know we're discussing biblical myth. Oteil says, "The Point of Noah isn't did it happen or not or where is the physical ark. The point is that everybody told Noah he was crazy…and then the flood came." Soon thereafter we trade secrets of ancient Egypt & Atlantis. At this very moment, I believe time-traveling agents from the 3rd post Atlantean epoch were dispatched to miraculously erase the recording device we have been speaking into for the podcast. 
As Oteil & I are parting ways, he elegantly speaks to ideals of perfection, enlightenment, salvation, higher-being, and where science and God are the same in such a way that one would expect it to be framed as a very special thing- reserved access for only a select few- but he releases it with "-And to get there, seriously, all you have to do is breathe!" And the sky returns to a solid blue.
Friday night, Oteil is joined by Scott Metzger, Jeff Chimenti, Neal Casal, John Kimock, and Lamar Williams on vocals for 'Blue Sky'. Tributes are paid to the Allman Brothers Band, Grateful Dead, Jerry Garcia, The Band, Bob Dylan, and to the roots of those bands, when Scott Metzger takes lead on Mississippi-born bluesman K.C. Douglas' "Mercury Blues", a song recorded in Oakland, CA in 1952. Preceding Oteil's set was Ghost-Note's first of two performances on the weekend- a conglomeration of high velocity instrumentation proficiency. Front man, drummer Robert Searight II and percussionist Nate Werth obliterate the natural stillness of the air with expert syncopation and time. Kofi Burbridge's name is invoked on stage in remembrance and honor of the music he made, which so many present have been able to witness and enjoy. Bassist Dwayne Thomas Jr. (aka "Mono-Neon") presides as lord of low frequency.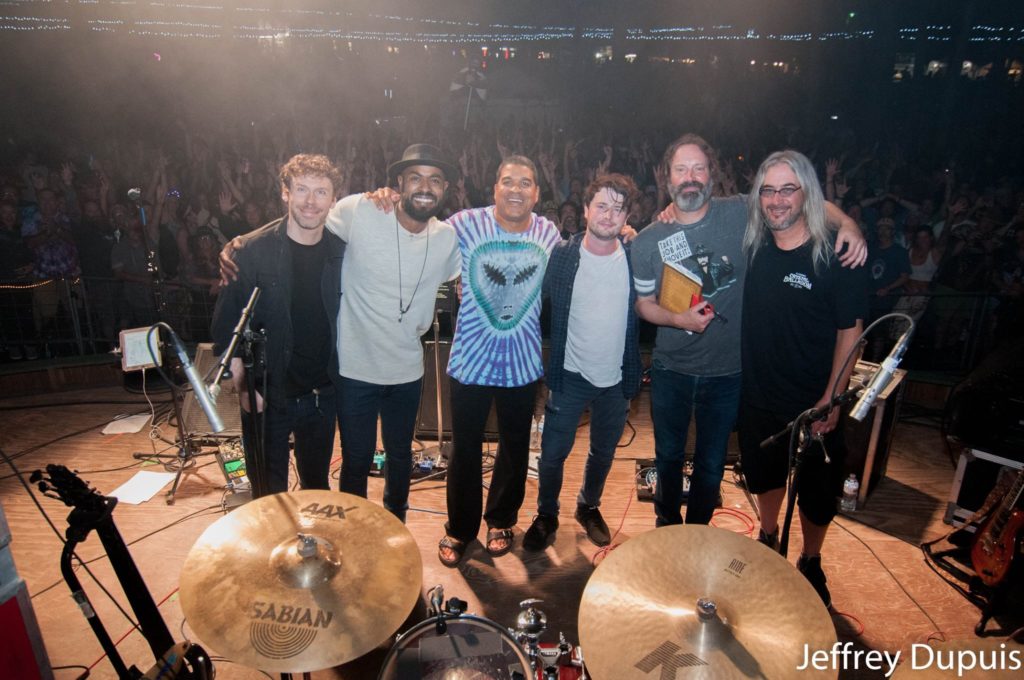 Champions of every Bear Creek, Hulaween, and many Purple Hatters Balls, assuming that Wanee-esque tradition of being a band an entire festival can rally around two nights in a row, on the main stage in the headlining timeslot, Lettuce enters the amphitheater. At times, a band performing at the amphitheater can assume the energetic faculties for facilitating the audience's becoming aware of its collectiveness. Lettuce creates and begins to hold this space immediately. Like the tiny twitching of an embryo, the crowd moves in rhythm and forms a calabi-yau shaped flow-force of energy.
The Spirit made manifest in the sound-vibration of this energy field spirals and expands from the center of the stage. Deep reverberations encompass this paradise upon the Suwannee River and breathe out into the world at the interval of inhale-exhale. The art of music playing the musicians is on full display through several passages of improvisation. Respect and empathy are embodied within every nuanced fluctuation from Lettuce. Openness, softness, and yielding action are synthesized with conviction, indestructibleness, and Love. Nature reflects the collectivity in the trees above and their roots below.
Weaving in between songs and improvisation, functioning as a collective in execution and exploration. Collective expression such as this is a force of nature. It is doing IT! There is music of a higher tetrahedronic dimension vibing up humanity from lower concentric orbitals to realms within striking distance of transcendence. Shmeeans wields his guitar like an axe to cut the deadwood of the world. Eric Benny Bloom & Ryan Zoidis are tone-scientists of the highest order. From the inner ranges of Zoidis' saxophone comes an emittance of hieroglyphics depicting a blind coyote wandering into the wind-blowing reeds of a swamp, howling and dancing with the reeds, and returning to its camp at dawn.
After Oteil sits in, Nigel Hall moves toward the microphone for a sermon on paralyzing fear & overcoming it. He sings "If you're staring up at the mountain, you'll never get high…Don't be afraid to try!" The rest of the band backing him up on vocals, "DON'T BE AFRAID TO TRY!". A massive 6 headed hydra grows from the stage and whips its fiery tail like in a fairy tale. The monster dissolves into 6 large serpents and each slithers into the night.
Through the night, joyous revelry, entheogenic exploration, and connection surges through the synapses within & between campsites. Deep levels of communication happening casually and without effort. Jam sessions unfold in the tradition of bluegrass festivals; instrument wielding warriors wander the grounds following their ears. A jam session may begin with a guitarist and someone clapping their hands; a fiddle player may suddenly emerge, or a harmonica player, or a banjo player, etc. and strangers come together in offering paeans to the muses for which this park is named.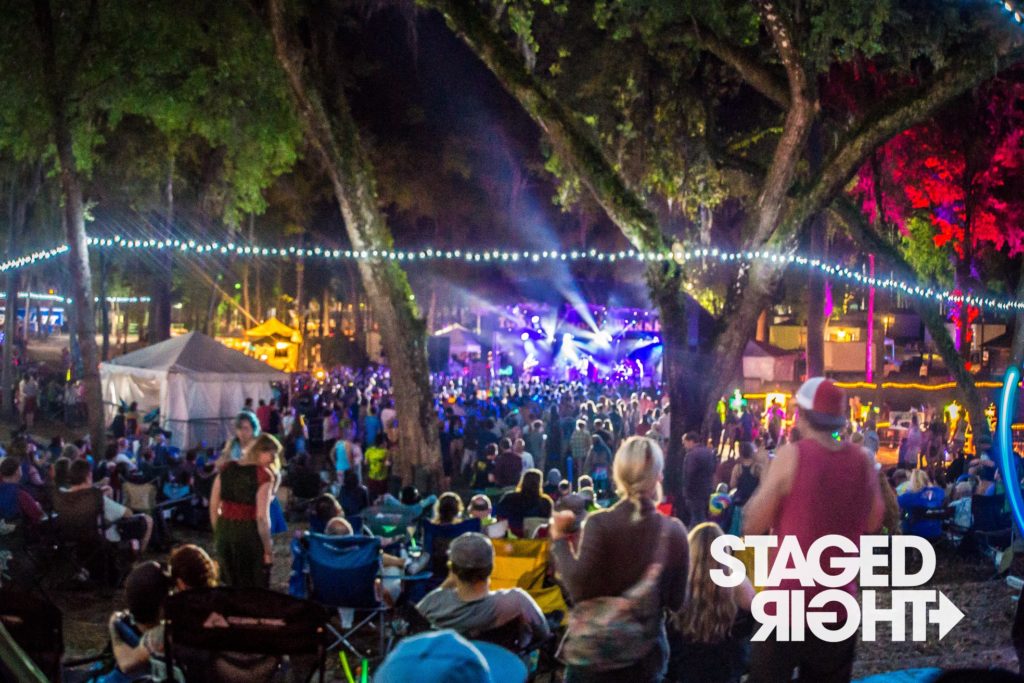 Deeper into the night, I find myself near Rees Lake (affectionately known as Spirit Lake during Hulaween time). Walking around the bald cypress trees, which line its edge, I seemingly become temporarily unstuck in time. Some areas around me are in the day while the surrounding area remains dark as night. On the other side of the lake I see a buffalo, though it runs off as soon as I see it. I see trees being hauled from the lake and crafted into coffins, homes, drums, canoes. A canoe carrying the corpse of a beloved person moves east to west across the sacred lake toward a pyre. I hear the music of trumpets, flutes, rattles, and sticks hitting stones. I see seven women dancing, practically flying. Physics in free expression. Bodies supporting other bodies through the air and whirling. Enraptured with the ecstasy of a trance-induced loss of inhibitions, I run toward the dancers and fling myself through the air. Around me, they bounce off of one another with precision- the dancers become a whirling swirl of soft lovable flesh, huggable and kissable, and then their bodies turn to dancing skeleton bones and lift into the sky, rising to become the stars shining, twinkling within the constellation Taurus. A group of folks join hands and stretch out into a circle, dancing. Now, many more people appear and gather around the lake enshrouded in different colors. At the lake's center, a 4 piece band plays atop a floating surface. Amplification devices and lights line the trees around the lake. The music is ambient and dynamic. Magenta circles shine on the lakes deep blue surface. The ground begins to shake; a group of woolly mammoths is fast approaching, racing and fighting to nowhere, clueless to the stillness of the moment, preoccupied by outdated modes of impulse. I run away from the water and hide, leaning up against a tree. In the limbs above, a black sabertooth tiger purrs while watching the already-dead beasts noisily flail about. The tree shakes with the force of a large creature leaping from it. A small black Abyssinian cat lands in front of me and begins walking toward the lake. At its edge, it quickly twirls around a few times, and then runs across the water into darkness. An urge to go into the lake overcomes me. The lake is calling my name. I am terrified but rendered into an observing witness to my own movements. I approach the water.
Finding a marble in the sand, I balance it on my forehead between my eyes. A bubble forms around my face. I ease into the lake, the surface rising to my knees, my waist, my chest, my neck. Submerging. I'm relieved I can breathe. The water rushes like a drain toward the center of the lake. Caught in a current. Up against two rocks with a small crevice between. Before I can begin to get my bearings, I am pulled through the chasm and into a sinuous labyrinth of hard slippery-film covered rocks. A tremendously loud ascending tone. The blinding bright light of the void. Sight & sound slipping beyond my hearing & seeing. Upon the precipice of complete oblivion, a tone begins descending in harmonic intervals down, down, down, down. Shades of the rainbow flicker and bleed through the sunless waters. Swishing through measureless caverns like some unsafe slide at a waterpark. I reach out my legs and arms in futile attempt to slow the wild velocity. Suddenly, there are no walls. Tumulted into a vast ocean. Unable to breathe. Rushes of hot and cold waters. Inhale inevitable. Lungs about to be flooded with this lifeless ocean. Panic overwhelms. Surface breakthrough. Gasp for air. Heart pounding. Soon slow deep inhales & exhales…A cavernous dome comes into focus along with the shore of an island. Washing onto the island, the cavern dome grows brighter. Seemingly sunlit and constructed of a crystalline icy lacquer black tourmaline obsidian. 4 tributary caves branch off of its surrounding waters. On the island is a massive Live Oak tree with 10 main branches. A humanoid with dark skin, clothed in extraordinary garments of shimmering blues & greens, a necklace with a deep emerald green scutoid shaped pendant, elongated chin hair fibers, a tall hat, and some sort of staff or instrument in its hand stands by the tree. It bathes me in Love with open-hearted energy. It feels good and helps me relax. The cavern is slowly rotating like a merry go round. I try to speak but am too amazed by the persisting sense of astonishment. A beta-test of telepathic communication systems takes place between my new friend and I. I struggle to convey anything more than simple notions:
Where am I?…What are you?…
"Atlantean…Elysian…Neptunian…We reside in the abode of the blessed. We mystics must work underground in the shadows free from persecution and ridicule until humanity is fully prepared for our works to be made open, known, and communicated to mass audiences."
Its "we" rings out with dub-like delay, filling the space inside of my head. I notice many other humanoids surrounding us, hanging on crevices around the cavern. I sense they are excited I have arrived here and are welcoming me joyously.
Have I traveled into the future or past or…
We are in the everblooming eternally present moment. Now. Though, forward movement of causal necessity demands a past-into-future feel of time, there is also always a flow of data from the future into the past as well. So, the notion of past & future doesn't cut it.
We are in the void at the center of Being which is just beyond the eschatological future, and we are in the void which surrounds all Being which is just beyond the nostalgic paradise of the past. These two voids are the same void. The stronger you cling to the differentials of time & space or religion & nationality, or any polarized aspect of a dualistic reality, the more distant the whole note of the cosmos. However, if you realize this pervading void of nothingness is the whole note of music, and that within that nothingness is the divisional manifestation of the element of rhythm and the quintessence of melody, then you may find your voice well suited for harmonizing with the song of the cosmos. As you attempt to do so, this inter-dimensional-omniverse will render the impossible possible and nature will conspire to move you unto the crest of the wave which transcends the crests & troughs of all smaller waves."
It opens its mouth to speak. A differential sound of words flow like a babbling brook and feel like a synthesis of music & language. It comes upon me like a translinguistic object supremely repellent to all attempts of my mind to pin it down with the English language. The cavern's spinning is intensifying. Astonished and terrified, I attempt to repeat a part of what I'm hearing. Some form of language arises out of my mouth and throat, and I fall immensely short of trying to mimic what I'd heard. I devolve into hysterical, infantile giggles and laughter, amazed at the orbs of color surrounding me. I regain myself and recall I am in the presence of a very bizarre and special situation. Damn it, I ought to have myself more pulled together! It speaks again. This time I register a notion of English, though it is shrouded in the phonetics of some cross between Gaelic, Arabic, and Hebrew. It raises its hand as if bestowing a blessing and speaks in a flowing circular meter:
~~~~~~~~~~~~
Frolic where new mysteries grow
Way down upon the bend of when the river flows
From the bottoms of caverns beneath the bottomless pits
Where Saturnian masters mask in khaos and glyphs
Laughter at mass cracks chasms and cliffs into
Puddles of patterns
Splattered – surrounding a cross
An abyss of myths
~~~~~~~~~~~~
Completely exhausted, I fall to my knees and onto my back. The water around the island swirls and rises. I hear a sound of the wind. The leaves of the oak tree emit waves of oceanic tones. The water fills the cavern, covering the tree, lifting me floating, and pulls me into its depths. Again I hurl through a system of measureless caverns. I am more yielding to the currents of these winding waterways now than I was before. I fade in and out of waking attention and find myself upon a sandy beach. The night is dark. I quickly drift into a deep thoughtless weightless sleep.
I hear the swimming waters and open my eyes to see the blackwater river rolling. Darkened by tannic acid and decaying palmetto roots, the Suwannee River looks like Tea as it makes its way from the Okefenokee Swamp to the Gulf of Mexico. People are gathered on the beach for relaxation in the sunshine. The water has a cool refreshing bite to it, contrasting nicely with the heat of the day. Kneeling at its edge, I bow forward and dip my face- and I'm awake.
There's a nearby canoe outpost for extended river explorations. The beach is connected to the main area of the park by about a mile long road, from which other roads branch off and spiral deep into the park and back around to the lake and Amphitheater stages. Getting lost and finding your way back to your bearings is a rite of passage of sorts for all who first frolic in the park. 
Veterans of festivals at the Spirit of The Suwannee, Dumpstaphunk drops onto the amphitheater stage carrying the eternal flames of New Orleans and is warmly welcomed by the Suwannee faithful. New Orleans and its music takes on an ancient yet incredibly fresh tone. It is interesting that the land which New Orleans rests upon was formed over the same time the pyramids of Egypt were formed. Its some of the youngest land on the earth. Yet, within our culture's context, the city and culture of New Orleans has an ancient hue. Dumpstaphunk does the United States of America's greatest city justice. Forget the late afternoon heat- Dumpsta gets the bodies jumping.
moe. rolls through as does Saturday night. Nearing midnight, 6 enormous snakes find their way onstage and reform into a hydra-dragon even larger and more powerful than the one the night before. Emerging from the regenerative metaphysical mystery, Lettuce prepares to launch their 2nd performance of the weekend. Paul Levine lets it be known that Lettuce is dedicating the music this evening to Kofi Burbridge. Adam Deitch could marshal the group through any terrain. As far as charioteers go, Deitch could slay demons in the thickest of battles at any point in history- a true ranking general of rhythm. Within a groove similar to Miles Davis' "Mr Freedom X", Eric Benny Bloom probes the collective with his trumpet with force & foundation. There is a feedback sound of victorious heavenly brass on the status of Spirit moving with simultaneous awareness of position & motion. Jesus Comes always on the move and holding IT down on the bass. The crowd's a grooving moving gyrating mass of multidimensional multiplicities of Being. Lettuce moves the fabric of reality with their dynamic emotional music. It lifts some and overwhelms others. It's from the center of the cosmos and has power. The affect it has on you is from the movement of this power. Many people have to travel different directions to get to the same place. The same place this music wants us to get to is the place where we remember we have always been within the same space.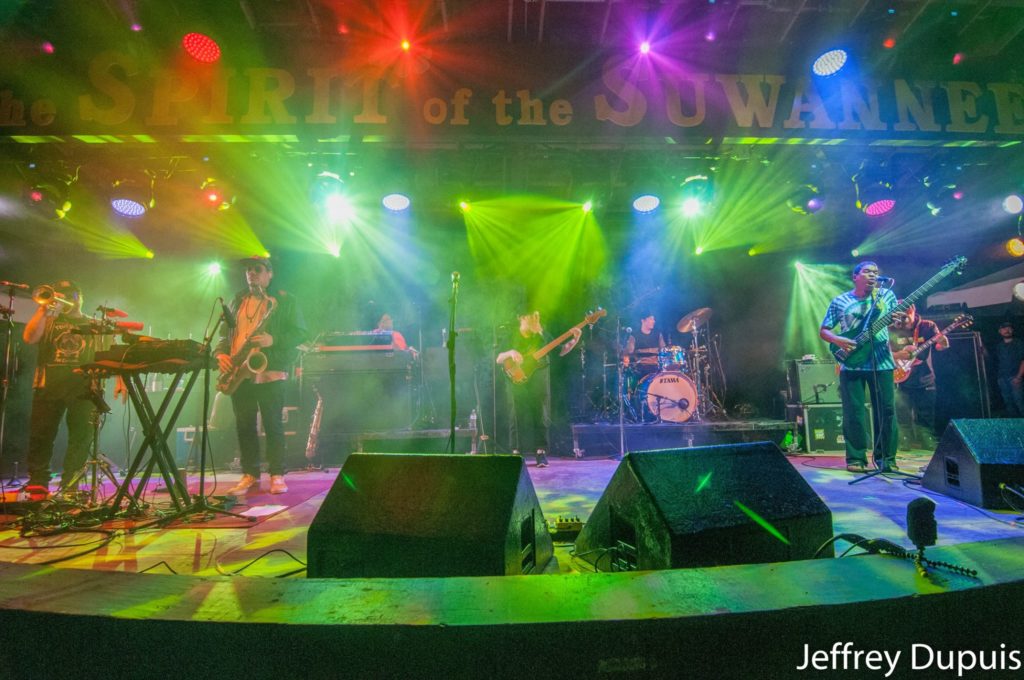 Just before the dawn, I move toward the lake. Slightly nervous from the magnitude of my last visit to the lake, I walk slowly and mindfully. A man with a psychetechnaretedelic coat on walks past me while rattling a gourd filled with crystal pebbles. He lays down a blanket very close to the water on the southwest point of the lake and sits on it. I join him. He pulls out a glass pipe and packs it with a blend of herbs. He puffs it, holds it, and lets the smoke out with a single uncontrollable chuckle, as if amused, laughing at the wasteful behavior of mankind in a Loving way. He offers me the pipe. Asking what it is, I learn "Suwannga". The taste is unpleasant but invokes deep feelings of mummified memories hidden within olfactory layers. We pass the holy blend back and forth. The presence of something else is very prevalent in the air. The sky is just beginning to lighten. Above us, Jupiter moves toward the sky behind our backs; following in procession is Saturn, Venus, and Mercury. Now, the Sun's rays begin peeking through the trees across the lake. The lake's surroundings take on bright colors, predominated by a vivid green. This morning's Sun brings with it the unmistakable power of self-reflective awareness innate in all human beings. A living metaphor for the light within us all. Rising. Ready to provide light and warmth. Rising. Ready to bring the eternal freshness of Springtime. Rising.
The bald cypress trees encasing the lake take the shape of ancient warriors striking poses of guardianship. The lake is awash in the colors of its own reflection and wisps of a fog & mist dance on its surface. The fountain in the lake pours water up unto itself like a dance and streaming melody made in honor of the metagenic creativity of nature. The morning grows brighter. A cardinal flies by. Woodpeckers sing. Water Moccasins bask in the shade under the dock across the lake. Tree limbs wave like conductors of an omniversal orchestra. Spanish moss draped on the trees gently sways. A serene natural condition-atmosphere of velvet, silken breeze. An eagle flying overhead lets out a call. I stand up and stretch out my arms to the rising sun. The faint roar of what I thought was a truck swells into a sound of immense distance and presence, a shaking in the air coming from that invisible symphony and song, ancient revival. A long sustained roar from the body of the The Spirit of The Suwannee Music Park. Harmonic synthesizing of the low of the 20th century and the high of the 21st century and the entelechial centuries beyond, echoing, and rising, rising, rising…