The Upful LIFE Podcast – Episode 015: EDDIE ROBERTS (New Mastersounds, Matador! Soul Sounds, Color Red Music), GHOST-NOTE, NOLA JazzFest After Dark PREVEIW
Episode 015 of *The Upful LIFE Podcast* features the one and only EDDIE ROBERTS, guitarist/founder of New Mastersounds, and more recently, of Matador! Soul Sounds. Eddie is also one of four men at the helm of Color Red, a record label/brand based out of Denver, Colorado. For well over 20 years, Eddie has been an omnipresent force in the jazz/jam/funk scenes from the UK to the Bay Area and all points between. During a mid-February three night stand at Boom Boom Room in SF (with The Eddie/Logic Project, and his own Eddie Roberts' West Coast Sounds), Eddie made himself available for a long-form interview at the exquisite Queen Anne Hotel in San Francisco.
EDDIE ROBERTS INTERVIEW STARTS AT 16 MINS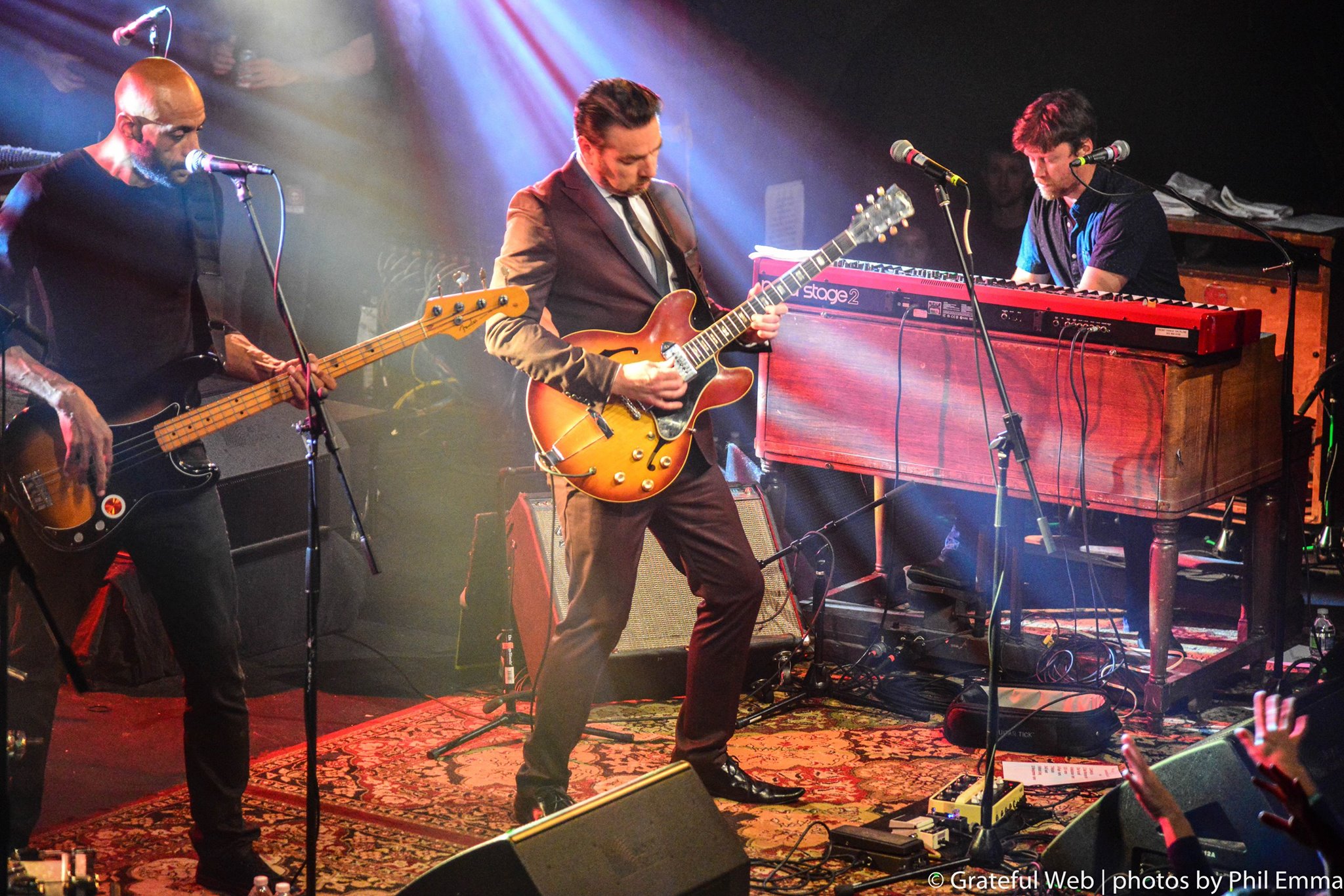 We start out talking about his charity organization Eddie Roberts' Payback, which was initially created to help the plethora of suffering people in the Tenderloin neighborhood of his former home in SF. He explains how the org continues to do the good work in his new residence (of four years) in Denver, CO. However, Eddie's roots are in Leeds, England, and he briefly takes us back to his youth, when he was originally a pianist, before he became infatuated with electric guitar and at 10 years old he begged his parents for an axe. Eddie grew up idolizing Jimi Hendrix and then really fell hard for the late jazz guitar great Grant Green.
A favorite of mine as well, Grant Green gives Eddie and I an opportunity for a short detour about the legendary guitarist, and how Eddie arrived at the tremendous tribute show he has often put together to honor Green. From there we go back across the pond to Eddie's early days tailor-making bands and DJ nights in Leeds, and the earliest incarnation of his band, The Mastersounds. He riffs on his organ trio The Three Deuces, before explaining how he put together The New Mastersounds around 1999. We talk a little bit about "Acid Jazz" as a bad word, and the scene in England where Eddie Roberts style truly took root. Other topics include when the Greyboy Allstars visited England in 1995, and when The New Mastersounds returned the favor ten years later in Chicago. Analog recording techniques and the low-fi vibe, why Eddie's records sound so authentic, plus the origins of the "shitty is pretty" aesthetic. Roberts reaches back for some humorous memories of Bear Creek in the early days, and explains his original idea and vision for the Suwannee Rising festival that took place earlier this month.
I had to get the scoop on the Color Red label, as Eddie details the humble beginnings of the brand, and a little about his partners, including Sunsquabibassist Josh Fairman. From studio equipment to musical connections, brand recognition and art-design continuity, Eddie expounds about why they are not exclusive to Colorado artists. Also a bit on the importance of making original music and why Color Red pays attention to remix culture. We also had to rap about the magnificent Matador! Soul Sounds project with Alan Evans, Chris Spies, Kim Dawson, Adryon de Leon, and Kevin Scott. How that band took shape, with regard to Soulive's Evans and the pair of singers, as well as what's on the Matador docket moving forward.
I would be remiss if I didn't ask Eddie about his penchant for fashion. We are talking about a sharp dressed man here. Naturally, I had to find out what was at the root of Eddie Roberts' patented look, and just give him some props for always carrying it with dignity, class, and panache. Unfortunately I had to go to work this particular afternoon, and that (plus some technical difficulties) caused me to cut the interview a little shorter than I'd like, but we left a lot on the table for a sequel. Thank you kindly, Eddie Roberts, for this enjoyable chat!
JAZZ FEST AFTER DARK Preview (1hr 11mins)
A very brief rundown of some of the hottest night shows in town, as we approach this year's musical Mecca. This is my blessed 17th year heading down to the Jazz Fest, and I thought it would be beneficial to offer a few options for folks on the proverbial fence about which gigs to hit after they leave the Fairgrounds, or on the days between. This preview is STRICTLY AFTER-DARK OPTIONS! And only a few suggestions, there's plenty more I do not have the time to touch on. Check it ALL out at Jazz Fest Grids.
Ghost-Note checks in at 1hr 35min
Photo- Jeffrey Dupuis
Backstage at the inaugural Suwannee Rising festival at Spirit of Suwannee Music Park, I was lucky to snag a few minutes with Robert "Sput" Searightand Nate Werth of Ghost-Note, and both formerly of Snarky Puppy. These GRAMMY-Award winners have embarked on a serious new endeavor with Ghost-Note, so it was only appropriate to catch them at SOSMP, where I was first introduced to Snarky Puppy at Bear Creek nearly a decade ago. Sput & Nate were both amped to return to the music park, but even more stoked on NOLA Jazz Fest and their huge SWAGISM show on second Saturday at One Eyed Jack's. So for about twenty minutes, we retraced the making of their album in NOLA, and then they set the proverbial table for what's to come next week in the Crescent City. An abbreviated, print-version of this same interview is available to read on L4LM here!
*Vibe Junkie JAM of the Week*
Piano Prince of New Orleans! James Booker: "Slowly But Surely"