HELP FROM MY FRIENDS: A Poster to Benefit CREW NATION!
Due to the rapid onset of COVID-19, the live music industry has suffered mightily; all events, tours, & festivals remain grounded to an indefinite halt. With it went the income streams of crew & staff of touring artists everywhere. Thus far, a large percentage have been marginalized or disqualified from stimulus funds. We all miss the magic of live shows, our favorite jams, & losing ourselves in the moment; these fine folks are wondering how they are going to eat, pay bills, & take care of their families.
A group of big-hearted, live-music fanatics have coalesced to help out our friends. And we need YOUR help! Music fans like YOU make a difference in the lives of the people behind the scenes: The Crew. The ones who make the magic happen, building it from the ground up, city by city & night after night. By purchasing this limited-edition poster, you're helping out these hard working people whose lives & livelihoods are at a standstill.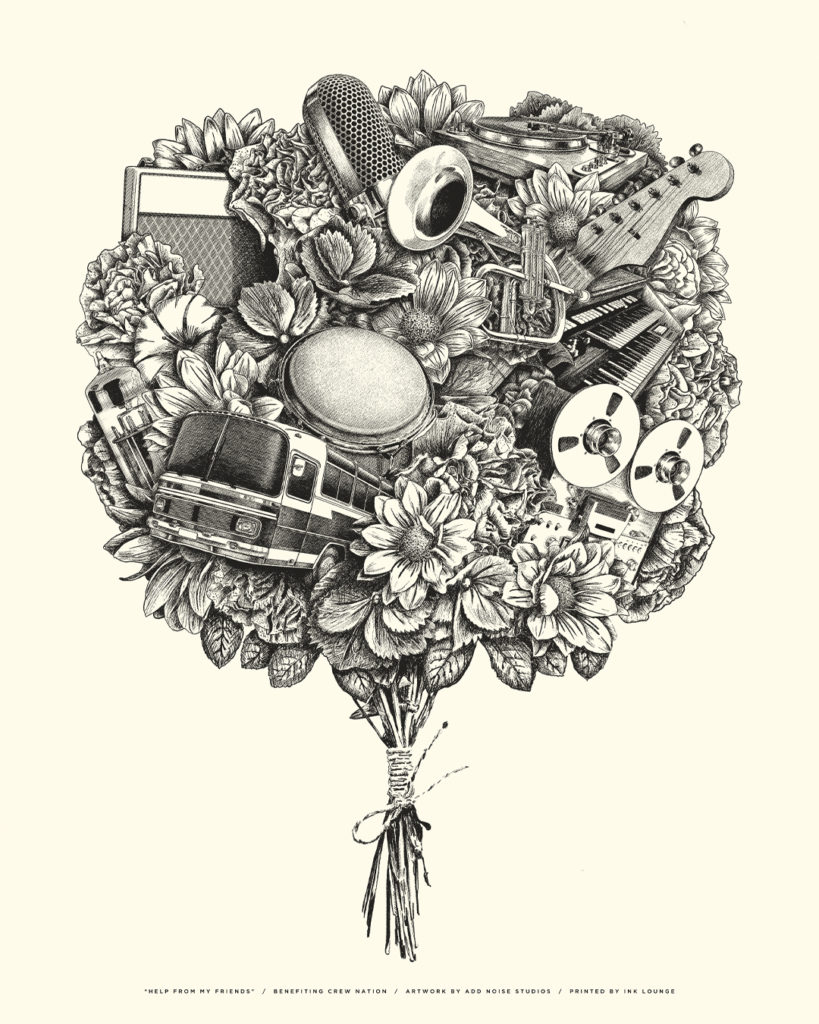 This detailed original artwork was meticulously crafted by Mike Tallman of Add Noise Studios, & conveys a deep gratitude for the fulfillment that live music provides to all of us. 100% of net proceeds from this initiative will benefit Crew Nation, an organization that commits to matching every dollar raised in this campaign, and distributing it equitably.
The presale period to order starts now, and runs until Wednesday May 20th at 11:59pm CT. $45 for color/$40 for b/w (includes shipping, and jumps to $55/50 after the pre-sale) reserves you one from the introductory limited edition of prints, signed & numbered by the artist Mike Tallman. Spreading the word is almost as helpful as buying a poster so if you're not in a position to grab one, a share is more valuable than you might think and much appreciated.
Join us in lifting up & supporting the people in the music industry most affected by this unprecedented shutdown. Let them know: a little help is on the way.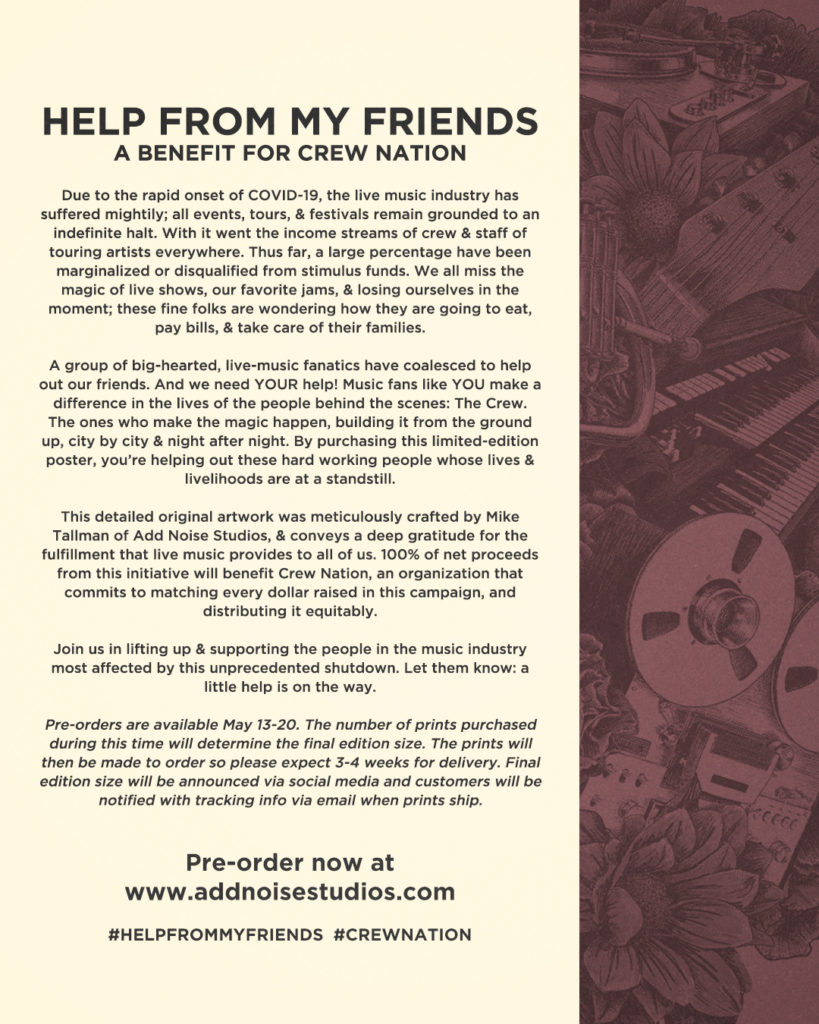 Pre-orders are available May 13-20. The number of prints purchased during this time will determine the final edition size. The prints will then be made to order so please expect 3-4 weeks for delivery. Final edition size will be announced via social media and customers will be notified with tracking info via email when prints ship.