The Upful LIFE Podcast – Episode 019: LUKE QUARANTA (Toubab Krewe) / THE QUICKENING (Rachel Murray & Blake Quick)
Episode 019 of *The Upful LIFE Podcast* welcomes our good friend LUKE QUARANTA to the show for another long and winding discussion, the last interview I conducted over two weeks in NOLA during Jazz Fest 50. I first encountered Luke and his band TOUBAB KREWE at Bear Creek Music and Arts Festival, at Spirit of Suwannee Music Park, around 2008 or 2009. Ever since, I've been a big fan of his percussion magic, and of course the amazing Toubab Krewe, who released their latest LP Stylo in 2018. Toubab Krewe is always very active over Jazz Fest, and the members play in a lot of other bands as well, not the least of which is Luke himself. Nonetheless we were able to track him down at the end of our stay in NOLA, and he more than delivered with a fascinating interview that was at once informative and entertaining.
LUKE QUARANTA Intro>Interview at 11 Mins
Quaranta takes us on a lengthy journey of his inspiring career as a drummer, starting with his humble beginnings growing up in New Rochelle, NY and spending some time in the Bronx as a young adult. He discusses formative influences on him as a youth, and how he developed an interest in the different drums he employs when creating with Toubab Krewe. Originally and primarily based in Asheville, NC, Toubab Krewe members came together in organic fashion, shared a passion for West African instrumentation and it's music, and a strong curiosity to make it something new and evolved of it, yet still in tribute to the traditions. Over time, Luke began working with Djembe, Congas, Dundun, Sangban, and KenKeni drums, and he explains how he came in contact with these instruments and where he picked up knowledge and understanding of these ancient drums along the way. From there, Quaranta describes the context of these instruments, music from Mali, Guinea, and the Ivory Coast, and how he/his bandmates internalized it, and then repurposed it as their own creation, with permission and a blessing.
Quaranta discusses mentors and friends from his travels in West Africa. I asked him how he was able to get together and study at length with master drummers in Africa and in the US, to such depth and understanding. He describes several trips to Africa to live with and make music among the people in Mali, Guinea and Ivory Coast. Quaranta explains how they received blessings from the master teachers to take this music to the West; they were invited to live with them and their families, spending a month a time, on more than one occasion, to get a proper orientation from the musicians who know it best. We talk a bit about Toubab Krewe in the early days, and Luke appears to have a fond time reminiscing on the start of this band and it's journey in the early 00's, he takes great detail in the narrative of how the music was instilled in them in Africa, how they hosted master drummers here in the States and traveled extensively with them and traditional dance groups too, and how it all tied together with the embryonic phase of Toubab Krewe.
Luke explains how Toubab carries echoes of African greats like Ali Farka Toure, Orchestra Baobab and Salif Keita, but are ambassadors of the music into the future, they are not bound by the same traditions, and the Krewe was encouraged to play this music from their own hearts.  From there, Quaranta explains the etymology of the name "Toubab Krewe", how it pertains to non-Africans AND is a nod to the heartbeat of jazz music, New Orleans, where our conversation was taking place. Which brings us to the discussion around current Toubab Krewe drummer Terrence Houston, who's been George Porter Jr's drummer for several years and is very admired in the local community and around the US. Quaranta explains how Houston came into the Toubab picture, and how his inclusion has informed the sound of the band in their modern era, most specifically with regard to the material found on STYLO. We finish up the conversation on Toubab with discussing their newest LP STYLO, including the writing and recording processes for both studio and live efforts past and present.
After a lengthy powwow on all things Toubab, we take some time to talk about the incredible Weedie Braimah, who appeared on Episode 004 of *The Upful LIFE Podcast*, a master djembefola whom Luke has studied with, collaborated with, and befriended for many years. They both live and work in New Orleans, and the two have united for some amazing musical endeavors, not the least of which is Weedie Braimah & the Hands of Time. Quaranta takes a few minutes to flesh out the concept for this group and explain the nature of their music in a language everybody can easily understand. This is a powerful collection of world music masters and it was quite informative to hear about what goes into making the Hands of Time happen. A little bit about Jazz Fest, and the myriad of side bands that come to life in NOLA that Weedie, Luke, and collaborators include Raja Kassis (Antibalas), and Terence Higgins(Mad Skillet, Ani DiFranco). We touch on Luke's role in some of those bands, such as Pirate's Choice, Wahala Boys, FuFu All-Stars, and MEGAWATT, a project spearheaded by Kassis that include's musicians from outside of NOLA, such as Lettuce's Adam Deitch, Break Science's Borahm Lee, among others.
Blake Quick/Rachel Murray (THE QUICKENING) Interview at 1hr 11mins
After Luke's chat, we pivot to a NOLA-based buzz-band I'm very fond of, The Quickening, with a sweet 22-minute interview with founder/guitarist/vocalist Blake Quick and vocalist Rachel Murray. Their 2018 LP Begin Again made Upful LIFE's Favorite 18 Albums of 2018, and we've had our eyes and ears on The Quickening for a couple years now. Enjoy a peak behind the scenes of a Crescent City band cutting their teeth in that great environment, and some perspective on the hard work and grueling efforts it takes to make or break a band in this crowded, vibrant, and often cut-throat music scene. Both Quick and Murray also shout out some of their favorite underground NOLA musicians.
Vibe Junkie JAM of the Week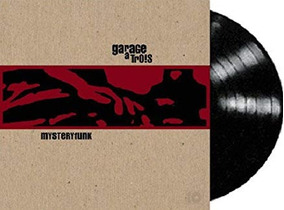 Garage-a-Trois debut EP, vinyl only, "Mysteryfunk". Fog City Records, 1999. I just let the whole 24mins EP ride out. 3 full songs and a minute-long outro. This features the original lineup of Stanton Moore, Charlie Hunter, and Skerik, Produced by Dan Prothero. You may think you know these guys as players, or even GAT, but you likely haven't heard them quite like this. Almost an electronic album, Moore unfurling boukou trip-hop breakbeats and drum & bass jungle riddims, underneath the kaleidoscopic eccentricities of Hunter and Skerik in full bloom.