The 6th Annual ROOTS FAMILY PICNIC
A JAMBASE-upfulLIFE-Krolick Productions-Focused Eye Films COLLABORATION!
Words by Jake Krolick with B.Getz, Photos/Video by Jake Krolick. Jambase Review HERE
 Afterparty: ?uestlove at UnderGround Arts
Photo Gallery by KB for FOCUSED EYE FILMZ
There are several constants you can expect in Philadelphia during the first June weekend; the city will empty out as folks run for the Jersey Shore, beautiful spring weather will lose its battle with summer temperatures way too early and the Roots Picnic will roll through town as the best representation Philadelphian's will ever have of their cross-cultural multi-racial city.
This sixth incarnation of the picnic found The Roots shortening the festival to a one day affair with Hip-Hop royalty Naughty By Nature playing the headlining role alongside The Roots. Sure we heard "OPP", "Hip-hop Hooray" and "It's On," but the beauty behind the Naughty By Nature set was the music The Roots laid down. The more diverse the artists are that they back on Late Night with Jimmy Fallon, the better they get at reinterpreting other musicians songs live. The Jazz scales that were tossed around during Naughty By Nature's apropos opener "It's On" were like a John Coltrane wet dream. Then there were stand-out moments where Kamal Grey's keyboards bounced lively alongside that signature kick of Questlove's snare drum during The Roots own jazz-soul compositions "Dynamite" and "Mellow My Man." The fiery arrangements and vocal delivery exploded with unbilled guests Marsha Ambrosius, Meek Mill, Rahzel the Godfather of Noize making everyone realize that you just can't beat The Roots as a band. The music changed so frequently that it was easy for all musical tastes to latch onto something that you liked. Year after year these closing sets secure The Roots legendary status back in their home city relaxing with several thousand of their closest friends at a summer picnic.
The Crowd at Roots Picnic

Saturday's picnic was filled with other annual occurrences like Philly's favorite host Amanda Diva running the mainstage with her yearly crowd rhyme off and dance contest. The tent stage featured several up and coming Hip-Hop artists including Trinidad Jame$ who finished his set with "All Gold Everything" as the crowd threw themselves around. Joey Bada$$ and Hit Boy were both exceptional and should rise to larger-than-life fame before next year's picnic is even announced. The tent has taken on a new dance tradition after Diplo dominated the scene with a party to end all dance parties last year. This year wasn't quite as bananas, but it did manage to get hoping for LA's Gaslamp Killer as he mixed Bone Crusher's"Never Scared" Jay-Z. A-Trak paid homage to Diplo's alter ego Major Lazer slicing and dicing "Original Don" as the crowd waved massive cardboard likenesses of the Canadian DJ over their heads.
The Roots Picnic is a hip-hop focused event that embraces a wide range of styles. That was apparent in the presence ofSolange Knowles . Beyonce's indie-soul singing little sister sported dreadlocks and could be found running around with a super-soaker blasting the hot sweaty masses after her set. The old-soul guitarist Gary Clark Jr., made his blues guitar scream during "Don't Owe You a Thang" before making its strings vibrate like the record scratching going down across from him in the tent. Back on the hip-hop side much credit should also be paid to Macklemore & Ryan Lewis, the Seattle hip-hop duo who gave fans what they wanted with an energetic version of "Thrift Shop." Following that Macklemore opened "Same Love" by talking about the new civil war now being fought for equality before doing a stirring rendition of the hit single that supports same-sex marriage. Simply said they owned the late afternoon crowd with some positive messages.
Joey Bada$$
Saturday night, after the Picnic had ended, Questlove took to the decks at Underground Arts, for The Roots Picnic official after party. With Roots crew Mark Kelley, Tuba Gooding Jr., and jazz pianist Robert Glasper mingling in the crowd, Thompson blessed the people with an eclectic set that saw hip-hop, dancehall, funk, and classic J-Dillatunes blended together in one groove gumbo that bumped and grinded well past closing time.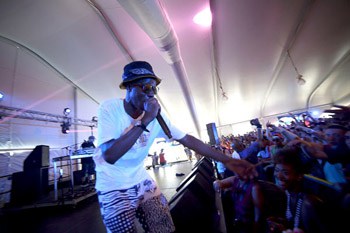 It should also be noted that on Friday afternoon before their annual Roots Family Picnic, the hometown heroes descended on South Philly for a mural dedication. The mural is titled "Legendary," and stretches several stories high. The artwork appears on the wall of a charter school, and depicts a collage of images that detail the two-decades of Roots band history.
Both Mayor Michael Nutter and Mural Arts director Jane Golden introduced the band members present. Golden saying "This is about social practice; it's about transformation of individual and community." The band is especially proud of The Roots 101 curriculum at the World Communications Charter School, on whose wall the mural appears. The mural is the work of Amber Art & Design artists Ernel Martinez, Charles Barbin, Tatyana Fazlalizadeh, Willis "Nomo" Humphey and Keir Johnston. Drummer/band-leader Drummer Ahmir "Questlove" Thompson spoke to the assembled crowd; lamenting that the project affirms that Philadelphia is proud of The Roots, and then the drummer thanked the city as a whole.