PREVIEW: A Dozen High-Profile Hulaween Legacy Artists Reflect On The Magic (B.Getz on L4LM)
Suwannee Hulaween is one of a kind. Indeed, there are hundreds of music festivals, large and small, featuring jam bands to funk to bluegrass to electronic and all points between. Festivals dot the map from spring through fall, yet every year, just before Halloween, the mystical confines of Spirit of the Suwannee Music Park plays a heavenly, rapturous host to thousands of funkateers, fanatics, and Hulagins alike. Hulaween is site to some of the most prodigious festival performances every year—a high-end independent festival that boasts some of the most diverse and interesting bookings that run across many scenes, genres, and generations. (For more information and ticketing for Suwannee Hulaween 2018, scheduled for October 26th through 28th, head to the festival's website here.)
If you ask anyone—be it the performers, the staff, or the festival-goers themselves—they'll all tell you the same thing: the Spirit of Suwannee Music Park is the true superstar headliner of Hula: the main reason why fans, beloved bands, the hottest DJs, plus fantastic vendors and tremendous staff return each and every year, no matter who is slated on the schedule. When you visit Suwannee, your senses drip in serendipity, thick and dense as the Spanish moss rolled betwixt the Live Oaks trees, as far as the eye can see.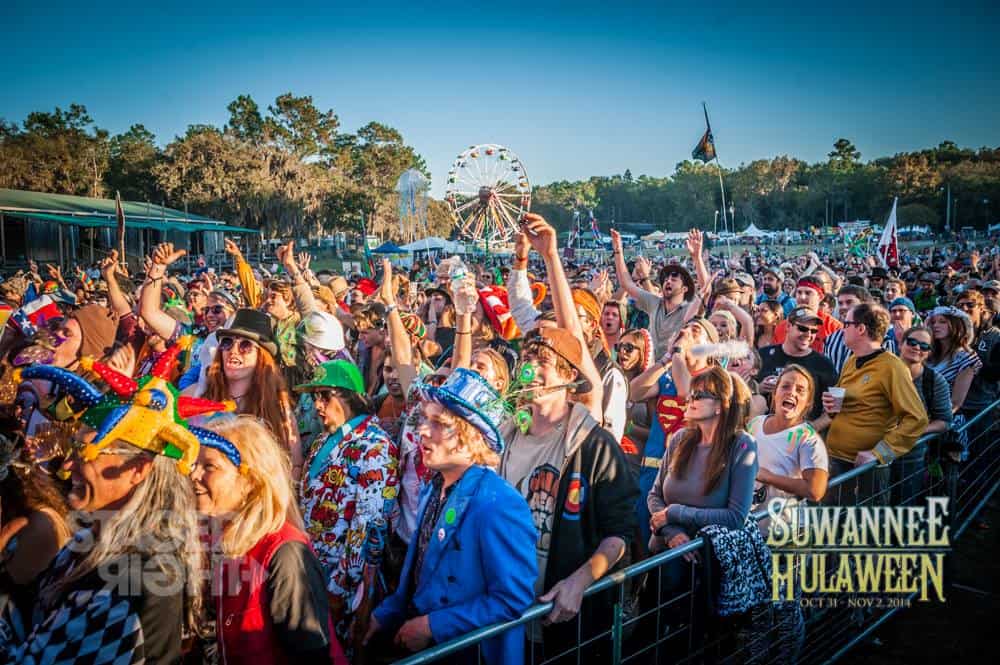 The String Cheese Incident serves as the host of Suwannee Hulaween, as the entire event was conceived by the band long before it settled into its home at Spirit of Suwannee Music Park some six years ago. SCI uses the festival as an opportunity to spread their wings and fly; they dig deep in their enormous catalog, reaching back for old-school songs and patient jams that may get overlooked on regular tour dates. Cheese performs no less than seven sets over the three days, inviting peers and friends to the main stage for a wide variety of sit-ins, in addition to their always exciting Halloween-themed set on Saturday night. SCI are no strangers to both Burning Man culture and West Coast festival art, and this influence arrives at Hulaween—specifically Spirit Lake—in a panorama of color, shapes and sizes, reflected in the band's myriad collaborators, artisans, builders, dreamers, and doers.
SCI percussionist Jason Hann— who performs with electronic side project EOTO, and a bevy of unannounced sit-ins each year—is a perfect band spokesman for this preview. We asked him to reflect on the origins of Suwannee Hulaween, what the festival means to him and his band, and for a treasured memory. We also tapped a few other legacy artists from the 2018 lineup, and they offered their own special thoughts on HULA as well.
Jason Hann (The String Cheese Incident/EOTO): [Michael] Travis and Billy [Nershi] and I were so hyped on the property since we played at other events there, and Paul Levine always presented the best in hospitality, that we kept going back to management and tried to psyche them up for teaming up with Paul to start a regular fest there—something down South that separated itself from all of the other festivals. No doubt seeing the way the property transforms itself on Hula weekend has been incredible to watch and provides fresh memories every year. It's great the way it has similar themes of interactive art installations, like Electric Forest, but has completely taken on its own character in the swamp with the music lineup, the mossy trees, and the addition of the water projections and the neon-water jetpack guy putting on performances at night on the lake.
As far as performance memories, our first collaborative sets when we added the Antibalas Horns and Rhonda Thomas and Tony White on vocals really presented fun challenges for us: choosing to play more music that might be outside of our normal zone, and then finally getting together with horns and vocals onsite on the day of show to rehearse and see how the songs would come together. There always a bunch of moments from rehearsing backstage that I wish were captured. We hit these awesome moments, and we're all eager to hear what these songs will sound like. Then, it happens, and we all high-five each other, knowing that all of the hard work is totally worth it.
I think our first  "Ghoul Train" in 2015 was a great standout moment because it was such a new type of collaborative set for us: playing all Soul Train songs and having the original roller skaters who were just kids on the original Soul Train TV show. And having GZA from Wu-Tang Clan be down for getting in the role of "Don Cornelius" to introduce certain songs. Lots of things came together at the last minute to make it impactful.
The String Cheese Incident – Ghoul Train Set – Hulaween 2015
[Video: TheSoberGoat]
Bayou sons The Revivalists have come of age in nearby New Orleans, Louisiana, and the sprawling ensemble has performed at Spirit Of The Suwannee Park a number of times through the years. Mixing NOLA-fied flavors with soul, blues, R&B, and southern rock, The Revivalists have established themselves on the Billboard charts and in the mainstream zeitgest with their warm, down-home vibes. The band is wildly popular for the catchy, emotional songs, and for this brotherhood's bountiful sounds. Rolling Stone editor David Fricke called them "a Crescent City-rhythm spin on jam-band jubilee."
The Revivalists have a strong and fervent following at the Suwannee going back to their breakthrough performance at Wanee 2012. In 2016, The Revivalists played a fiery set late Saturday on the Spirit Lake stage, and singer David Shaw closed things out with a rare acoustic set on the same stage the final night.
George Gekas (The Revivalists): "Suwannee is a special place in the hearts of many fans and musicians. It has a certain energy that seeps into the grounds and exudes itself into the air. It casts a magical spell on you. Every time feels like your first experience, all while feeling that you're right where you're supposed to be at that moment."  
Michael Girardot (The Revivalists): "Suwannee Music Park and The Revivalists go way back. We've played the barn, the field, the amphitheater, and the forest. We've swam in the river, slept in the cabins, and slept outside. We heralded and rejoiced at the construction of the Busy Bee. We've shivered on cold October nights. We've sweated in 100-degree heat and humidity and done the ice bucket challenge right after a set. It always reminds me of that feeling you get when coming back to summer camp. Just a day's trek down I-10 and a little to the left, and we're at Suwannee. We see old friends and, hopefully, make new ones. " 
The Revivalists – Hulaween 2016
[Video: TheSoberGoat]
Suwannee Hulaween has been consistently ahead of the industry curve when it comes to featuring female artists on their festival lineup. Jennifer Hartswick has long been one of Spirit of Suwannee Music Park's most celebrated and beloved performers. The trumpet virtuoso was handpicked by none other than Trey Anastasio when she was still a teenager and has been an integral part of the Phishguitarist's solo side project, Trey Anastasio Band, pretty much ever since. Through the years, Hartswick has played a couple sizzling sets here at SOSMP with Trey as well as led her own Jennifer Hartswick Band across several stages. Hartswick has rocked Suwannee a couple of times with seminal underground unit Van Ghost and has served as an Artist-at-Large, sitting in with the likes of The Nth Power, Umphrey's McGee, Lettuce, George Porter Jr., and countless others.
Akin to the inaugural Hulaween, this year Hartswick is returning to the Suwannee River with her trusty pal Nick Cassarino (The Nth Power) in tow, as the passionate pair have been touring as a duo all over the country in 2018. We asked the artist affectionately known as "J-HA" for some thoughts about Suwannee Hulaween, specifically regarding their dedication to booking women each and every year. She also let us know some other femme fatales festivalgoers should not miss.
Jennifer Hartswick (Trey Anastasio Band): I'm proud of Hulaween for making it a priority to actively book more female musicians. I think it is a talent buyer's duty to have diversity of all kinds on a festival. There are so many brilliant female musicians that get overlooked, but if people took the time to get out there and see what's happening, they would realize that we're out here. We've BEEN out here. We're not hiding. And if you haven't seen Mavis Staples, you better fix it. If you haven't seen Janelle Monáe, you better fix that too!
Jennifer Hartswick & Nick Cassarino – Suwannee 2013
Swooping in from the Gold Country hills of Northern California is The Polish Ambassador & The Diplomatic Scandal. Polish (David Sugalski) has long been the world's funkiest diplomat, and now he's stepping into the role of a bandleader. With the newly-christened Diplomatic Scandal, TPA is bringing together a live band, a collective of instrumentalists culled from his ever-reliable Jumpsuit Records family. The band has played merely a few engagements so far, but the buzz is hot for this new endeavor, and Hulaween will be its Suwannee debut. The band plans on primarily performing TPA material, with maybe a surprise jam or two thrown in for good measure. Polish is no stranger to Hula or the Spirit of Suwannee, having thrown down twice in Octobers past (2015, 2017) and at Purple Hatter's Ball 2016 when he hosted a Permaculture Action Day.
David Sugalski (The Polish Ambassador): "What I treasure most about Hulaween is what I like to call the Hulaween tri-force. First you have the land, the park, Suwannee. Nestled in the Florida bush, it is one of the most exquisite landscapes to see, hear, and perform music in the country. Then you have Silver Wrapper curating a lineup that has so much good music from a variety of genres. Honored to be a small potato in this cornucopia of good vibes. This combo brings out some of the best music fans—people that truly love music, love to seek out new music, and love to build community through music. People that all artists are thrilled to perform for. Land, Lineup, People: the Hulaween triforce. See you at Hula!" 
Polish Ambassador & The Diplomatic Scandal – "Too Coo" [Live]
[Video: The Polish Ambassador]
Before they decamped to Asheville, North Carolina, a few years ago, The Fritz was a North Florida band—out of Jacksonville to be exact. As such, the group has a long history with The Spirit of Suwannee Music Park, having cut their teeth on a number of festival stages over the past decade, including Hulaween 2016. The quintet's sizzling brand of high-energy funk rock is the perfect party starter for the Hulaween vibration. Yet The Fritz is not a one-trick pony, and they will be back at Hulaween 2018 with a bunch of divergent styles to unveil. Percussionist Mikey Spice let us know that a new Fritz studio EP is on the way, and with that, a hefty slab of new jams come late October, for their favorite musical amusement park.
Mikey Spice (The Fritz): "Suwannee Hulaween has become a reunion on many levels, joining so many of my different worlds together. When The Fritz performed at Hula two years ago, I was ecstatic to see so many friends coming from different parts of the country to enjoy our music in one place. I'd like to add that the production staff shows extreme attention to detail, which guarantees an unforgettable experience for everyone, the artists, and patrons. Cannot wait to be back!"
The Fritz – Hulaween 2016
[Video: BigDirty420]
There is no band with a more storied history on the banks of the Suwannee River than psychedelic future-funk-hop cosmonauts Lettuce. This cherished contingent blessed up the Amphitheater Stage twice annually at Bear Creek for nearly a decade, in addition to a couple of Purple Hatter's Balls, and even a special Music Hall engagement in the middle of winter. SOSMP is quite simply HQ for the LETT Army. The ever-evolving band-of-badasses always seems to deliver supernatural performances from their hallowed Amphitheater throne; several of their most historic and revered sessions have taken place on these sacred grounds. Since 2015, Lettuce has been invited back to Suwannee Hulaween annually, most recently for two sets. On the heels of their white-hot JGB tribute set at LOCKN' and what looks to be a thrilling fall tour, the scene is set for LETT to torch Hulaween once the Autumn wind blows them back to Live Oak in October.
Ryan Zoidis (Lettuce/Break Science Live Band): "Lettuce has enjoyed so many monumental musical experiences at Spirit of Suwannee Music Park over the years, and especially at the Amphitheater Stage. The diversity and the grand scale of an event like Suwannee Hulaween give it even more weight and deeper meaning, to us." 
Adam "Shmeeans" Smirnoff (Lettuce/Break Science Live Band): "There are a few things that come to mind. First off, there is a literal spirit that's alive at the Spirit of the Suwannee Music Park—if you listen closely by the lake, you may hear the spirit's voice, singing softly into the night. Next is the community, the people who come to the park each and every year for festivals like Hulaween, the type of people you'd meet in like an old-school Phish lot in '94, where everyone is kind and courteous and real lovers of music. Third, I gotta say the man behind the curtain, the curator of the Spirit of Suwannee, the man himself, Mr. Paul Levine, who lives at the park all year round. Paul sets the tone and the vibe by being a wonderful human, a great friend, and someone who truly cares about presenting the music from a fan's perspective."
Lettuce – Hulaween 2015
[Video: TheSoberGoat]
Several members of Lettuce, along with producer/keyboardist Borahm Lee, will appear as Break Science Live Band, having debuted this lineup at the Music Park back at AURA 2015. Furthermore, Break Science has performed at SOSMP many times as a core duo, with Lee and Adam Deitch having thrown down their unique brand of progressive live electronic music at several Suwannee events over the past decade. Accordingly, Borahm Lee has strong feelings, an affinity for, and an attachment to the venue and its environs.
Borahm Lee (Break Science): "Suwannee has always been something so special. There's definitely something magical, magnetic, magnetizing about the grounds to begin with, before even any other factors. I think that the Earth is kind of like a human body, where there are different pressure points—points of accumulation of vibe, energetic areas, sort of like lay lines. [Laughs] I definitely feel like Suwannee has it… Something certainly magical. You can feel it, and it's sort of reflected in the nature that is there that's so very unique—the Spanish moss, the oak trees, that amazing river. Whether you are a nature lover or not, it's a special place. We've been playing fests there as long as we've been Break Science." 
Break Science Live Band – "Me, Myself, & I" – AURA 2015
[Video: AURA Music Festival]
An artist affectionately dubbed the "Minister of the Suwannee River", lap-steel gospel guitar shaman Roosevelt Collier is a beloved son of Spirit of the Suwannee Music Park. Going back to his days running with the Lee Boys, Collier has been omnipresent at Suwannee for magical moments dating back for many, many years. Collier has performed at SOSMP and Hula in a variety of combinations, settings, and projects. A very unique and inspired player, Rosie most likely holds the record for most sit-ins all-time at this venue. The Florida hero will be feted like royalty once again when he returns to the river for this year's Suwannee Hulaween.
Roosevelt Collier: "Spirit of Suwannee is a place of musical healing and family gathering. There's this chemical embedded in the trees out at the park called 'love' that everyone knows about and feels when they enter SOSMP!"
The String Cheese Incident with Roosevelt Collier – "On The Road" – Hulaween 2016
[Video: Go See Live Music]
Manic Focus has become a household name at Hulaween in recent years, as the producer/DJ/bandleader has seen his career blossom as he climbs the festival lineup mountain around the country. John "JmaC" McCarten hails from the Twin Cities in Minnesota but has come to prominence in the windy city of Chicago, where he's built a devoted following on top of his white-hot remixes and bombastic live shows. Manic Focus has a keen ear for the classic pop song remix, throwing thunderous drums and throbbing bass beneath the melodies we all know and love. Look for a very special appearance of the MF'n Live Band, featuring a who's-who of the live electronic scene.
John "JmaC" McCarten: Hulaween has been sort of the "last hurrah" festival of the year for me. It's the last full-fledged camp out before everyone goes into winter hibernation, and one more chance for us to see all of our homies playing before we hit touring season head-on. Hulaween is one of those tight-knit festivals that really makes me feel like I'm at home.
I've had the chance to perform with some really incredible musicians at Hulaween. The Manic Science set I did with Borahm Lee, Adam Deitch, the Shady Horns, and Jesus Coomes on the Spirit Lake stage definitely stands out in my mind. Over the last two years, the Manic Focus live band featured some fresh lineups and sit-ins from Jen Hartswick, Ryan Zoidis, and ProbCause. Then, in 2018, I got to play a late night DJ set on a stage that shot fire into the air. You never know what'll happen at a festival like Hulaween, one that really caters to the musicians AND fans.  
Manic Focus – Electric Forest 2018
[Video: Manic Focus]
---
Suwannee Hulaween will return to its home at Spirit of the Suwannee Music Park in Live Oak, Florida, yet again in 2018. Scheduled for October 26th through 28th, once again, the festival boasts a truly diverse and heavy-hitting lineup. Headed by host band The String Cheese Incident, the weekend will also see performances by the likes of Odesza, Jamiroquai, Janelle Monáe, Tipper, The Revivalists, Vulfpeck, STS9, REZZ, Lettuce, Gramatik, Trampled By Turtles, Action Bronson, Emancipator Ensemble, and countless others.