Nikki Glaspie: Purveyor of Pocket. Child of God. Agent of Love. (Long Form Bio July 2016)
Sorceress. Alchemist. Beat Conductor. Funk Philosopher. Seneshal of Style. Purveyor of Pocket. Child of God. Agent of Love.
Nikki Glaspie is among the premier drummers in music today. As a founding member of The Nth Power she's blazing a path of light  and rolling waves of love in her wake.  Daughter to Black Southern ministers, Glaspie first hit the skins as a toddler, joined her mother's choir band, first finding her musical calling through the church. Boston's renowned Berkelee School of Music blessed Glaspie with a fine education and cracked a window to her future. Hours on hours of shedding and studying with Kenwood Dennard and David Fiuczynski. Nikki calls her ensemble conductor Angelamia Bachemin her single greatest influence. 
A student of J Dilla, James Brown, Gospel traditions and all points between, Nikki Glaspie toured the world as the drummer of Beyonce's backing band SUGA MAMA, and has trotted the globe behind Maceo Parker, Ivan Neville's Dumpstaphunk, Me'Shell N'dege Ocello, and more. Nikki is a living legend, well before her fortieth birthday. An in-demand session player, super-jam superhero, singer and spiritual guide, Glaspie is at once down-to-earth and larger-than-life. She and her brethren in The Nth Power are poised for even higher heights, one soul survived at a time. 
Glaspie has played behind and alongside musical luminaries amid an array of genres, cities and scenes. As a founding member of The Nth Power, she continues blazing a path of light behind the kit, leaving a trail of fire behind her, and rolling waves of love in her wake. Nikki is already living legend, well before her fortieth birthday; and her name rings out among an impressive array of collaborators, calling to all corners of the globe.   
Though born Fredericksburg, Virginia, Glaspie split time between Montgomery County, Maryland and Raleigh, North Carolina in her formative years. Her family were Black, Southern ministers, and Nikki Glaspie, who first hit the skins as a toddler, found her first groove at eight years old, holding down the rhythm in her church. It was evident from early on that she would not be a traditional Southern belle. She joined the choir band alongside her mother, who played keyboards, and they bonded in a shared love of music and God. It was in the church as a youth that Nikki found her calling on the drums, as well as solidified her lifelong relationship with God.    
"I started playing drums when I was two. I started getting paid for playing drums when I was 15. I was a full time drummer for my church when I was about eight or nine. Then we moved from Maryland to North Carolina when I started my first year of high school. And then it was like, 'Okay, it's time to get paid, because I had been playing in church for free for years."   
Around the age of fifteen, Nikki's father started introducing her to secular music. His tastes and selections ran the gamut, as she experienced everything from Van Halen, The Gap Band, The O'Jays, Rage Against the Machine, Hall and Oates, and so many points between. Glaspie's dad thought that since Nikki had been drumming since two years old, he would expose her to a new world of music and cultures, and see where she might take it from there. Predictably, she immediately fell in love, her mind officially blown. However, her paradigm would shift most dramatically after graduating from high school; in 2001 she then relocated to Boston to attend the prestigious Berklee College of Music. In the Beantown environs flush in virtuoso and metropolitan vibrations, Glaspie expanded her horizons even further, delving deep into the realms of funk, fusion, and jazz. The stage was set for her education, entertainment, and evolution.
Berklee provided Glaspie with a fine education and a window into her future, shedding and studying with the likes of Kenwood Dennard and David Fiucznski. Nikki calls her ensemble conductor Angelamia Bachemin her single greatest influence.
Berklee provided an embarrassment of riches for the wide-eyed Glaspie, who did her best to sponge up all the experience, perspective, and knowledge that surrounded her. She took private drum lessons from Francisco Mela, studied with the likes of Kenwood Dennard and David "Fuze" Fiuczynski, and shedded to timeless records of Dennis Chambers and Horacio Hernandez. Yet Nikki credits the conductor of the hip-hop ensemble, and founder of the Jazz Hip Hop Orchestra, Angelamia Bachemin, as the most influential instructor during her time at Berklee, and in her life as a whole. Nikki refers to Bachemin as a mother figure, and says that she taught her more about life, inside the music and out, than anything or anybody else.    
"She gave me the practical tools just to be able to gig and make a living for myself in that way. She broke it down for me like: you got a gig to play? How do you get there? How do you get paid? What do you need at the gig? You gotta take a rug so the kick drum doesn't slide, because you don't know what kind of floor you'll be playing on! She taught me a lot of things teachers don't even think about."    
While the long-lauded Berklee gave Nikki a firm foundation, traditionally, academically and thematically, Glaspie credits the frequent gigging at the legendary Wally's Jazz Café in Boston as an enormous and fotuitous factor in her musical education. It was at Wally's that Nikki connected with a variety of players in a series of pseudo-student/teacher relationships. The scene on any given weeknight resembled what many of today's jam-band super-jams aspire to. A smattering of young, inspired players would come together in a wide variety of combos, and team up with a teacher or two from Berklee, or a well known local virtuoso. The results would be staggering, spiritualized sets of music that would propel the careers of many of today's heaviest hitters in the jazz and jam spheres.  With it's Uptown at the Apollo vibe and a "sink or swim" culture, Nikki was called to bring her best drumming and listening, and her most daring ideas to the jam, In doing so, she proved to herself that she could hang with the baddest cats in the game.  
"I used to go to Wally's Jazz Cafe, and that's pretty much where everything started for me and for a lot of people. I started in there when i was 18 years old. Charles Haynes was there playing drums, Mark Kelley playing bass, Davy Nathan was playing keys, Jeff Lockhart was on guitar…there were several different bands. The first night that I went down it was a Thursday night, that was Francisco Mela's night, that was an Afro-Cuban gig. I started playing every Sunday, and when Mark Kelley left, I took over Tuesdays and Wednesdays. That's pretty much where I learned everything."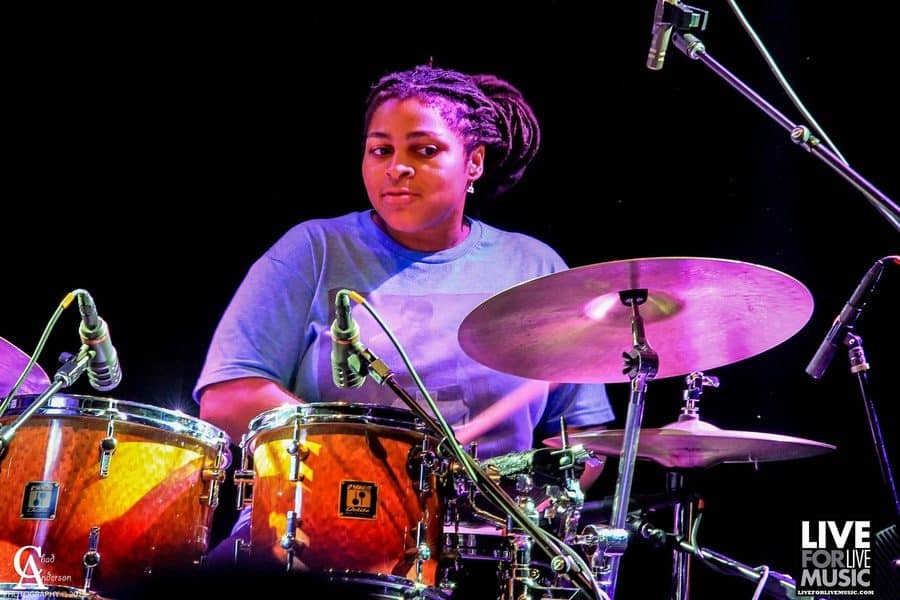 Glaspie spent her collegiate years geeking out to the styles, patterns and approaches of a melange of accomplished drummers. She studied the likes of Dennis Chambers and Horacio Hernandez, the grooves of early Doobie Powell, the punked-up bombast of Dave Grohl, and the minimalist, snapping hip-hop beats of Ahmir "Questlove" Thompson. Glaspie burrowed through seminal records from all arenas of the art, mining influence and perspective from Hezekiah Walker, Fred Hammond, and James "J Dilla" Yancey.
While living, schooling and gigging in Boston, Nikki Glaspie shared the stage with a variety of diverse and accomplished artists spanning several generations and genres; the likes of which include Andre Ward, State Radio, Cee-Lo Greene, Pharoah Monch, Me'Shell N'dege Ocello, members of De La Soul, Vernon Reid (Living Colour), Brenda Russell, Greg Phillinganes (Micheal Jackson), among others. Glaspie relished her role of leading the music forward, of setting the pace and the movement of groove.  
"It does just come down to that I am driving the bus, and it's my favorite thing to do. I had a teacher at college that taught me that because I was a drummer, I am the leader of the band. It's like I tell them where to go because they can't go without me. I love driving the bus. I'm a driver."  
Shortly after finishing school, Glaspie hooked up with another Berklee cat in Sam Kinninger, then-saxophonist of Lettuce and Soulive, who led his own funk-jam band. Nikki teamed with bassist Aaron Bellamy and this mighty band made the festival and club circuit rounds. From this seat Glaspie left her first striking impressions on the newly-fertile jamband scene. Meanwhile, she co-produced Adam Joseph's R&B debut How I Seem to Be. Glaspie also scored her first endorsement, a cymbal deal with the renowned Zildjan.   
The fuse was lit, and Nikki's burgeoning career was launched skyward. R&B/rock rebel-soul guitarist Martin Luther scooped up Glaspie, and in a trio format they toured Europe and beyond. Luther came back from tour inspired, and they recorded  a smoking engagement in Manhattan's Lower East Side, the live record Martin Luther Live at Arlene's Grocery. Glaspie was again gigging for Kinninger when she manifested a game changing opportunity, in the form of an audition for Beyonce Knowles' brand new, all female touring ensemble.  
" I wasn't even going to go to the audition. I had just moved to New York 6 months prior. I was trying to establish myself, but I was still going to Boston to play weddings and other gigs just to pay my bills. The audition came up on a Monday – I had a gig with Sam [Kininger] in Nantucket, it was a Monday and a Tuesday. I had 50 bucks in my pocket and was like, "What am I gonna do?" But I ended up going down to New York for the audition. I didn't hear anything until Friday. They congratulated me and asked me back, so I auditioned again on Saturday, then at the end they asked me to come back Sunday- this is after hours and hours of playing and sitting and waiting and playing- it was all of this for probably 8 hours each day. Finally, at the end of the day they told us, "You ten have been selected to be in the band."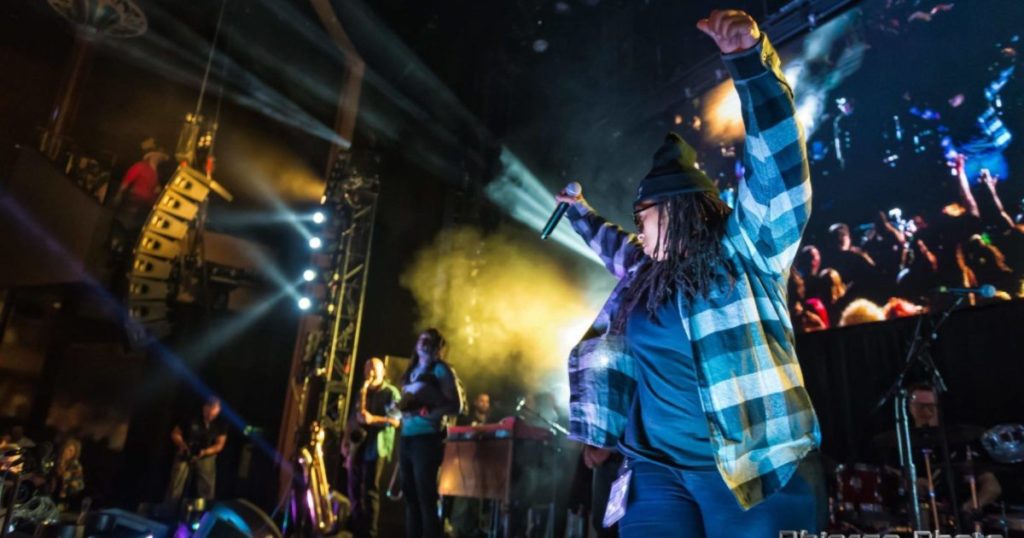 From there began a whirlwind few years for Glaspie as a drummer for SUGA MAMA, the collection of femme-fatales that rolled on tour with the now-ubiquitous celebrity Beyonce. Glaspie again had to study and adapt to new styles and a simpler, restrained role in the band. Playing alongside percussionist Marcie Chapa and set player Kim Thompson (the latter with whom Nikki appeared on the cover of the February 2007 Modern Drummer Magazine), Glaspie toured the world with one of the biggest entertainment stars of this generation. Her schedule took her from Saudi Arabia to the White House; she experienced the music business from a perch that few ever get to see. Glaspie played every major network morning show or nighttime talk show, recorded the seven-times platinum album I am Sasha Fierce, and spent the better part of five years as part of the singer's meteoric rise to fame. From Beyonce, Nikki learned about persistence, professionalism, perfectionism, and pride in yourself and your work.  
"I definitely had a great school with Beyoncé, because it's a well-oiled machine, a major production. I paid attention to every single little thing that happened around me. You pick up little gems, 'Oh, this is how it's done.'"  
On the heels of SUGA MAMA shape-shifting her career arc and life, Nikki Glaspie then hooked up with a legend of a different kind, no less potent or influential. Ivan Neville of the storied Neville Brothers family tree welcomed Nikki into the womb and the world of New Orleans funk music, and Glaspie dove in head first with aplomb. Soon thereafter, she joined Neville's rumbling NOLA funk syndicate Dumpstaphunk, and connected muscularly with the band's double bass attack of Nick Daniels III and Tony Hall. Glaspie took no prisoners from this drum spot, propelling Dumpsta into the top tier of touring funk bands on the festival circuit, including high-profile slots at Bonnaroo, Voodoo Music Experience, High Sierra Music Festival, Outside Lands, and more. Glaspie was also in the studio with Dumpstaphunk when they recorded their second full-length LP Dirty Word, and her fingerprints are all over the bulbous grooves that populate that release. Dumpstaphunk were invited to open for Lionel Ritchie at a coast-to-coast series of shows to promote the record.   
Through Dumpstaphunk, Nikki's reputation as a funk machine began to follow her wherever she laid down a greasy groove. In a serendipitous twist of fate, Glaspie was asked to fill in for Adam Deitch, playing two sets with Lettuce at Bear Creek 2012. The celebrated funk festival was also site of another classic Glaspie sit-in, with two-time Grammy Award-winning jazz champions Snarky Puppy. Nikki has been fortunate to play frequently at the New Orleans Jazz and Heritage Festival, both at the Fairgrounds and in the clubs well into the night. Glaspie has shared the stage with Soulive, Karl Denson, G Love & the Special Sauce, Melvin Sparks, Russell Baptiste, The North Mississippi All Stars, Big Sam's Funky Nation, George Porter, and countless others. It was a late night, Jazz Fest, Maple Leaf gig in 2012 that would connect her with what has become her passion project and life's work, The Nth Power.
"We want to spread love all over the place and we do that through music. We believe in the healing power of music and love. We believe in the power of love. That's what we do. That's what we're doing and that's what excites me."
Nikki Glaspie departed Dumpstaphunk in the summer of 2014 to focus on The Nth Power full time. The public praise, and rabid responses to an independently released 2013 EP Emergency Skills Test told Glaspie what she already knew inside; that she was on to something special with this band, with this music, with this feeling, inside this LOVE. The collective, which includes Nate Edgar (John Brown's Body) on bass, Nick Cassarino on guitar and vocals, and Courtney J'Mell Smith on eyboards, believes in music as a higher power, tapping into vibrations that are both spiritual and sexy. Glaspie's furious gospel chops, her focused hip-hop swagger, her funky stutter steps, and serene R&B grooves are all on display, front and center, within The Nth Power's mesmerizing gumbo. The band released their proper debut album, Abundance in 2015, and have been relentlessly touring the US in support; their songs of faith and devotion have blessed Bear Creek Music and Arts Festival, Electric Forest, Catskill Chill and North Coast Music Festival. The Nth Power's music and message has also taken them all the way to Australia, to perform at Caloundra Music Festival, as well as Costa Rica's The Best Festival. The band's simple-yet-potent messages of love are spoken in a language that anyone, on any continent, can easily understand.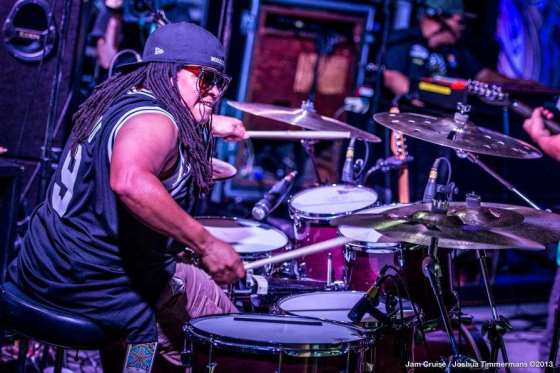 "Just in my short experience living life, traveling around, my eyes have been open to the world and what it actually is and how dark and dirty and messed up it is, so we've taken it upon ourselves to spread the light."   
The future is indeed beyond bright for Nikki Glaspie and her band of troubadours The Nth Power, as more and more people get hip to the magic brew that they are sharing in all four corners of the land. Yet if you ask her for a few words about her career prospects moving forward, she offers this life mantra instead:   
"Never take anyone or anything for granted, for it can be taken away in an instant. Take care of each other. We're all we got. "
Nikki Glaspie is endorsed by Zildjian (cymbals), Vater (drumsticks), Yamaha (drums), and Remo (drum heads).  
B.Getz   
July 2016