D'ANGELO & THE SOULTRONICS – Aug 24, 2000. Taj Mahal- Atlantic City. [B.Getz / JamBase 20-for-20]
This feature is part of a larger collection of JamBase 20-for-20 essays found HERE.  It was an honor to be called back to the squad for this project.
On August 24, 2000, three childhood friends and I pulled up to the Taj Mahal Hotel & Casino in Atlantic City, New Jersey, and stepped into the most spectacular concert I've had the privilege of experiencing in my 42 years on this rock, thanks to D'Angelo & The Soultronics on the Voodoo World Tour.
Twenty-one years young, I'd arrived at a proverbial crossroads in my nascent passion for live music. Soon I'd be heading back to Champlain College in Burlington, Vermont; but there was one more special show on the summer radar. Already that calendar year, I'd survived the phantasmagorical Big Cypress millennium jamboree, and chased that life-affirming excursion with a certain Crescent City bacchanal later that spring, the first of what would have been 18 New Orleans Jazz Fests in May 2020. The former represented the peak of a particular era, and the latter a personal new beginning.
I'd gotten hooked on the mystical powers of one Michael D'Angelo Archer by way of his Grammy-winning LP Voodoo, released just three weeks into the 21st century. A ravishing, seductive, anti-establishment slab of sound art, Voodoo was the forbidden fruit of nearly four years of laborious jamming at Electric Lady Studios in NYC, as D'Angelo dove deep into a patient, fertile creative period with the legendary Soulquarians collective. D's fearless co-pilot in this Voodoo mission was Ahmir "Questlove" Thompson, drummer of The Roots. The iconic, short-lived cooperative birthed several classic albums from the Electric Lady sessions, and Voodoo was the crown jewel of them all.
Shortly thereafter, D and Quest Voltron'd together The Soultronics, for my loot the baddest funk band of the millennium; a murderer's row of instrumental assassins whose sum proved exponentially grander than the illustrious parts. Before D'Angelo would go virtually silent for a dozen years and seemingly disappear into the night, The Soultronics would do one colossal tour, 77-dates in 2000.
Bright-eyed, bushy-tailed, and barely legal, yours truly was blessed to get to one of those storied shows on the Voodoo World Tour, in the heart of decaying Atlantic City – merely a stone's throw from the Margate beaches where I'd learned to surf and spent the summers of my youth.
My A.C. Voodoo krewe was comprised of close friends I'd grown up with, from recess to little league to battle of the bands, and later Beastie Boys, Grateful Dead and Phish shows. Together we shared all that comes with suburban teenagerdom. Shaus, Steve, Michelle and I all went our separate ways for college, but as life nudged us further apart, we'd begun to prioritize these musical convergences, whenever the stars aligned. And on this night, they showed up single file.
The show was super-sold out, but Michelle's folks were high-rollers at the tables and they kindly furnished us with ducats through a time-honored tradition: gaming comps. Better yet, we fine-dined in the casino steakhouse pre-show, then snuck a clandestine chronic sesh in the parking garage – still a little taboo back then – before arriving at the ballroom venue. The four of us scouted out spots in the second level, dead center. We'd wandered far from our suburbanite, caucasian, collegiate neo-hippie wheelhouse, and we had no fucking idea what was coming.
Emerging from near-total darkness, one-by-one the band members stepped through a dimly-lit makeshift temple doorway onto the stage, each draped in various flowing black choir robes, rocking African face paint, corn-rows, afros, feather boas, several wielding horns and axes. To kick things off, the band subtly began a minimalist take on "Devil's Pie," D'Angelo singing in a low register while each instrumentalist took their place, the R&B dynamo gradually whipping band and audience into a frenzy. At which, on the one, the curtain came down, the robes flew off, a glorious gospel chorus swelled into the rafters. D'Angelo swaggered forward, his mojo glistening in the spotlights. On that downbeat, the entire joint exploded in collective jubilation unlike any I'd ever bore witness to. And that was merely just the first verse.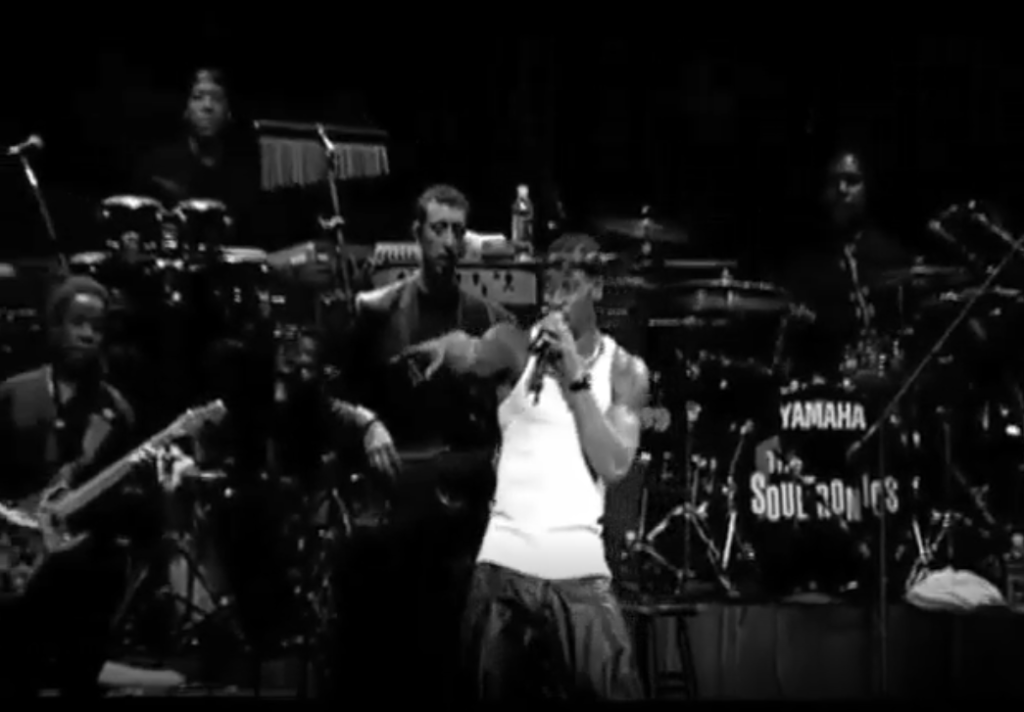 For a relentless two-and-a-half-hour soul revue, D'Angelo was a tour de force, channeling James Brown, Sly Stone, George Clinton, Prince, Fela Kuti, Marvin Gaye and the Gap Band, all rolled into solid gold and profusely sweating out the funk. The Soultronics were as robust and versatile as any band I've ever seen, before or since. The swollen contingent uncorked a history lesson in black soul music and delivered nothing short of a religious experience of preposterous proportions.
Musical director Questlove steered the new mothership with drunken Dilla-fied drums, bassist Pino Palladino was a bulbous, sturdy anchor, and the late gospel guitarist Chalmers "Spanky" Alford poured buckets of Crisco for the "Chicken Grease."
The Soulquarians spent the majority of the performance heaping praise on "good God almighty," in addition to funkifying Roberta Flack, fallin' in love with Slum Village, ghost-ridin' the monorail, and rollin' up "Brown Sugar" while bumpin' Minnie Ripperton, Tribe-style.
From Sly's "Loose Booty" to The Junkyard Band's "Sardines," the ensemble was perpetually standing on the verge of a madhouse; segueing in-and-out of songs, paying homage to their heroes, and communicating in a seemingly-secret language. They expertly weaved together treasured canonical deep cuts and D'Angelo's contemporary creations with aplomb. The late-set, 20+ minute, multi-movement "Lady" > "Jonz in My Bonz" buried so many scintillating soul-funk references that fanatics are still digging them up two decades later.
D'Angelo took it to the stage with an aquarian masculinity that was downright intoxicating, The singer/multi-instrumentalist deftly navigated a delicate dalliance between the sacred and profane; he was unrepentant in his torrid sexuality whilst digging deep into the soaring church-band harmonies of his Pentecostal youth. Our congregation of sinners was in for some serious reckoning, and I can confirm having caught the holy ghost during this ethereal Voodoo seance.
In a whirlwind display of musical mastery, D'Angelo & The Soultronics methodically called back to black music icons of the past half-century, showing love to the "Yodas" that inspired and infused their raucous revival. All the while writing a brand-stankin' new chapter in the book of funk and soul, a lofty perch that nary an artist would touch in the two decades since R&B Jesus blessed up the boardwalk in A.C.
Best of all, I took in this most epic concert alongside my childhood best friends; truly a tradition like none other.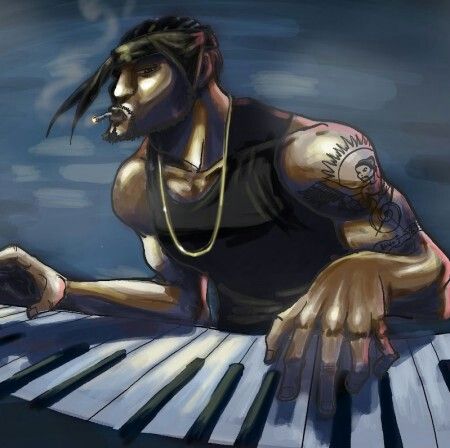 words: B.Getz