INTERVIEW: Mister Rourke- Turntable Time 2003 (B.Getz on JamBase)
1. How, when, where and under what circumstances did you start DJ'ing?
I started DJ'ing in 1989 when I sold my car for money to purchase a pair of Technic 1200s, a cheapo mixer and a handful of records. I was a freshman at Northeastern University at the time and I wanted to create some hip-hop music, but I wasn't about to pick up a microphone and start rhyming. I was much more interested in the music and samples behind the rapping.
I soon linked up with some MCs and we spent our time practicing and performing at various Maurice Starr local talent shows. At the same time, every weekend at the school there were these enormous parties with awful music. So we slid in and took over the tunes. I would play all the hot joints every drunk freshman was trying to hear and the MCs would rock the mic until the cops came. They were some very wild times that actually turned out to be a great learning experience.
2. What were your first encounters with turntable music/hip-hop? Where did that lead you?
I was 14 years old when hip-hop spread up to Boston from New York. RUN DMC, West Street Mob, Sugar Hill Gang, Grand Master Flash, Break Dancing and Fat Laces were everywhere. Strangely enough, my mom got me into it (think single mom/disco queen). I grew up on a steady diet of Boogie Down Productions, Public Enemy, Eric B. & Rakim, Big Daddy Kane and others; it was "The Golden Era" and I was blessed to witness it. Those influences have led me on a diverse musical roller coaster. From there I got my greasy little fingers into every situation in which I could possibly incorporate my turntables. I have spun at several thousand events, founded a successful mobile disc jockey business, held several residencies in Boston's nightclub scene and guest appeared on numerous radio shows. I've performed live and on record with countless bands in many genres of music including hip-hop, funk, reggae, jazz, electronic, blues, trip hop, drum and bass, R&B, African and even gospel. My projects, which have earned me three Boston Music Awards, have been featured in Billboard Magazine, MTV's The Real World and HBO's The Chris Rock Show. I have toured in support of De La Soul, Jamiroquai, Maceo Parker, The Meters, The Mighty Mighty Bosstones, Phish, Rhazel, Henry Rollins, P-Funk, Fishbone, Charlie Hunter, Galactic, Buju Banton, Fred Wesley, J-Live, Grand Master Flash, The Executioners, John Scofield, WAR, LL Cool J and KRS-ONE in huge arenas such as Fleet Center, The Apollo and The Fillmore.
3. Were you initially discouraged by the art of DJ'ing or did it come relatively easily to you?
I totally embraced it and practiced a lot. Of course I stunk at first, you have to lock yourself in your bedroom and become a hermit to get good. Repetition is the key. I trained my hand and wrists movements and soon I had chops. Keep in mind that back then DJs were doing very basic patterns and simple scratching. Who knew it would get so intricate?
4. What were the first instances of you performing with a band? Did you find it difficult to locate space in the music to scratch or add textures? How did the band react?
I met some Berklee School of music students and we started a live funk/hip-hop band called Fat Bag (1993-1998). It consisted of the entire Lettuce rhythm section – Adam Deitch, Eric Coomes, Adam Smirnoff – as well as Sam Kinninger on alto sax, among others. Killer band! I received a crash course musical education of jazz and funk, while incorporating my hip-hop styles. We practiced and played so much that I soon had my own sections in the tunes to do my thing. Not many live bands were using DJs back then and the guys gave me an open canvas and a green light to lace it up as I chose. 
I was doing rhythmic cutting and scratching on the hooks, blending textures and tones during the verses and solo sections, mixing in samples between tunes, and matching beats with the live drums. In 1998, we exchanged Fat Bag's polished party club vibe for a grittier underground hip-hop sound and started The Formula (live hip-hop band voted "Best Unsigned Group in Boston" by the Boston Tab). We soon became a staple of the Boston hip-hop scene as the premier hip-hop back up band with a rotating cast of the illest MCs the city had to offer. Collectively, it remains our most profound and original work to date. After that experience I was hooked on playing live music.
5. What's the scene like in Beantown: the Berklee heads, the hip-hoppers, the funk bands? Describe the fertile Boston music scene.
Boston is a great place to establish yourself as a big fish in a little sea. Because of the many colleges in the area, performers are almost always guaranteed an audience. Every night of the week there are activities to suit any tastes. Boston boasts a wide variety of venues in all shapes, sizes and vibes. There are several interesting local collaborations, sit in situations and weekly residencies. Berklee School of Music always brings fresh young musicians to the area and they congregate down at Wally's Jazz Cafe for some raging funk. Boston has a strong thriving local hip-hop culture also. Promoters like Gamelan and Metro Concepts bring in a steady flow of national acts that allows for local openers. Over the past few years the underground hip-hop scene has made a name for itself through several independent releases, as well as the national success of Edo G, Mr.Lif, and others. Actually, I feel as though it's getting a little over-saturated at this point. You start to see hip-hop groups plateau after a while unless they can find a way to separate themselves. Too many squirrels chasing the same nut.
6. You have an instrumental hip-hop disc in the works? Elaborate, is it similar to Co Flo's Little Johnny or like some DJ Krush or DJ Cam shit? Or is it totally unprecedented?
I call it The Madness of MiSTer~RouRKe and it's my opus. It is a concept album consisting of raw stripped down drum sounds scratched in complex patterns with many layers of textures, sounds and colors. Original instrumentals juggled, manhandled and then laced with vicious rhythmic cutting. I scratch in a story line I created using short vocal samples from "War of the Worlds," "The Shadow," "Dr. Jekyll & Mr. Hyde," hypnotist records, ghost stories, Dante's "Inferno," "Superman," "1984," "Planet of the Apes" and others, weaving an elaborate plot that begins with the end of the world. If I were forced to compare it to something, I'd say the concept most resembles QBert's Wave Twisters (a mind f*%k of a movie I would encourage everyone to check for). However, while QBert's is "Science Fantasy" mine is more "Apocalyptic Horror." To help you understand how involved it is, I average about two minutes of recorded material per 10 hours of work. It's going to take all winter to fine tune and will be posted online for everyone to check out in spring 2003.
7. How did you get involved with Soulive?
I've known Eric Krasno since back in the mid-'90s from his involvement in Lettuce. We would crash on his dorm floor when Fat Bag used to play at Hampshire College where he was going to school at the time. Five years later I ended up DJ'ing for an MC named Shuman (another Krasno conspirator) around the time Soulive was considering having a hip-hop act open the shows for "The Next Tour Revue." They kept it in the family and took us along.
8. Describe the mission of the Soulive Revue? N'Dambi, the horns and yourself?
Soulive wanted to host an entire evening of music and performances instead of having random openers every night. The doors would open and I would spin funk and juggle breaks. Soon after, Shuman would warm up the crowd with his wordplay. Next, N'Dambi would come out and sing her wonderful music backed by the Soulive trio. Later the full horn section (Sam Kinninger on alto, Ryan Zoidis on tenor, and Josh Roseman on trombone) would emerge. I would come back up for "Bridge to Bama" and scratch in the Talib Kweli vocals and we would all come back up for the James Brown style encore. It was a revue, a full night of great music. We did 23 cities from California back to New York, down to Jazz Fest in New Orleans for three nights at the House of Blues, hitting every major venue along the way. It was awesome!
9. Do you like Soulive better as a trio or quartet, their earlier writing style or Blue Note stuff?
I'm glad you asked that, because I have a theory. It wasn't until after the Soulive Revue that the confused purist fans (via the internet) started screaming, "What happened to the trio? I'm confused! I miss the suits! What's all this urban influence?" I'd be willing to bet that if there was no Soulive Revue, the quartet versus trio issue would not exist, because who's more burnin' than Sam? Fans just got nervous; they weren't ready for the flying circus. Personally, as a Soulive fan, I feel that they have paid their dues and proven themselves through countless stellar performances. They're not wind up toys here for us to command. Any artist that influences the guys enough to co-sign is worthy of a fair listen. All artists should feel free to grow at their leisure; otherwise, it's not a band you're getting, it's a business strategy. I don't prefer one incarnation of Soulive over another, I've enjoyed the trio, the quartet and the revue – they all offer supreme musicianship. I say switch it up frequently and keep things moving. Myself, I dig the raw and the gritty. My favorite Soulive album is Get Down!
10. What can we expect from the Soulive remix album?
You can expect remixes of some classic Soulive material. Some of the iLLest producers, DJs, MCs and singers like DJ Krush, J-Live, DJ Smash, Ekene and DJ Spinna, to name a few, give their take on songs like "Tabasco," "Turn it out," "Cash's Dream," "Rudy's Way," "Azucar," and "Steppin'" among others. The album crosses genres from funk to hip-hop, trip hop to R&B, electronic music to a house tune. Velour gave me the material to blend together as a long nonstop mix with intros, outro's, segues and skits to give it some continuity and a storyline. I believe it's dropping in early 2003 on Velour Recordings.
11. How'd you hook up with Addison Groove Project? How have they evolved from when I first saw you rock with them at the Vibes (Gathering of the Vibes) until I last saw you rock with them at Berkfest? What do you enjoy about playing with them, your role, their vibe, etc.?
I met Addison keyboardist Rob Marsher in Oswego, New York at the Phish Festival, where I was playing with Bob Moses and Mozamba. Rob approached me after the set and we talked about playing sometime. My first Addison show was Berkfest 1999 on the hillside stage and it was a very positive experience. They've worked really hard and have definitely evolved since that time. They have great songwriting, killer arrangements and tons of energy. They're very talented, sincere guys who embraced funk music and have captured a sound that is all their own. They also know how to build a solo section until it's bursting at the seams. They're a lot of fun to play with. I get my polished funk fix from them. It is challenging for me because it is louder music than I normally play. Turntable scratching can be a thin sound and it tends to get drowned out in larger ensembles especially ones that feature multiple horns. I am forced to resort to using less subtle sounds and do louder balls out scratch styles. It is also very section-based which amounts to less improvisation.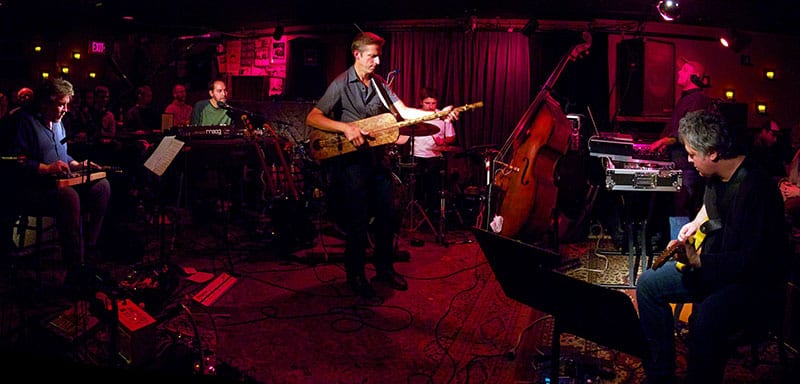 12. Answer similar questions concerning Club d'Elf-talk about Mike Rivard, playing with John Medeski and Brahim Fribgane, and also that Moroccan music you mentioned? What do you enjoy most about playing with d'Elf?
I went to see Club d'Elf a few years back at their bi-weekly residency at the Lizard Lounge in Cambridge, partly because I saw that DJ Logic was sitting in and I was curious to check out his stuff. They gained a fan that night. I ended up playing with Mike Rivard (Micro) in a mutual friend's side project and he soon invited me down to play with d'Elf. Club d'Elf is a turntablist's dream. Micro is very open-minded and allows for a lot of improvisational freedom. d'Elf is all about the players interacting, listening and communicating through the music. Everyone is collectively tasteful but aggressive in directing the musical path and because of this, the music goes to some very interesting places. I enjoy it because it's quiet and you can hear the subtle things happen, and that's where a DJ can really get open. Often times it can get dark and twisted in a David Lynch sort of way so the moody textures work really well. The tempos vary from slow to mid to very fast drum and bass. Through that band my improvisation skills became my strength. I know what's in my record crate. I listen to the direction the music is taking, grab the wax that fits the situation and I look for my openings, and I just hope that at any given time everything's at my fingertips, although you do have to move fast.
Where all the other players can instantly feel what is happening in the music and play what their hearing, a DJ has to flip through countless records, cue it up and hope the moment hasn't passed. I had to create an elaborate record filing system for easy access. I use a huge arsenal of rhythmic scratches, tones and textures, drumming and strange vocal segues that seem to sum up the moment. I enjoy matching beats with the live drummers. Once the beats are locked in perfect time, I will pull mine back a half step and turn the time around. Once the time has been reversed I will continue to weave my drums in and out toying with the feel of the song. The rotating "club" concept has allowed me to play along side incredible musicians like Reeves Gabrael, Matt and Joe Maneri, Kenwood Dennard, Brahim Fribgane, Alain Mallet, Dave Tronzo, and John Medeski.
After being a huge MMW fan, I was so psyched to play with John, it was a humbling experience. We toured down south last spring and I had the time of my life. We were all just buggin' out the entire time, it was like spring break. Musically I was floored. John has an arsenal of crazy sounds and so do I. We would trade back and forth like mad scientists. The audience couldn't tell who was making which sound and that's just how I prefer it. It's better if they can't tell, that means it's blending seamlessly. It helps that I use digital effects to round off my sound. Brahim Fribgane is an extremely creative musician and spirited performer. He plays percussion, doumbek and oud (a fretless Middle Eastern string instrument with an angled neck). I feel rhythmically challenged around him. I do tend to lie back during the traditional Moroccan tunes and just listen. In fact, any music that's too traditional, the turntable becomes an anachronism. I avoid the token scratch like the plague. Some music just doesn't need it. Yeah it can be done – but why? If something is traditional I prefer to let it be traditional.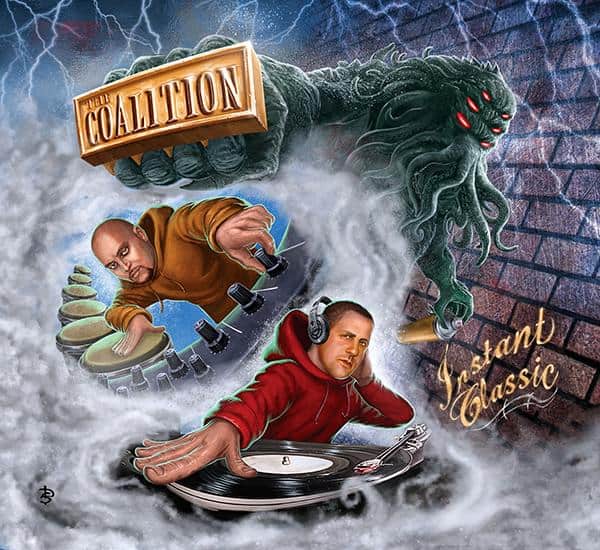 13. What are some of your favorite and most memorable gigs, or recording experiences?
My Top 5:
1. The Formula opening up for KRS-ONE at The Orpheum in Boston, vibin' with Tha Teacha himself!
2. The Soulive Revue at the sold-out Fillmore in San Francisco.
3. Club d'Elf with John Medeski and Brahim Fribgane in Boston, billed as the "The Berkfest Kickoff Party."
4. The Soulive Revue at The Apollo.
5. Playing with Cyro Baptista in NYC. It was such drum heavy music it was like playing turntables in STOMP, something I always wanted to do.
14. How do you see the art of turntablism, in terms of an instrument?
A. Its place in jamband styles and circles?
Playing live instrumental music is where I see the most potential. The possibilities are unlimited! To alter any sound on any record in any infinite variety of ways, and combining and mixing it with another that is completely different can be amazing when executed correctly. I have heard it called the most important musical innovation since the electric guitar. The implications are HUGE! The turntable is the ultimate instrument. It's every instrument that's not in the room at the time. It's drums, it's a bamboo flute, it's the host and narrator, singer and comedian, it's Gregorian chants and telemetry sounds. It's perfectly set up to flourish as another instrument interacting the same way everyone else interacts. If a DJ has good ears, no ego and a crate full of sonic goodies he has a lot to give. The amount of control, timing, attack and execution depends on the individual. Not every DJ has the ears to jam with a band, especially on the fly without rehearsal. You have to be musical. Otherwise, scratching can be too much too quick. You have to be tasteful and patient. People have had negative DJ experiences because someone didn't have the sense not to scratch during somebody's solo section. This can ruin it for the rest of us. I've walked into situations where people have been like, "Oh great, a DJ. Just what we need, a bunch of squeaky dog toy whistle noises." They were promptly re-educated.
B. And how it is used in hip-hop, both historically and today?
In the 1970s, at parties in the Bronx, DJs used to take two copies of a current popular funk song and repeat the drum breakdown sections (breaks) over and over, back and forth on two turntables looping the funky part. That's when the break-dancers would hit the floors and an MC would start rhyming to the crowd about how good the DJ is. It was the DJ's gig! The MC was just hyping the crowd for him. Years later, after corporations figured out that they could ca$h in on the rapping part of things, the focus changed to the lyrics. Back then it had nothing to do with making commercial platinum sales. Today's reemergence of DJ culture is allowing DJs to become solo artists again. Now there are so many different types of DJs; mix tape DJs, radio DJs, rap group DJs, scratch DJs, night club DJs, battle DJs, studio DJs, remix DJs. There are so many types, that most DJs can only specialize in one or two areas.
C. How do you feel about pop bands with their token DJ, like Incubus or Linkin Park? Does it do turntablism a disservice? Or make more people aware of the possibilities within turntablism?
Funny you mention that Incubus DJ, I actually met him at Lupo's in Providence and he's pretty sick with it live. I suspect a lot of those pop band DJs are capable on the decks; it's more likely the record labels making them play the back as the one trick pony. Just like mainstream rapping, mainstream DJ'ing is candy coated. From a business perspective, I am glad that more people are aware of the possibilities. It has given DJs credibility and that equals more opportunities.
15. Do you Bling or wear a backpack?
Neither. I was here before either of those labels were invented in the late '90s. Call me a veteran, an overseer of the culture.
16. Who are your biggest musical influences/heroes and why?
All the Gods: John Coltrane, Miles Davis, Bob Marley, Jimi Hendrix, Curtis Mayfield, Joe Henderson, Rakim, KRS-ONE, Charles Mingus, QBert, MMW, The Executioners, Robert Johnson, Sly & The Family Stone, Stevie Wonder. Because of how deeply they express(ed) themselves through their music.
17. Describe the scene backstage at Berkfest when the promoters pulled the plug on Soulive.
Surprise and confusion! I understand there was pressure from the town to end the music promptly at 11:00, but someone was a little too trigger-happy. Soulive was clearly close to the end of the last song anyway, they could have let them finish. Neal Evans was in full rage mode and to halt that momentum is not a pretty thing. To add further insult, you could still hear music happening elsewhere on the grounds. Personally, I wasn't so shocked when it happened, because I almost had my plug pulled when I was spinning funk right before their set. Soulive and I had worked out an intro that I was to drop right before they were about to hit. I was halfway into it when the stagehands were screaming at me, "Kill it now or we're pulling your plug!" I'm screaming back, "We worked this out in advance! It's their introduction!" I guess they couldn't hear me scratching up the word "S-S-S-Soulive." As far as Alan Evans uttering an obscenity into the microphone, honestly I don't see why they're expected to live up to this image of being such saints all the time.
18. Who's on your wish list to collaborate with?
I want to sit in with MMW and trade fours with Billy Martin playing Queeka drum. I'd like to rock a four-turntable duo with Kid Koala; I really dig his sense of humor. I also want to flip drum & bass beats with Deantoni Parks. That kid's a machine!
19. Favorite and most influential MC, and DJ?
MC: KRS-ONE! Everything I said about commercial rap he's addressing in his music. His next record Prophets-Vs-Profits should make some serious noise. DJ: QBert, he's not human. (Again… catch Wave Twisters!!!)
20. Where would you like to see the art of DJ'ing go, and where would you like it to take you?
I'd like to see every song ever recorded re-done with scratching added. Actually, the fact that the turntable was never intended for such usage and for people to be at such an unbelievable technical level hints on where it is headed. In just a few brief years there have been huge advances in the art form, the stakes have been raised and every day we're unlocking more ways to create new sounds. Really, I would just like to see the process continue on its natural path of discovery. I'd like the turntable to be taken more seriously as an instrument and seen less as a gimmick. I'd like to see more turntablists in serious ensembles doing truly innovative things. Myself, I'd just like to continue making good music. Most recently I have two tracks on Billy Martin's Drop the Needle-Remixes and Breakbeats, and I performed the scratch soundtrack to "Parappa the Rapper 2" for Sony Play Station 2. Also, please keep your eyes and ears open for Club d'elf, Addison Groove Project, the Soulive Remix album, The Maddness of MiSTer~RouRKe, "Turntables as an Instrument"© a DJ workshop I developed and teach at middle schools, non-profit organizations, music festivals and colleges, my Improvisational Scratch Symphony, a DJ duo with Boston based DJ Axel Foley, and Dub and Bass, an electro organic groove band I perform with.
Some prophetic last words…
To the DJs: Go PLAY live music!
Make yourself accessible to musicians, branch out, there is a home for you not only in hip-hop but all musical styles. Have fun with it and keep a sense of humor. Every sound out of your speaker is for the music not for your ego, erase your identity. Transforming the turntable into an instrument is a united effort to create something from nothing. But don't listen to me; I talk a lot of shit.
Can y'all smell what the Rourke is cookin'?
B. Getz
JamBase | East Coast
Go See Live Music!
[Published on: 1/17/03]