Bonnaroo 2002- The Way it Should Be (B.Getz on JamBase collaboration)
Editor's Note: To help best express the Bonnaroo experience, this piece of work was compiled from several JamBase contributors:
B. Getz
Bradley Latham
Wills Glasspiegel
Rich Cole
The Kayceman
June 2002
Bonnaroo…so much speculation was swirling around the largest music festival of the summer in Tennessee. With concerns about the amount of people, the heat and the history of big musical events in general, it surprisingly went off with out a hitch. No riots, no fires, no pain, no tears, just a good ole time in the Tennessee sun.
To be honest I didn't fear any of this, as this was a huge gathering of good people getting together to enjoy each other, the vibes, the sounds, and the spirit of a true music festival.
But with crowds exceeding 70,000 people, an eclectic group of musicians, and in turn a wide variety of fans, it was easy to see why there was so much concern.
Fast forward to the end of the weekend, the encore of the final show of the entire festival. Trey Anastasio on stage by himself, soft blue lights illuminating him and his acoustic guitar as he sits and addresses the 70,000 who draw quite enough to hear every word the iconic legend has to say.
Perhaps that is why these words were so poignant, accurate and down right important, as Trey has become an icon, even maybe the leader of our scene. Not only did Trey and Phish throw the only other party of this magnitude (2000 Big Cypress) to be considered a huge success, but he has become the key figure in many music fans in the early 20's to mid 30's.
I, (like many of you) have been seeing Trey play, change and develop for almost ten years. He has more or less wired my brain waves and led me to a world of infinite musical possibilities, pushing doors open, musically, mentally and spiritually. So to hear Trey emotionally dote over the crowd and speak more intimately then I ever have, truly held some weight.
Sure it was a little sappy and a bit cheesy, and yes he was falling over the words as he expressed his gratitude for being involved, seeing how wonderfully it all came together, but it was real. He spoke like an overjoyed father who's son or daughter has proved themselves capable of anything, worthy of the love they are receiving.
Trey has escaped the pigeon hole classifications of our world, he refused to simply be the lead man for of a 'hippie band,' he conducts orchestras, writes amazing musical compositions, sits in on discussion boards, switches his styles with ease, and always maintains mastery over improvisation, not to mention writing the book on a style of music that has influenced hundreds of musicians playing today.
What could I possibly say that would wrap up this amazing event more appropriately then Trey's giddiness as he explains that these type of festivals aren't getting harder to run, and that the fans aren't becoming problematic, but quite the contrary, that they are blossoming, that we as people, as a community are blossoming, growing and learning to mix and simply enjoy life, music and each other.
The timing was perfect as Trey led his emotional long speech into an encore of two classics done acoustically, that brought smiles to the masses. The chants of "Wilson" and the whistles of "Bathtub Gin" echoed as Trey's smile stretched for a mile. It was not only an expression of gratitude, but a notion to not take it all so seriously. Sometimes we get so caught up in what songs were played, how they were played, if they lived up to our expectations. Sometimes it's not about that, it's just about enjoying yourself. Of course we take our music seriously, and there are times for intense dissection and scrutiny, but don't worry, and don't stress the botched transition, just have some fun, relax and enjoy.
It all began Thursday evening June 20th, with some extremely heavy traffic for most, then proceeding in the gates to celebrations and sipping cocktails with friends from all over the country who had travelled far and wide for this event.This ethos of just relaxing and letting things move at their own pace seemed to dictate the weekend. There were four stages (and two late night tents) set up around "Centeroo" where food vendors, beer tents, video game tents (with mad old school arcade games for a quarter) a movie tent, a Gateway tent, and a vendor shopping areas with various items you'd expect to find such as clothing, art, glass, crystals, and other fun stuff were assembled. The stages were far enough away from each other that you couldn't hear the music from other areas, but close enough to easily walk around and catch a taste of what you wanted without spending your time just walking. There was so much wonderful music, the real test became deciding what you were willing to miss. Some things were phenomenal, and others weren't quite as impressive, but everything was up to par.The event as a whole was run amazingly well, the trash and port o' potties were clean, there was enough running water and just enough shade sprinkled in with the wide array of musical treats to create more smiling faces and kind encounters than you could have ever hoped to count.

Coming off Jazz Fest and seeing as how New Orleans based Superfly were running the show, the funky Dirty Dozen Brass boys were a perfect way to slip into a weekend of loose grooves and fun upbeat times. As they so accurately proclaimed, "Feet Don't Fail Me Now!"The music got off the ground Friday afternoon at 2:00pm with The Big Wu. The Wu came down from Minnesota and played for a large dusty, hot and sweaty crowd who incidentally remained that way the entire weekend. The Big Wu's last song, was a cover of The Who's "We Won't Be Fooled Again," which was warmly received by the baking Bonnaroo masses.Meanwhile as the Big Wu were getting into their set, The Dirty Dozen Brass Band was the first group to grace "The Stadium" stage which served as just that, a huge setting capable of housing the city of Bonnaroo. "The Stadium" and surrounding sound system was amazing. At least forty speakers coming off the stage were complemented by four free standing stations with suspended speakers placed back in the crowd at the appropriate depths creating one of the most impressive sound systems I've ever had the pleasure of getting down to.
The Umphrey's McGee show was under a tent and the shade allowed the band to take us away from the pounding sun. There was room to dance, even though the whole tent was filled with people, many of whom seemed like it was their first time seeing Umphrey's McGee. Umphrey's clearly proved themselves to these new fans and showed everyone that Umphrey's McGee is on the up and coming. With kicking drums, some twisted rhythms, and furiously fast guitar chops, Umphrey's rocks harder and farther out than most bands today and treated us to an exuberant great sounding set.
.
While The Umph was laying down their anthemic rock stylings in "The Theater" tent, Soulive was upping the ante at "The Arena".
As a second song, Soulive dropped a thumping "Turn It Out," with Eric Krasno wowing the people with crisp hollow body melodies atop the Evans brothers' crunk bottom end. The heat was in full effect as the reddening massive crowd rocked and bounced to the hip-hop dub shot sound clash as the full Soulive emerged with the arrival of the fourth brother, alto man Sam Kinninger. His sweet horn lines rang throughout the campground with authority, serenading funksters and hippies alike. The Soulive sound definitely works better in enclosed venues, as the bass heavy beats sometimes lost their ferocious thunder in the open air setting. On this occasion, the foursome often treaded into psychedelic jazz territory that echoed Boogaloo Joe Jones. The only thing lacking was that powerful head-nodding boom from underneath, which was present, just not as punishing sonically. However, the grand space and sprawling audience area allowed for serious grooving and skanking from the Bonnaroo massive, who were still boasting full tilt energy on this the first afternoon of music.
Toward the end of the ninety-minute set, Alan Evans tossed a drumstick to the fans, with the prize for catching it a song of their choice. The lucky recipient requested "Turn It Out" again, but after a Stevie Wonder "I Wish" tease, they busted the first song off of Next, "Tuesday's Night Squad." This song took off, catapulting the band and fans into sweat drenched bliss while the sonics kept thumping. Soulive could have benefited from a nighttime slot, but made the best of the hand they were dealt.
Not to be out done, while Soulive, Umphrey's McGee and Donna The Buffalo were all playing, DJ Logic spun records as people were shuffling in to see the Brooklyn beat man warm up for Les Claypool. Not only was Logic's set full of funky grooves, it meant that we would be seeing plenty of sit in appearances by Jason Kibler (a.k.a. Logic) throughout the weekend.
Les Claypool's Frog Brigade was as wonderfully weird as always, perhaps even more so. The musical banter between Les and sax maniac Skerik was in top form as they delved into the deep dark areas of music that most bands and fans alike run from. Skerik's freaky Critters Buggin brother Mike Dillon was pounding furiously on his vibes and percussive instruments as Eenor seemed to weave it all together with his slinky guitar leads. One undeniable high light of the set was the "Shine On You Crazy Diamond" engagement that brought guitar guru Warren Haynes on stage to bleed his southern sound into the Pink Floyd classic that some how morphed into "Smoke On The Water" for just a few moments before Haynes left and the Frogs finished "Shine."
At one point there was an instrumental segment featuring Dillon on a rusty forty gallon steel drum of sorts while Eenor played a tattered old acoustic guitar and Les was on his bizarre upright slap happy bass. At this point the Dirty Dozen Brass Band came out complimenting the groove and pushing it to "Hendershot."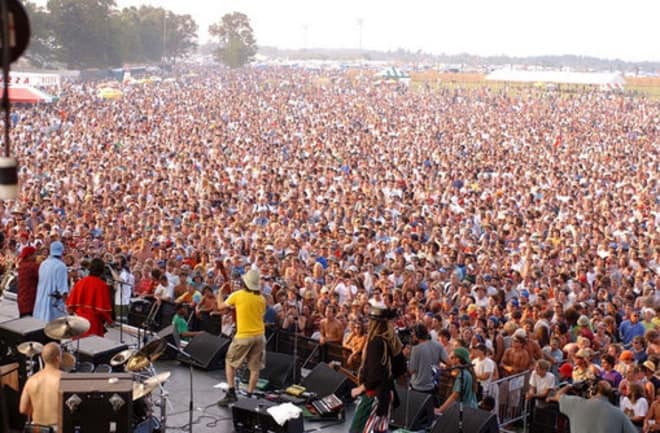 While Les was talking about "Trey Anitpasto" and generally doing his best to freak out the crowd some people went for the lighter side and relaxed with the bluegrass sounds of Acoustic Syndicate in the shade. While still others got their dose of the heavy from another source, Gov't Mule.
As Les's set continued to swell with the heat there was a really cool Jethro Tull "Locomotive Breath" tease before things got insane with "Simon Says." Things got dark and really heavy at this point, reminiscent of the Primus days, but with more psychedelia, and room for the band members to move.The Frog Brigade set served as the launch pad for many in the crowd. By the time Les was done (7:00pm) it was just beginning to cool off and most of the people had made it out of traffic and down to the stages to get their Bonnaroo on.
Drum and bass stylings mixed with Spanish and Middle Eastern flavors tickled the ears and sparked the feet to jump up and dance. During his set of both old school jungle and newer, trancier arrangements, Tobin wowed new fans with choice polyrhythmic beat maneuvering and clever treading of trance and dark mid-90's British tech-step. At one point while getting down to the heavy beats a nice southern chap coultn't sit still and asked in an awe filled deep accent "Who is this guy, and what is he playing?"
The Mule with Schools in Tennessee is a good bet. Warren Haynes and David Schools seem to compliment each other like old friends, especially in the dirty south.One of the most impressive aspects of Bonnaroo was the variety of artists they booked. No one highlighted this diversity better than Brazilian born DJ and sound manipulator Amon Tobin. A small but enthused crowd huddled around the stage for Amon Tobin as Spread Heads began to jostle for a good spot for the upcoming Widespread Panic show.
Many old school Amon fans also turned out, taking photos, and hooting and hollering favorite jams and riddims in hopes Mr. Tobin would deliver. One hardcore clubber from Chicago's wish came true, as the final song of his hour-long set was the incredibly hypnotic "Nightlife" off Permutations. Whether it's as Amon Tobin, or under his old-school pseudonym Cujo, you can be guaranteed that this producer wunderkind's sound scapes are some next level shit.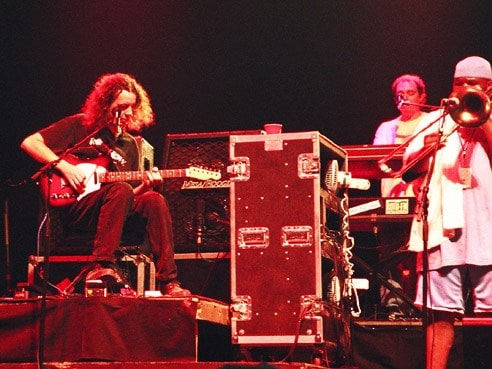 The scene of more than 70,000 people on a hot day in Tennessee as the sun goes down and Widespread Panic takes the stage screams PARTY! Although it wasn't the best Panic show I've ever seen it was still a raging good time, and the crowd was obviously excited to have the rock n' roll monster in the south again. The song selection and off the cuff JB ramblings were very fitting, and the show certainly had it's moments.
The opener, "Give" was very appropriate with the "I know it may sound funny, but how dare you show up on time" lyrics as many sat in up to 18 hours of traffic trying to get in the gates. A fired up version of "Henry Parsons Died" followed, and surprised more than one WSP fan. The set lost a little steam with "Hope In A Hopeless World" before trying to jump start it with a fairly standard issue "Greta." The "Little Lilly" was enjoyable and "Blackout Blues" was good, but seemed to lack some of the mayhem you want in a heavy drinking song. "Down" and "Sometimes" featured Randall Bramblett on saxophone before set one closed out with a solid "Imitation Leather Shoes."
Set two quickly began to make up for a somewhat average opening set (opening set of tour for that matter) with one of the best openers Panic has, "Surprise Valley." Things were clearly off the ground as they jumped into a "Driving Song" > "Porch Song" > "Driving Song" sandwich that satiated the hungry Spread Heads. A quick chance to catch your breath came next with "Breathing Slow" before things began to gather momentum and tumble forward with "All Time Low" and an onslaught of "Red Hot Mama" into "Fishwater" into "Drums" back into "Fishwater" all with the Dirty Dozen Brass Band, Matt Abts on percussion, Randall Bramblett on saxophone and Terrence Higgins on percussion during the drum frenzy.
After the "Fishwater" horn freak out "Pilgrims" seemed very well timed as did the wonderful set closer, "Climb To Safety." The encore was also very well thought out with the slow but very touching "Old Joe," "may we live long and lucky" followed by the classic "Traveling Light" (people came from all over the country, again very appropriate) featuring Randall Bramblett on saxophone.
All in all a good Widespread Panic show that found it's flow and ferocious nature in the second set, specifically around the "Red Hot Mama" and "Fishwater" area. I have often found that Panic's first show of the tour is not the best, and perhaps that accounted for the off kilter first set, but to see JB singing to Houser, and Schools hitting the Tennessee low end in front of 70,000 is really all a boy in cow boy hat needs sometimes.
Soon after Widespread had finished its lengthy second set on Friday night, I hurried over to a late night tent to see the sorcerers of nocturnal mischief, Karl Denson's Tiny Universe. Over the last few years, this is the band I see most often and fervently, and I have developed a very personal relationship with their vibe and catalogue, and a few righteous friendships have manifested through love for this band. At Bonnaroo, you knew KD would be kicking ass and taking names. So I carefully made my way to the very front of the audience to "get in the middle of things."
New percussionist King Samson began the festivities with a spirited conga solo and paved the way for the jumping afro beat opener "Elephants are Big As Hell." A great group of heads from North Carolina whom I befriended before the lights went down shared in the joy as we bounced and threw bows with a vengeance as the music began. This polyrhythmic anthem set the tone for the freewheeling show that was stacked high on energy. Luckily, it was night one of the festival so people were still pretty charged up. Mike Dillon (Critters Buggin, Frog Brigade, Black Frames) rejoined the band for this gig, and his presence was known throughout, whether it was his spasmodic talking drum antics or dreamy vibraphonics. The first set also featured an emotional "Family Tree," a song that has grown by leaps and bounds since the inception of the band. A new groove in the middle of this song showcased the thunderous bass playing of Ron Johnson and some frenetic trumpet work from Chris Littlefield. Karl's vocals have come a long way as well, and the emphatic singing on "Family Tree" brought the song to a soul-drenched crescendo.
The second set was some shit to behold. The two hours flew by, a hurricane of sensual soul, thumping funk, swinging groove, and all around magic. Ron Johnson introduced a sinister "Check Out Your Mind," which developed into an aural assault ominous and psychedelic in nature. DJ Logic and Soulive's Eric Krasno joined KDTU for part of the set, and their contributions added zesty spice to the ensemble and pushed the Tiny Universe to new levels. This set of KDTU was among the best I have ever seen, with several new songs interspersed with soon-to-be-classics, like the soothing "Apparently Nothing," which featured beautiful hollow body strumming from resident heart throb Brian Jordan, and crooning vocals from several band members. Krasno pushed Jordan, and Jordan reciprocated, on the high energy joint "Good For You" (where the crowd shouted back the chorus "Suddenly Its good for me!") The title track to Karl's forthcoming LP The Bridge, featured new arrangements and bombastic skin bashing via Zak Najor, as well as tenor prowess from the captain of this soul ensemble, Mr. KD.
"Rich Man's Welfare" and the Greyboy Allstars-era classic "Tenor Man" showed exactly why Karl Denson is such a revered saxophonist and bandleader, as his playing harked back to the freewheeling soul bravado of the late Grover Washington Jr. and the class of the late Joe Henderson. One could not help but think of late 60's and 70's James Brown while watching Karl masterfully conduct his band. Late in the set we were treated to the sexy "Can You Feel It" (The music is good for your soul!) and the very Earth Wind and Fire-esque "Brothers and Sisters" which united the clans at about 4am for some nasty, up tempo crunk and funk. The Tiny Universe brought out String Cheese Incident's Michael Kang for a rollicking encore, and just like that, one of the best Tiny Universe shows I have ever had the privilege to share in concluded. And boy did they represent for the Bonnaroo massive; this performance will be talked about and traded for a long time to come.
While many gathered for the Tiny Universe festivities, still more crowded in for what some considered the highlight of the entire weekend starting at midnight with the Keller Williams Incident. Michael Kang introduced String Cheese as the Keller Williams band. With Keller at front, they brought the groove to intergalactic proportions. The String Cheese Incident seems to hold down the heart of this whole movement and this was quite evident during this late night set that went until 4am. Highlights from the show included classic tunes, "Breathe," "Freaker," "Little Hands," and "Kidney in the Cooler."Keller led beautifully and schizophrenically. When he played, it felt like he was thirty different people looped over and around each other. A cover of AC/DC's "Hell's Bells" took the crowd into rarely ventured late night territory. And with Karl Denson playing all night next door, Bonnaroo became an orgy of groove the likes of which might never have been connected before.
Saturday got off to a slow start with a disappointing set from Blackalicious who were missing their leader, Gift of Gab. But the down stroke didn't last long as Col. Bruce Hampton, the granddaddy of most of the musicians at Bonnaroo put on a nasty show. I had only caught the Col. a handful of times prior to this show, but I must admit that I've never seen him rip it up with as much energy and all out fun as he did on Saturday. His guitar was cranked as he played in classic Col. 'out' style. Two enormous highlights, not only of the set, but of the entire festival were "Grandma's got a Motorcycle" followed by a wonderful version of "I'm So Glad" that had the crowd hootin' and hollerin'.
As the boiling Tennessee sun was taxing the music fans some wandered over to the original stylings of Drums & Tuba, who impressively layered textures and unique sonic tapestries over the massive drum work of Tony Nozero.
"The Stadium" stage at 3:00pm featured Ben Harper. Ben performed with just an acoustic guitar and some percussion, and sang heartfelt true stories to an adulating audience. Often echoing Robert Nesta, a high moment of his set was "Burn One Down," where as I watched from a V.I.P. perch that keenly overlooked the mammoth Bonnaroo function, I began to take in the insanity, beauty, and creativity that was pulsing through the event. This little elevated platform became a frequent spot to chill and watch the main stage while still keeping an eye on what was going on very far away.
As Ben Harper was finishing his set we headed over to see what was with all the hoopla surrounding The Lil Rascals Brass Band at "The Theater" tent. By the way, these smaller shows were perhaps the most precious. The ones that weren't super packed. The ones where you could get right up against the stage and shoot pictures. The ones were you could walk up to the musicians prior to the show and shake their hands. Those were the shows that made a rare treat out of this festival. Catching the new, blossoming sounds that not everyone was in tune with. And nothing goes more perfect with that slight afternoon buzz in the Tennessee heat than N'Awlins Brass. One highlight from their set was a great, unique version of Herbie Hancock's "Chameleon." If you dig the funky, brass sound of bands like the Dirty Dozen and Rebirth, definitely go see the Lil' Rascals.
While the Rascals were gettin' down NOLA style, Particle was throwing their patented space porn funk party, only in the day time. Both that afternoon, and later that morning, Particle wowed the folks at Bonnaroo with mind-twisting funk. Particle was lucky enough to have Jeff Raines and Stanton Moore from Galactic, as well as Marc Brownstein of the Disco Biscuits sit in and jam during their performances. Particle's happy, straightforward approach makes for some fun music and a generally enjoyable atmosphere. Fans and newcomers alike seemed to really enjoy Particle's vibe, danceable grooves, and musical personality, as they made great strides and inroads at Bonnaroo. It seems that they have mobilized a small and dedicated group of friends and fans, and the energy surrounding this band is a tremendously positive one.
Col. Claypool's Bucket of Bernie Brains was a sight and sound to behold. After a long wait full of heat and technical difficulties, Bernie Worrel, Buckethead, Brain, and the Col. busted out an hour and a half long improv metal/funk set from outer space. Many people in the crowd were familiar with Buckethead, who was clad in an orange suit and his KFC bucket on his head. His frenetic metal guitar playing was a breath of fresh air amongst the myriad of jambands at the festival. Buckethead would repeatedly unleash dive-bomb neo-classical metal fretwork that had jaws dropping like flies. Claypool bellowed to the fans "Buckethead, why have you forsaken thee?" And with that, a new era was born. Buckethead entranced the audience with his slicing aerodynamic axe work. Newly introduced as the master of disaster, Buckethead unleashed his robotic transmission dance routine as Skerik busted out a free-form "Jesus Christ Pose" (Soundgarden), and the band just took off. Vamping off the Seattle vibe, Skerik had to be a part of the mischief, obviously, and jumped into the fray early in the set and remained throughout, confusing and twisting the minds and ears of the oversized crowd that had gathered to check out the madness. Brain's pulsating, pounding four to the floor skin bashing underscored Claypool's monster bass work, on his many different basses and bass-toned instruments.
Funky B3 licks and screeching synth lines added cool textures as the elder statesmen Worrel found his niche. They dipped into a little Devil's bluegrass, as Claypool busted out the electric banjo bass, and some space age funk that Particle could have taken some notes from. Then they unleashed a stomping "Tax Man," which has become a Claypool fave. The long and tweaking ride that was this performance was over in a whirlwind of metal, crunk funk, and weird sonic riddle, and we were left to pick up the pieces and see if there was anything that could hang with the ferocity and originality that bled out of this debut performance. All Hail Buckethead!
It's certainly a testament to Bonnaroo when you have the option to see Claypool and Jurassic 5 at the same time. The four MCs and two DJs that make up J5 had the crowd jumpin' and wavin' their arms from side to side. It was great to see long haired tie-dye wearing kids getting loose next to sideways wearing baseball hat cats, a truly eclectic mix of music bringing together a variety of fans. DJs Nu-Mark and Cut Chemist are two of the best in the game. Not only spinning wax but jumping behind a drum kit and trading beats, performing as true musicians utilizing the turn table as an instrument. The J5 crew even busted out kazoos to top off one hot segment. It was a fun set in the sun with conscious lyrics and dope beats.
While hip-hop was bouncin' down the road with J5 and minds were getting thrashed around the corner with Buckethead and Les the smoother summer sounds of the String Cheese Incident were weaving on the main stage to be followed by a highly anticipated Panic show. The presence of one man in particular changed the course of the evening quite a bit. The member of Traffic, Blind Faith, and Spencer Davis Group, historical musical icon, son of the blues piano, songwriter extraordinaire, and Tennessee resident Steve Winwood graced the Bonnaroo faithful. As I write this I'm still at a loss for words to describe the joy and significance I felt as he came to the stage with String Cheese. I knew at that point what I was in for with Panic. It wasn't a matter of "will he play with Panic?" It was "WHAT will he play with Panic?" The choices were flying through my head, although the obvious "Low Spark" was a no brainer, as I contemplated the other options that seemed fitting. The two songs Winwood played with String Cheese were beautifully done, but we all knew the heat was coming down the road. The anticipation was brutal.
While SCI was pickin' in the sun the Disco Biscuits were twisting minds with their brand of techno infused shred happy mayhem. The Bisco sound was on fire, wrapping around itself and spiraling out of control. With Les, Skerik and Buckethead together, the Biscuits refused to fall by the way side playing a high energy ripping set for the ages.
The days festivities were wonderful but it was the night time that brought Bonnarooooooo to unforeseen heights.
Simply put, Panic's two sets that followed were phenomenal. The "Chilly Water" > "Makes Sense To Me" > "Chilly Water" made it clear that the boys meant business. The "Diner" and "Pigeons" were great, although not to out of this world, but they only set the stage for what was next. Never in a million years would I have ever thought that I could relive that incredibly spiritual moment from NYE 1999 with Dottie Peoples and the Peoples Choice Choir. But I was wrong. When Dottie took the stage, life became extremely grand and the smiles grew ten-fold. The harmonies during the chorus in "Ain't Life Grand" from the choir were amazing and uplifting. When "Tall Boy" started, it almost became too much to handle. The amount of joy felt by the crowd exploded into hugs all around and people were leaping for the spiritual uprising that only Dottie and her connection with the Lord above could bring to 70,000 people – time to "TESTIFY." As JB spit grit into the stew and Dottie hailed "Testify" in classic gospel choir excellence the music dropped back into "Tall Boy" and one hell of a first set came to a sweaty halt.
The always welcome "Disco" opened set II followed by "Thought Sausage" and an introspective, slightly sad "This Part Of Town." It wasn't long before more guests started coming out of the wood word so to speak. First up was George McConnell on guitar during "Stop Breaking Down Blues" and then Steve Winwood and the only time WSP has ever played the instrumental "Glad." "Glad" found its way into a monster version of "Low Spark Of High Heeled Boys."I really can't say too much about Winwood on stage with Panic (well, I could) except that it was a defining moment, not only for me or Panic, but for the scene as a whole. The significance of one of the forefathers of blues and jazz based rock-n-roll playing at the ultimate American rock music festival of the 21st century cannot be over stated. The history, the meaning, the respect…all of it applies. Having Steve Winwood play "Low Spark" with Panic at Bonnaroo is like riding in the Cadillac with Hunter S. Thompson. A moment too rare and special to be overlooked.
During the sick space exploration that ensued we had Randall Bramblett on saxophone, Steve Winwood on keyboards/vocals, DJ Logic on turntables, and Leon Mobley on djembe. Things were spinning out of control until the eerie but beautiful "Vacation" was placed perfectly into the set. From there, "Space Wrangler" into "Love Tractor" marked a monumental second set.
The huge mind bending triple encore began with "Visiting Day" and dropped into a dirty "Arleen" that seemed perfect for the time and place. The monster set finished this top-notch show with "City of Dreams," I couldn't say it any better. This was a city of dreams, 70,000+ people living in harmony amidst the oppressive heat all in the name of music and fun…"Remember this, our favorite time."
Galactic's blistering Saturday late night set continued in the already legendary Bonnaroo tradition of huge hoedowns and parades of guests. Early in the show, the entire Little Rascals Brass Band and Skerik joined the New Orleans crunk monsters for a swinging couple of numbers that featured fantastic brass melodies and Stanton Moore's thundering drums. Soon, man of the year Col. Claypool emerged for "Big Bottom," and it was fun to watch Rob Mercurio enthusiastically teach Les the changes as the song went along, and the immediate kinship between Stanton and Claypool was inspiring and inescapable. It also set a forceful tone for the rest of the evening/morning's events. Special guests crowded the stage all night, and Galactic seemed to revel in the pressure as the stakes got higher, bringing the noise level to pulsating proportions on their classic "Crazyhorse Mongoose." They brought an ill electro vibe on "Bobski/Jeffe 2000," and cold crushed the massive with a smooth and bouncing "Love on the Run" with the man, the myth, the dank Crescent City taproom legend Theryl "Houseman" de Cloute belting out his trademark raspy vocals.
Eric Krasno emerged for the rolling Jimmy Smith anthem "Root Down," and the place just went apeshit. Same for the Hendrix cover "Little Miss Lover," where Krasno wailed, drenched in feedback and slicing up the sonic landscape with lightening rod shredding. The two sets of Galactic were so ill, as Luther Dickinson of the NMAS appeared, everybody who was there skanking in the crowded and hot late night tent, knew that we were witnessing a historic Galactic throw down. The band wound down the second set with some dubbed out drum and bass grooves that were a departure from what we had grown accustomed to from these New Orleans funksters, showing that the progression is forward and the future bright as the Tennessee sun was about to break.
The final day of an extended camp out festival is always a bit of a mixed blessing. You generally haven't slept a whole lot and the Tennessee dusty heat was starting to be a bit much, but come on, Trey, Phil, Ween, and some Gospel is enough to get you off your ass and start shakin' it.Some ate bacon and eggs, some had coffee and some started into the whiskey, whatever your medication was, the music for Sunday began with Corey Harris. The first time I had ever heard of Corey was at Jazz Fest when he sat in with Medeski, Martin and Wood. His eerie voice and cutting thin guitar lines were enough to make me check out his album, which I can't say I really dig, but his live performance was once again pretty damn good. Nothing to freak out about, but great Sunday morning music. Harris was singing about ganja and weaving his guitar in and out of the rhythm section with a unique sound that has brought this guy out of nowhere.
At the same time Mofro was delivering some deep-fried Florida R&B. I took one of my friends there who later claimed this as one of the best shows of the festival. Unfortunately, I'd have to admit that this was the one show with sub-par sound, as the soundmen were battling with feedback issues throughout the beginning of the show. Other than that, Mofro laid down some perfect soul-funk-blues and by the end of the set, they had the whole crowd chanting "Soul Food" during their version of the incredibly edible "Ho-Cake." Very tasty indeed!
After the breakfast set, it was time to get the day rolling–rock star style. And there's no other band packed with more hardcore rock stars than the North Mississippi Allstars. Luther, Cody, Chew, and DuWayne commenced to prove why they carry the blues torch high and mighty. And what happened at the end of the set might just go down as one of the coolest moments of Bonnaroo. After a powerhouse set by the Allstars, Cody came out with his electric washboard strapped on and proceeded to scratch away in front of thousands of innocent onlookers. This was nothing new to veteran NMAS fans. But when Cody removed his washboard, grabbed a bottle of lighter fluid, and lit his instrument on stage while the band continued to play…now THAT became a pinnacle moment of pure exhibitionist rock-n-roll, blues, and the Allstars.
These guys take shows with a vengeance, rile them up and shred 'em. And just when we thought we were witnessing the heat, Cody Dickinson decides to torch the place. The crowd went ballistic! And out came the extinguisher. Unreal.There aren't too many musicians who can follow that type of show. There aren't even many acts that have that type of burn in them. But as we found out Sunday, if God himself is your back-up band, then you can scare the Devil out of rock-n-roll. And the one lady who has the drive and voice that can head up this band is none other than Dottie Peoples.
Thanks to her, I've been saved. Her set gleamed with redemption and the Holy Ghost. She was our guide to the savior through dance. Told us to sing out loud. Get those hands in the air and testify! Thanks to Dottie, we all felt like better people. Her sense of gospel and funk and the all mighty power of love is so clear and accessible in her songs. When you see Dottie, it's like your soul is washing clean. And for a short moment at the very end of her set, we were literally baptized by a sun shower. When you're done with Dottie or when she's done with you, you can do nothing but smile, smile, smile.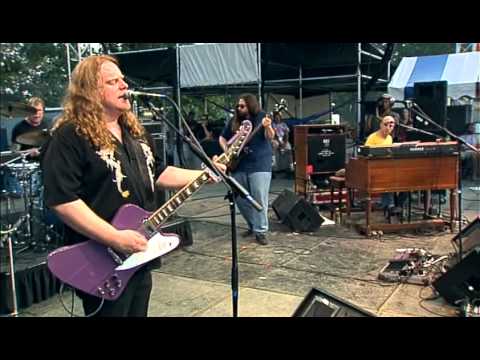 I had never seen RANA before, although I had seen different members of the band perform in different incarnations. The guitar-heavy alt-emo stuff normally doesn't appeal to me, however already impressed with Scott Metzger from an old school Amphibian show, and the fact that these guys are from 'the Jerz,' I had to see what the fuss was about. I caught "Tampa in the Rain," a really chill ditty that exuded a relaxed confidence and prompted me to join the throngs in the tent. Immediately as I approached, the band greeted me with the Talking Heads "Thank You For Sending Me An Angel," and soon I got the point that Johnny Beach was trying to impart one similarly blazing Jazz Fest afternoon a couple of months back. These guys have a cool, unique vibe that is so much their own that even a faithful cover takes on a new slant. The mark of a truly worthwhile new band, their own tunes and covers seamlessly intermingle to provide a really self-aware and homage-paying sonic identity that countless bands would trade their Pro Tools and Persian rugs for. I bounced RANA somewhat prematurely so I could catch some of my friends absolute favorite band, New Hope, Pa.'s Ween.
Vinroc (of the Triple Threat) rocked the crowd with a smattering of hip-hop, most notably the sick new Dr. Dre produced R&B banger, "Truth Hurts/Rakim track," a song I heard blaring from campsites and cars all weekend long.I tried to wade through the masses with a quickness, yet my where with all and agility seemed to have been depleted by an amalgam of all things Bonnaroo.
As I finally got to the main stage, Ween was blazing through one of the few tunes I can honestly say I dig, the manic "Bananas and Blow." Pretty much all the props I heaved upon RANA can be said for their friends Ween as well. Truly their own entity despite their famous Vermont admirers, Ween throws down shows for their faithful that in spirit are akin to the jamband thing (revolving set lists, extended jams, choice covers) except in actuality, in the flesh, a Ween show is the furthest thing from jamband oriented. Out of control, thrashy one minute, blissful and happy the next, and downright silly and obnoxious often, the course of a Ween performance takes on many faces, and Bonnaroo would be no different, no matter how much shit their asinine fan base gave them for taking the monumental gig.
Fans were way into it, and as they broke into the phave "Roses Are Free" people went straight crazy in thinking Trey was up onstage, I mean they were convinced! ("Don't you hear that guitar tone, bro, its gotta be him!) People just went from mid-afternoon mellow to possessed in a matter of seconds. "Roses" was taken way out, and way dreamy, yet it became a Ween song finally for everybody who had probably only heard the Phish versions. The funny part is, Ween played it in the style and tone that the fearsome foursome adopted to the tune. So maybe that is why people were so sure it was Trey shredding it up onstage. Anyway, as Ween dipped into the geriatric-flavored "Zoloft," I fled the scene to dip into a press conference that dreams are made of, finally utilizing my press credential to their fullest potential.
I arrived at the press tent just in time to hear the head whoever in charge announce "All Trey questions first, since he has obligations, then Phil and Bobby, a quick minute of photos and then no cameras, and I mean it!" And before you knew it, the three amigos appeared, Phil and Trey in shades even though the tent completely blocked out the sun (it was still hot as shit up in there!). We got a few minutes to take pictures, which kinda put the guys off. They seemed uncomfortable but were laughing, holding up peace signs and bunny ears. Trey was all over the place, fidgeting, laughing, and then trying to get introspective on a dime. Phil was very jovial and warm, and Bobby played man-philosopher (with graying beard!) to Trey's rock star and Phil's unassuming uncle vibe. The problem was there were few really poignant questions asked of any of the three. Some however were pretty good and elicited some funny and noggin scratching answers.
When one journalist pointed out how Trey/Phish were influenced by the Dead and then in turn Phish influenced Phil, Trey was asked if he was in tune with any of the newer, arguably Phish-influenced bands like Disco Biscuits or moe. Trey sorta dodged the question of whether or not he listened to them but did say he appreciated their contributions to the scene. He then made a statement along the lines of "Stanton Moore (Galactic) is the sickest drummer now walking the planet." Bobby sorta philosophized about DJs and jambands and Phil said he is way into Chemical Brothers and Orbital. (Imagine a Phil/Orbital collaboration!) Phil also pointed out he had been getting into electronica since the "Seastones" Phil and Ned Lagin stuff. T
rey commented on how the festival is really cool, and how it's blossomed in vision since Clifford Ball and later Big Cypress, and spoke of how old school Phish-fest organizers and businessmen had a hand in Bonnaroo. One guy got up and took the opportunity to tell Phil and Bobby they were his uncles, and had been so for about ten years. That was really funny but the time could have been spent with less admiring and maybe some more controversial or pressing questions. Oh yeah, Trey was asked about something with Phish and remarked "If the band gets back together." Phil and Bobby assured us Terrapin Station would go off, and told us rehearsals were coming together really well. Altogether, the press conference was about the coolest media event I had ever attended.
A brief yet much needed fifteen minute downpour really helped the cause, cooling us down and breathing some life into the dusty, tired, worn down yet still music hungry Bonnaroo faithful.
Phil, Bobby and the rest of the Crusader Rabbit Stealth Band (plus one) wandered onstage and began tuning in typical GD fashion. There was probably more people at this stage for this performance than had been for any other act all weekend long (there would be even more for Trey), and the toll of the weekend seemed to be setting in as many people sat and waited for our scene's forefathers to begin playing. A wonderful choice for an opener, "Liberty" is a feel good anthem from the last songwriting period of the Dead's career and arguably the best composition from that era ("So Many Roads" may eclipse it). Sung by both keyboardist Rob Barraco and Philsy, the song takes on new resonance with the circumstances surrounding 9/11 and the Middle East, yet wasn't penned in a hasty and trite manner soon after 9/11 like some other tribute songs.
"Liberty" was awash in Americana and all things Grateful Dead, and the kinship that was somewhat absent during the December Beacon NY benefit show returned for old cronies Phil and Bobby.They wasted no time in lacing us with "Help On The Way>Slipknot>Franklin's Tower," my favorite triple threat combo in the expansive GD repertoire. "Help," sung by Barraco, featured hypnotic guitar leads echoing the fat man by rising son Jimmy Herring, and some wistful organ and Rhodes from Jeff Chimenti (Ratdog, Frog Brigade), who will appear with the Other Ones as well in August. "Slipknot" was anchored by pummeling double-bass drum work from the powerful, crazy baldhead John Molo, who was thunderous underneath Phil all day long. At times, the heavy vibe was so intense one very high compadre remarked that he very well may be listening to the BAND 'Slipknot,' instead of the song. "Franklin's" was just straight bliss, with the tired masses rising to their feet and twirling in a spirit that had not yet been awakened at Bonnaroo. I wait all year long just to hear "Franklin's" outside and in a crowd of diverse Deadheads, and I reveled in the ten minute forgotten space.
A short and sweet Van Gogh inspired, Robert Hunter-penned newbie "Night of A Thousand Stars" lead to a magical "Jack Straw" where Bobby was vintage Bobby (albeit with a beard) hustling, head jerking and conducting, all the while playing to the ladies. Again, Barraco, Chimenti, and Herring displayed a remarkable kinship interweaving melodies amidst the booming Molo and Lesh backdrop. A harmonious "Cryptical Envelopment" gave way to an almost anti-climactic "Other One" chock full of Herring beauty but somewhat lost in the weird mix. Maybe it was where I was standing, but I wasn't completely blown away by the sheer brute force of "Other One" like I normally am. Maybe "Franklin's" stole the "Other One"'s thunder, or something. A pass the jam "I Know You Rider" was a classic set ender, with each and every musician getting their time to shine, including Bobby Weir's McCoy Tyner-type guitar chordal fractures. We danced and we sang "Rider" as the Crusader Rabbit Stealth Band fed off the adulation and positive energy the crowd provided.
A truly communal musical experience for the psychedelic philosopher cowboy and the jolly old uncle. Two obvious encore tunes, first the Bobby is a ladies dream American Beauty chestnut "Sugar Magnolia," which featured a rollicking "Sunshine Daydream" jam complete with Chimenti/Barraco keyboards complimenting an incredibly heartfelt Herring guitar outro solo. Last song for the Stealth boys was the most obvious "Tennessee Jed," which had everybody swinging and singing in joyous unison. Once again, it was the 'other ones' Barraco, Herring, and Chimenti, that really brought the juice to the song. They are some of the best and most vibrant role players in the game, and true assets to the GD family. Everybody suspected a Trey appearance, but Bobby and Phil uniting for this massive crowd and event was more than a treat, especially for the many who had not seen them together since Further 97 or even since the great Garcia's passing.
While most people were getting down with Phil a smaller "SuperJam" was heating up with Stanton Moore holding down the fort on the skins. A String Cheese trio of Nershi (guitar), Kang (mandolin), and Kyle (keys), were present with Bela, Robert Randolph and Luther Dickenson on acoustic as well. On the low end Edgar Meyer was on the upright bass as well as some rotating electric bass work from a couple of fellows I wasn't familiar with. Throughout the fun filled music venture Logic graced us with his tweakin' and nob turning, while Stanton Moore amazed the intimate crowd. The only familiar song I heard was SCI's "River Trance," but the ensemble dipped in and out of vaguely audible teases before venturing outbound. It was a real treat to see Moore perform in this setting, banging to newgrass styles, inflecting his NOLA juice.
Bonnaroo SuperJam Audio
It was a DJ named Z-Trip who really got heads bouncing, turning and tuning in with an energetic, eclectic and unique set just before Trey Anastasio took the stage. His enthusiastic stage banter and killer sound scapes took the already stoked festival audience to another place they had yet to travel to this weekend. He began his set with Pink Floyd's down right scary vocal sample from "Comfortably Numb," "Is There Anybody Out There" before throwing the sample "This is a journey into sound" as he went on to juggle beats, and drop old school hip-hop jams over classic rock beats. His inventive style and turntable prowess is at the top of the turntable ladder. Z-Trip set highlights included Jay-Z's "I Just Wanna Love Ya," Jane's Addiction "Been Caught Stealing," "Need You Tonite" by INXS, "So Addictive" by Truth Hurts with Rakim, Mary J. Blige's "Family Affair" over "Comfortably Numb" by Pink Floyd, Pharcyde's "Passin' Me By" over AC/DC's "Back in Black," and the most downright sinister pairing of all, Outkasts frenetic "Bombs Over Baghdad" over the classic Tool moody brooding "Sober." Seriously ill shit. No wonder he warmed up for "his man Trey."
And then there was Trey Anastasio, King of the Mountain, modern day guitar warrior, "Wilson," call him what you will, he is the man. Enough cannot be said about his band and his energy, this is the real deal, his new vision finally realized. Opening with a fast paced "Push on Til the Day," T-Bone took no prisoners with a relentless assault of Hendrix style fret wizardry and enthused stage antics. The horns bustling, Cyro Baptista running amok from stage front to his percussion rig, the sweet crooning from Jennifer Hartswick on the disgustingly funky and very Galactic-like "Money Love and Change" drove drummer Russ Lawton and bassist Tony Markelis to hold down a bottom end for the ages all night long. At this point, one song bled into another with sheer promise and renewal of energies a long and hypnotic afro beat orgy enveloped "Mozambique." I distinctly remember the vicious organic afro-electronica of "Sand" really getting the now-listless crowd up and moving, with annihilating feedback and drenched six string mastery from the mad Italian from Jersey.
In a moment that echoed the truly transcendental Phish glories of yesteryear, he moved from a twenty minute plus "Sand" marathon into the most touching, intricate, beautiful ballad the man has ever written, "Drifting." As he and Hartswick emotionally belted out "We've got the moon and the stars above," magic filled the air with unmistakable fervor. People danced, cried, swayed, hugged, and reveled in the Bonnaroo Trey experience. He finally won over the masses, in glorious and victorious fashion. The tranquility of "Drifting" braced us for the screaming machine gun shredding of "Last Tube" which was so long and so entrancing I lost complete track of time, space, and surroundings, the marks of a monumental musical experience.
Dave Grippo and Peter Apfelbaum really broke through on this borderline trance/afrobeat/Hendrix/vintage Trey number. Grippo's stellar Alto work pushed Peter to really step up his game, and the ensuing Trey/Dave/Peter exchanges were otherworldly. This "Last Tube" was by far and away the greatest and most enigmatic of any version I have ever seen Trey bust out. He asked for a few minutes, or short break, and retired to the backstage for set break as we scratched our heads and gazed above in bewilderment.
After a typically long Trey set break after an amazingly long first set (close to 2 hours) the band took the stage once again and Trey wasted no time showing that he came prepared to play. He gave a three minute guitar intro and then broke into what is becoming one the bands best songs, "Night Speaks to a Woman." Live, this song is completely different from the album. It entails hard rocking rifts from Trey and has been known to go over thirty minutes on multiple occasions. Tonight's would be no different reaching over forty-minutes!
You may ask yourself, "At over forty minutes, does this not become repetitive and tiresome?" The answer is an outstanding no. The tempo does slow down at times when Trey and members of the horn section play copycat, repeating what each other is playing. But that is one of the most fascinating parts of this song and never entails a dull moment. This song winded its way through shifts and changes and allowed each member of the band multiple times to take the forefront. Towards the end of the song, the horns became more prevalent and began to slow their speed. They brought the song to a halt with eerie laughing going on in the background. It was a rather odd way to end this otherwise rocking song, but it segued nicely into what was next.
The horns kicked back up again for the beautiful "At the Gazebo." The crowd didn't mind a bit as it gave them a chance to rest and take in the majestic full moon soaring over the peaceful southern sky. This is a song many people don't care to hear, but it is a highly complex song involving intricate playing from most members of the band. And at three and a half minutes, it was by far the shortest song of the evening.
The band members readjusted their tunings and slammed their way into the highly intense and rewarding "Mr. Completely." This is the hardest hitting song the band plays and Trey laid down some of his fastest and heaviest chords of the evening. Baptista was once again a driving force in this song, adding a wide array of percussion instruments into the mix. Then at about nine minutes into the song it happened. Trey started playing "Stash." He played about a minute's worth of it. Was this a hint of things to come? The song never lost its highly intense beat and about fifteen minutes into it, Trey started creating some loops and feedback. What to follow was one of the most rewarding audience participation experiences I have ever witnessed. Trey kept his loops going and walked over to the horns section. He would conduct them with a hand signal and they would follow his lead. As his arm went up, so did the music. As it went down, so did the music.
He played with this for a couple of minutes, turning to the crowd and lifting an arm and leg and the music would follow. Then he decided to experiment. He gave his signals to the band and they followed his lead. Then he turned to the crowd and gave them the same signals. They answered back with resulting 'ahs.' This continued for a couple of minutes and I have never seen Trey so ecstatic. He was in pure awe. The song came to a close and everyone had a smile from ear to ear. What a way to end a three song, hour and ten minute set.
The crowd was insane hoping that the powers of the full moon would bring "the boys" back together for this historic event. But Trey took the stage alone and shattered all hopes of a reunion. He would not disappoint though. He rambled on for about five minutes thanking everyone for the opportunity and how great a scene we have going here. He wasn't his usual easy talking self, but stumbled over words and kept repeating himself. As was eluded to in the beginning of this extremely long article, Trey was so overwhelmed and overjoyed he spoke in a manner that was perhaps unprecedented for this musical icon. Eventually he tuned his acoustic and at the strum of his first chords, the crowd spewed with excitement and answered back, "Wilson." A couple of times Trey added "I am" before the crowds returned "Wilson." Trey worked his way through the classic to the fans delight. No Phish reunion, but one of their songs sung acoustic by Trey would be plenty to appease most of the crowd.
As Trey was finishing "Wilson," he immediately segued into another Phish standard, "Bathtub Gin." Another roar erupted from the crowd and gave the masses one more chance to participate in the evenings show. Trey was aglow with excitement and so was the crowd. He worked his way through lyrics and reached the point the crowd was waiting for. If you haven't seen him do "Bathtub" acoustic, you're missing out. The humming part, usually reserved for the band, is given to the crowd as Trey sits there silently in awe. There's nothing like 70,000+ fans humming and whistling in unison. It sends tingles down your spine. As the crowd was still humming, the rest of the band joined Trey for one last song.
"Alive Again" rang through the concert venue to the delight of worn out fans. The song traversed its usual course that it had done throughout the tour. Trey took his solos, Baptista shined on the percussion, and the horn section wailed away on their parts. Trey thus brought the song, his tour, and the Bonnaroo festival to a conclusion. There could have been no better way to end this than a show over three and a half hours long. I haven't seen Trey this enthused at a show in a long time. Trey, the band and the crowd were worn out, but excited and proud of what they had just been a part of.
Bonnaroo wasn't just another festival, not just another party. It brought together the most wide ranging group of musicians potentially ever! There has never been an opportunity to see world renowned DJ Amon Tobin spin before southern rock stars Widespread Panic, or to see Claypool with Buckethead on your way to Jurassic 5, or how about having Z-Trip sandwiched between Phil and Trey, this truly was an epic event.
Perhaps more important than the insanely amazing music of the weekend, was the crowd that gathered, and the "city of dreams" that flourished. If I may restate: this was not just another concert. The music world at large sat and watched, it wasn't just a bunch of kids in the woods having fun any more, this was a major musical/media event. Many on the outside watched waiting for fire and hell, in much the same way they stare at NASCAR, but it never came, peace reigned supreme. With over 70,000 in attendance, there's no telling what could have happen, but it was simply a beautiful party. By behaving like the kind considerate, somewhat sketchy, but always fun loving crowd we are, we proved that it can be done. You can throw a huge party and bring people from all walks of life and all areas of the map together and have a good time. Bonnaroo will most likely be used as a measuring stick for years to come, it will serve as the model for how to pull off an event of this scale. Promoters and investors will do it again, musicians will come, fans will flock, and we will all rejoice "alive again."
In a sense Bonnaroo not only validates this music scene, but it validates our lifestyle. The belief that good is stronger than evil. That positive energy and a smiling face can thwart sleep deprivation and extreme heat. It proves that life is better on this side of the track, that we can sacrifice money for love and live on music and friends.
This piece of work was compiled from several JamBase contributors:
B. Getz
Bradley Latham
Wills Glasspiegel
Rich Cole
The Kayceman