Bear Creek Music & Arts Festival 2009 :: [B.Getz on JamBase]
Words by: B. Getz | cover photo: Myke Scaffidi
Bear Creek Music & Arts Festival :: 11.13.09 – 11.15.09 :: Spirit of the Suwannee Music Park :: Live Oak, FL
The Spirit of The Suwannee Music Park is a celebrated venue amongst Southern festivalgoers' and what transpired at the Bear Creek Music Festival 2009 was the funkiest assemblage of artists and audience I can remember in some time – a sonic gumbo of epic proportions. The festival channels the spirit of New Orleans' Jazz and Heritage Festival mixed with the High Sierra Music Fest, both of which influenced Bear Creek curators Paul Levine and Lyle Williams to develop this fertile scene for all things funk, swamp boogie, jazz' and rock. The distinctly Southern Gothic hinterland, complete with boggy lakes and miles of towering pine and oak trees swathed in a fuzzy moss, provides a certifiably invigorating atmosphere. With magical surroundings filled with crazy costumed freaks and dirty, bass-laden rhythms, the place was really happening.If Levine's vision set an agenda for Bear Creek at its inception three years ago, then the senseless 2008 murder of native Tallahassee funkateer Rachel Morningstar Hoffman gave the gathering its sense of purpose and its Ner Tamid (Eternal Light). Rachel's fuzzy, purple top hat is omnipresent on the festival site, and in its collective heart. This great Floridian bash serves as a commemoration of her special life. These disparate energies, juxtaposed, have birthed a jamboree cut from righteous cloth.
Levine's motivated staff assembled another phenomenal collection of musicians for 2009. The festival has always been a carnival of funk, but this year Bear Creek upped the ante. The lineup was littered with a who's who of the NOLA/NYC/Bay Area funk scenes, with an assortment of live electronic artists, roots music favorites, and whoever else seemed to fit on the bill.The Bear Creek Music Festival 2009 began Thursday night, with a small lineup scheduled to play indoors as campers got settled and the festival underway.
The Pnuma PA set was delivered by bassist/production virtuoso Alex B and Pnuma Triodrummer Lane Shaw, and was a very strong start. Manipulating sounds and beats behind an array of synths, laptops, gadgets, and wielding a bass guitar, Alex B worked the crowd over with a mixture of glitchy tech-step, psilocybin G-funk, and stutter-step beat-science. The duo traversed terrains sensual and sadistic. The highlight for this writer was a crippling remix of the Clipse/Pharrell anthem "Mr. Me Too.
South Florida jammers The Heavy Pets have been a band on steep ascent, and Bear Creek showcased how far the quintet has come in a short couple of years. Thursday's set at the Music Hall was bursting with force. Guitarists/vocalists Jeff Lloyd and Mike Genius left strong impressions, early and often, and Jim Wuest's velvety keyboard flourishes complemented the axe-work. A lengthy, intricate "So Thank You Music" opened new eyes and ears to THP, the reggae-tinged opus bouncing off the hall's walls, Lloyd's bug-eyed vocal plump and convincing. The intense, open-ended jam out of "Sleep" knocked a few people over, as in literally off their feet.
A prodigious world-beat collective of players hailing from Asheville, NC, Toubab Krewe blessed early birds with a tremendous performance to close the Music Hall Thursday night. With their huge, swirling psychedelia and intercontinental instrumentation, the rapidly growing crowd was whipped into a whirling dervish during highlight "The Tacomba."
Friday, 11.13
Celebrating their Billboard #1 Roots Album, Bonerama dropped a boisterous set at the big stage, mid-afternoon on Friday. Opening with "21st Century Schizoid Man," then bringing out Fred Wesley on "Shake Your Regulator," the lively ensemble even debuted a new tune, "Funky Brown Shorts." The Meters medley was definitely a favorite, and they closed with a Pigpen-styled "Lovelite" with Skerik and Mike Dillonin full effect. This set was obviously led by the stellar brass section, but was also filled with heavy B3 organ. The funky drums were courtesy of Eric Bolivar, who is also touring with another Bear Creek secret, Pimps of Joytime.
This is where the Royal Family throwdown began. Though this crew would assemble variably throughout the weekend, Chapter 2 announced that the Northeast was most definitely in the building. Led by Eric Krasno, joined by Adam Deitch, Nigel Hall, and bassist Louis Cato, Chapter 2 mixed Meters-style funk, Cosmic Slop black rock, and thick jazz grooves for over an hour.
"Be Alright" saw Kraz get really loose, more demonstrative onstage than I ever remember him being. After a few tunes, the core four was joined by Fred Wesley, Kofi Burbridge, Skerik, and The Shady Horns. Throughout their late afternoon set, Chapter 2 delivered monster versions of classics. A thoroughly reworked "Manic Depression" (which appears on Kraz's new solo CD) absolutely CRUSHED, and displayed even further colors from Kraz, Hall and Deitch. The Beatles' "Get Back" sounded like late '60s Blue Note rare groove on roids. Nigel Hall's absurd Moog/synth game was on full display throughout Chapter 2's hour of chaos. The set ended with a choice surprise Tears for Fears cover, "Everybody Wants to Rule the World," which teased Kanye's "All Falls Down" throughout.
Skerik and Mike Dillon, both artists-at-large for the weekend, dropped a duo set mid-afternoon Friday. The Frog Brigade freaks mixed drum n' bass, D.C.-go-go, jazz, punk, and metal. Skerik augmented Dillon's maniacal rhythms with dubbed out horn chants that recalled Lee Perry's Arkology. This set was a precursor of things to come.Other artists-at-large for the weekend included The Shady Horns (Ryan Zoidis and Sam Kininger), and Kofi Burbridge (flute, keys, percussion, and whatever else he saw laying around the stage). These players could be found sitting in with various performers throughout the weekend, making for a NOLA-esque vibe all weekend.
Dubconscious' Friday set in the circus tent was unfortunately marred by sound issues and tensions within the band, however, they still impressed many in attendance. Word traveled throughout the festival that their Sunday set would be their final show.
Toubab Krewe picked up where they left off Thursday, wowing everyone with melodies derived from various cultural traditions. Toubab introduced many to their diverse instrumentation, which incorporated kora (a 21-string harp-lute), kamelengoni (a 12-string harp-lute), and soku (a Malian horsehair fiddle), all juxtaposed against two electric guitars, electric bass guitar, trap drum set, and African percussion. This made for two thoroughly enjoyable sets from a band on the rise.
Telepath arrived in Live Oak by way of Philadelphia via Asheville, and though the trio were dressed for a night out in Tel Aviv, their music was ideal for Bear Creek. Initially skeptical, the big block rocking beats and coalition of electronica and arena rock sold this writer early on their late afternoon set. Triggering samples of Arabic vocal chants, tranquil flute loops, and Afrobeat horn stabs, Telepath's execution and confidence was on point.Curt Heiny's rotund bass lines strutted alongside Michael Christie's alluring synth loops, all unleashed over Mike B's electro-tribal undercurrent. Telepath left the stage to a roar from the Purple Hat Tent massive.
Greenville, SC trio The Malah, three time Bear Creek alum, delivered their spacey mid-tempo electronica to rabid ravers twice this weekend. A psychedelic crystallization of youth and technology, this trio expanded on last year's campsite sonic horizons, channeling the likes of Massive Attack and Orbital while developing their own sound to fantastic response. Both sets this year garnered rave reviews.
New Orleans lady killer Trombone Shorty brought his razor-sharp band Orleans Avenue to the Uncle Charlie Stage, delivering a high energy gig heavy on brass with a vast bottom end. Shorty and Co. mixed today's pop music trends with classic R&B themes, all the while keeping things NOLA to the core. Shorty fancies himself a sex symbol, overtly playing to the ladies, and this day was no different. He played various instruments besides trombone and bounced around the stage with vigor. Aggressive funk begat sultry crooning all steeped in the sound of a Second Line running down the street. Troy Andrews piloted his jubilant troupe with a brashness that was infections.
In the circus tent, Philadelphia's Lotus bestowed a mind blowing set of organic drum & bass, live breakbeat, and dark, distorted jamming. Often the bass took a backseat to the music's melodic enterprises. Jazz poked its head in a few places, particularly when Lotus slowed the tempos. There was a distinct jamming element throughout their set, and it felt as if the band at times was trying to service different audiences simultaneously, which occasionally bogged things down. Mike Greenfield (formerly of The Ally), more than ably filled in on drums, rolling away with reckless abandon, bringing that Philly jump-up. Jesse and Luke Miller on bass and guitar, respectively, unleashed torrid assaults. The Millers built tension/release in an economic fashion. Luke also employed emotive guitar solos, flaunting disparate styles like flamenco and shred-metal. Percussionist Chuck Morris navigated this tightrope at a feverish pace. The collective Lotus sound was extremely dynamic, utilizing complex layering, underneath accessible melodies. Highlights included "Suitcases and Sandwiches" (with the studio intro) and the closing "Hammerstrike" and "Spiritualize."
Karl Denson's Tiny Universe's first appearance at BC09 was Friday night at the Big IV Stage, and the entire set included guest percussionist Mike Dillon, who toured with KDTU for over two years. The band ran through a strong set, mixing older rarities like "Make it a Cosmopolitan" with newer material from the recently released Brother's Keeper. Denson welcomed Greyboy Allstars bandmate Robert Walter on organ for a scorching "The Answer," and local guitar prodigy Matt Grondin came up for the Afrobeat inspired "Freedom." A rearrangement of classic KDTU track "Fallin'" was unveiled to mixed results. One of the more robust new tunes was the reggae-tinged "Mighty Rebel," with its lover's rock tempo and Dean Fraser style horns. KDTU teased a taste of the funkiness to come with a stock cover of the immortal Jackson 5 track "Dancing Machine."
One of the more low-profile performances of the weekend was the Friday night set from 3rd Stone, a Gainesville-area reggae/funk/rock group. The young phenoms, joined by Fred Wesley and keyboardist Bernie Worrell, delivered a choice cover of Worrell-era Talking Heads tune "Crosseyed and Painless."
The producer/live drummer electro duo Break Science, with Adam Deitch on drums and Borahm Lee on laptop and keys, produced a performance designed as a live hip hop mix tape. Deitch and Lee plays the roles of producer, programmer, and composer, unveiling sonic layers that run circles around many of the other electronic artists that permeate the scene. Break Science effortlessly navigated neck-snapping boom-bap, glitch, broken-beat, dub, drum & bass and hip hop. Deitch seized the moment and, with Lee in tow, put on a colossal display of sonic eruption. Lee mixed and matched samples and synths wedded to Deitch's wicked breaks. No doubt the highlight of this set, "Cycletron/Harmonic" was a dark, sinister break that featured the late, great Notorious B.I.G. rhyming over superb production from Lee and filthy Deitch.
Speaking of Deitch, one of the most anticipated sets of the weekend was Friday's Lettuce late set. Needless to say, my memory is a little fuzzy on this one, and my chicken scratch notes weren't much help. Dropping standout tracks from last year's impressive Rage, Lettuce may have been down a couple members (Adam Smirnoff is on tour with Lady Gaga, Sam Kininger missed his flight and arrived Saturday, and E.D. Coomes was M.I.A.) but the Beantown/NYC clan more than made up for it with sit-ins from percussionists Chuck Prada and Mike Dillon, as well as a star-powered turn from superstar Nigel Hall. This man channels the spirit of James Brown like no other performer I have ever witnessed. His jolt of energy and stage presence transforms the band and the room; he is announced with grandeur and takes the stage draped head to toe in all white. When leading the crowd through a Curtis Mayfield medley, the man was a picture of glory. Several more Godfather-of-Soul grooveathons ensued, with Deitch doing his best Big Man Clyde as keyboardist Neal Evans pummeled with vicious left-handed organ-bass, rocking pedals and drawbars like a madman. Louis Cato filled in capably on rhythm guitar, and The Shady Horns stepped up with big ol' JB's horn breaks. The shit was ON! Think a couple thousand freaks wylin' out at BC09's first late night show, everybody onstage with big chips on their shoulders and the chops to match, and consider the Deitch factor. It was basically 75-plus minutes of four-to-the-floor funk n' brass that exploded through the circus tent roof and into the heavens.As the campers descended into the Suwannee woods, parties sprung up all over the campsites.
Jacksonville Beach's dubstep scientists Greenhouse Lounge erected a stage and huge tent deep in the forest and raved to throngs of revelers till nearly 7 a.m. The Heavy Pets' bassist Justin Carney sat in for almost two hours of continual breakbeat insanity. GHL bassist Dave McSweeney and his Greenhouse cohorts would also play a music hall set later in the weekend.
Continue reading for Saturday's coverage of Bear Creek…
Saturday, 11.14
Fashionable folk-rocker Ryan Montbleau got things started Saturday with a breezy set of acoustic driven rock, blue-eyed soul, and bluesy Americana. Poetic and personal, Montbleau delivered sets twice over the weekend, with Saturday's highlighted by originals "Grain of Sand," "75 and Sunny," and an arrangement of The Beatles' "Tomorrow Never Knows."KDTU drummer John Staten unveiled his solo project On The One early Saturday to those who were up and about. The performance featured tracks from their debut record, Love Addiction.
Zach Deputy seemed to be playing somewhere at all times. A regional mainstay, Deputy performed at the Campsite Stage as well as during changeovers in the Purple Hat Tent. Deputy is a huge part of the Bear Creek experience, and his trademark 'hoot' loop could be heard reverberating throughout the woods all weekend. Deputy's falsetto, looped-up tropical flavors, and sharp acoustic guitar patterns earned him even more fans at BC09.
Austin, Texas veteran Papa Mali is always a favorite in the swampy confines of the Suwannee. On this afternoon Mali would be backed by a crack-band of Galactic's Stanton Moore and Robert Mercurio, as well as Fred Wesley, Bernie Worrell, and The Shady Horns. Exploiting these riches, Mali let loose with his countrified, backwoods-blues and a little Cajun-fried Texas tango for the funk n' jammers sprawled across the lawn.
Jacksonville Beach buzz band Saltwater Grass delivered their sun-baked Southern redneck boogie to faithful local devotees and first timers alike. A blend of early Panic and Stevie Ray Vaughn spiced with surfer slack attitude, the boys applied a jazzy sensibility to their Southern rock in the Music Hall.The Heavy Pets returned to the stage on Saturday with a blistering set of aggressive jam-rock and progressive material that clearly shows how far the band has grown from its humble beginnings. Highlights included the infectious opener "Help Me Help You," "Kavorka," and "Holy Holy." The future looks bright for these Broward County young'ins.
Robert Walter's acrobatic handiwork propelled the 20th Congress through diverse original material culled from various 20th Congress and solo/trio efforts. The reemergence of former RW20 percussionist Chuck Prada beefed up their sound and added a healthy dynamic to the West Coast boogaloo. But the player who complemented Walter most was his longtime foil Cheme Gastelum, whose bright saxophonics and cool-is-back vibe were a welcome departure from the intensity found in other sets. RW20 was a perfect afternoon jam.
Steve Kimock Crazy Engine was another refreshing breather from the uncompromising funk and electronica. Kimock's set was perfect for a heavenly autumn afternoon. Ably augmented by Jerry Garcia Band organist Melvin Seals and son John Morgan Kimock, Kimock unveiled an arsenal of guitars with such harmonious tones that Crazy Engine delved into 75 minutes of transcendental bliss. Highlights of the midday set included "A New Africa," an animated "That's What Love Will Make You Do," "Three Days More," and set closer "Crazy Engine," the latter featuring pedal steel guitarist Roosevelt Collier of The Lee Boys.
It was barely approaching dusk when Garage a Trois set about blowing the roof off the Purple Hat Tent, the site of many incredible performances. Now thoroughly comfortable with his role, keyboardist extraordinaire Marco Benevento took the lead early and often. Benevento was operating primarily on Hammond B3 organ, with Rhodes, Wurlitzer, and a laptop amongst his arsenal of weaponry. Drummer Stanton Moore glued things together; the lone cool, calm, and collected band member. Skerik dug deep into his demonic persona, unleashing a myriad of frenetic solos, colors, and echoes, while Mike Dillon went for broke with punked-up percussion and staggering vibraphone runs. The GAT set was comprised primarily of songs from their newest CD, Power Patriot, as well as a couple selections from Marco's solo offerings. New track "Fat Redneck Gangster" could not have been more apropos for an inland Northern Florida audience, and was a riotous display of spastic limbs. Garage a Trois is boldly getting back to the cacophony of their early Tipitina's Uptown days. Moore then bottled up this rambunctious energy and toted it over to the Uncle Charlie Stage for the first of two Galactic sets.
After the Kimock set Roosevelt Collier could be found sitting in with Galactic, along with Mike Dillon on percussion and Robert Walter on organ. The Galactic boys reached back to yesteryear with older favorites "Crazyhorse Mongoose," "Garbage Truck," and "Baker's Dozen." More recent numbers like "Boe Money" displayed the crew's recent development. Corey Henry, (trombonist of Rebirth Brass Band) has been touring with Galactic for over a year; on this day Henry stole the show. He led Second Line chants, comically introduced band members, and covered Rakim's "Paid in Full" verbatim. Henry could be found climbing speakers and stage-diving throughout both of Galactic's sets, as well as battling sax player Ben Ellman every other song. Galactic answered the bell at Bear Creek, squashing any talk about the 'Galactic Prophylactic' falling off in any way.
About this time, things got really hairy in terms what to see versus what to miss. At their first set of the fest, Dumpstaphunk began with "Living in a World Gone Mad" and "Meantime," and got Dirty South down from the jump. During their set, there were seemingly endless sit-ins, most notably Derek Trucks, Kofi Burbridge, The Shady Horns, and Skerik. Nigel Hall got his Mick Jagger on, fittingly, with a primo cover of The Rolling Stones' Some Girls classic "Miss You," perhaps the funkiest song the Stones ever dropped.At this juncture, your humble narrator made what can only be described as an executive decision: I left the Big IV Stage amidst the aforementioned parade of champions. Despite how hot the jam was getting, it was a bit similar to the epic collaborations of Bear Creek '08.
As he left the stage after their PA set Thursday night, Pnuma Trio's Alex B gregariously promised lots of entirely new music for Saturday's Purple Hat Tent set. The proclamation was full of unadulterated enthusiasm, a decision made of sound mind.
"We haven't really played as Pnuma Trio in Florida for quite awhile," Alex B explained, "and recently [with] so much new music, both from me personally, and us as a group, I am really trying to decide what material is right for the band and our newer directions, and what I will use for my project, Lipp Service, or whatever. Even though Bear Creek is primarily a funk festival, I/we felt that the massive/crowd/audience is so cultured and open-minded [that] it was a perfect opportunity to deliver a full taste of what Pnuma has in store for 2010."
The now Boulder-based trio kicked things off with a volcanic "More Samples," and the Pnuma massive was deeply ensconced from jump-street, like one large tribal ritual. Soon "Variations" gave way to "Spain," which in turn led to a brand-new Alex B conception. The band let loose emphatically behind his new creations, and seamlessly oozed into "When I'm Leaving," yet another slice of fresh fruit from the Botwin/Hazelgrove tree. "Off-Balance," from their latest release, Character, manifested a rumbling roller, with Shaw roaming a jungle landscape with joyful recklessness and Alex B's bass lines, triggers, and synthesized juno-rolls rumbling beneath as Ben Hazelgrove's textures wove an electric afghan of sonic color.
With a nod to their roots, Pnuma reached back for the seminal "Bufkins Tank," a number that showcased their formerly jazzy, experimental origins. Mostly, Pnuma Trio's set was brimming over with sampler-processed vocals, deep dub bass lines, oscillating elements of broken beat and blip-hop; in short, a synchronicity of ethereal soundscapes that achieved particular resonance. Far and away, the single most impressive electronic music performance of the weekend.
Lettuce also delivered a bombastic Saturday evening set at the Big IV Stage, this time calling out an army of guests to sit-in and wow an already impressed Bear Creek massive. Unlike their Friday show, Dumpsta's Ian Neville joined Lettuce on guitar for the entire set, but unfortunately bassist E.D. "Jesus" Coomes was conspicuously absent again. Neal Evans handled bass duties on organ with his vicious left hand. Opening with the colossal trifecta of Rage-era tracks "Salute," "Last Suppit," and "Sam Huff's Flying Ragin' Machine," Lettuce came out the gate swingin' like late '80s Mike Tyson. Adam Deitch's drumming during this particular opening stretch was, to put it plainly, absolutely disgusting. The kid is just inhuman at times; he made the sea of heads bob like emergency brakes. A touching Dilla tribute, "Mr. Yancey," featured great horn layering, fat-ass synth-bass and organ from Evans, and a critical beatdown from Deitch on the kit.
To close the performance, Lettuce welcomed friends Kofi Burbridge and Derek Trucks onstage to reprise last year's epic collaboration, with the now-swollen band playing "Make My Way Back Home," which was highlighted by a steamy axe-duel between Kraz and Trucks. At one point, I counted twelve players onstage, including those mentioned already plus John Staten and Rashawn Ross; apparently nobody wanted to miss out on the rage! Nearly everyone knew what was on deck when Nigel Hall was ushered onstage to scores of screams, hoots, and hollers. Again freshly dipped in white on white, Hall proceeded to croon the Curtis Mayfield tandem "We're a Winner" > "Move on Up," with Trucks' slide wailing soulfully away, his sweet tones mellifluous and joyful.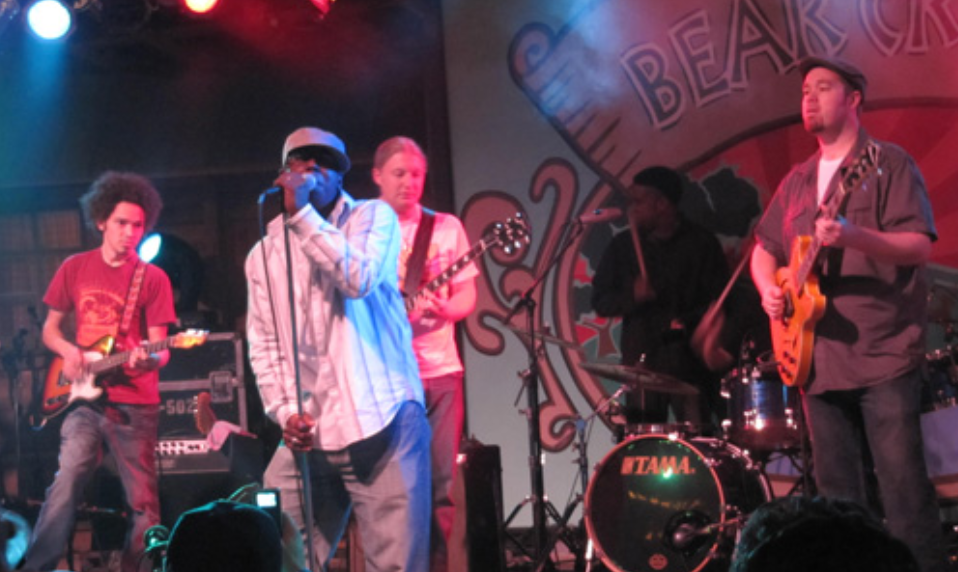 Though I had anticipated becoming reacquainted with The Slip, their set time was difficult to catch due to the host of other performers who were simultaneously onstage elsewhere. This Jazz Fest-esque conundrum unfortunately cost me nearly all of The Slip's performance on Saturday. Mixing songs from their two most recent studio efforts, Eisenhower (2006) and Angels Come on Time (2002), The Slip's reemergence was long overdue, but unfortunately the slotting made it difficult to reconnect with the avant-indie trio.
The New Mastersounds final U.S. dates of 2009 landed the Brits in Live Oak for two shows, and they continued to impress Americans with their clean, pure, and faithful rare-grooves. From the opening number, "Coming Up Roses," the band was firing on all cylinders with their vintage Blue Note sound. With a style that would make Rudy Van Gelder proud, the Mastersounds broke it down to basics with a simplistic approach to improvisational music seldom chosen today. Guitarist Eddie Roberts displayed a Grant Green-esque virtuoso as he and B3 bully Joe Tatton torched the Uncle Charlie Stage. Trombonist Fred Wesley hopped up for a tune, and later Skerik displayed his jazz roots and joined in on the fun with sparkling sax solos. The road-weathered lads brought it all back home with the walloping caboose of "One Note Brown, Parts I and II." Festivalgoers could be overheard all weekend singing the praises of these prodigal U.K. sons.
Initially billed as a Saturday night mystery set, Soulive took the tent stage just after 11 p.m. Drummer Alan Evans had flown in from New York just before showtime. The Brothers Evans and Kraz donned their trademark dark suits, with the guitarist ditching his trademark Kangol for a fedora, and assumed their positions. A throbbing "Steppin" opened the festivities. Immediately, Neal Evans' left hand commandeered the ship. Seemingly awoken from their lengthy slumber, the trio tore through classics "Uncle Junior" and "So Live," vintage Soulive tracks recalling their Velour period. To say the band had not sounded this inspired, loose, and downright nasty in six or seven years would not be an exaggeration.
The Shady Horns soon got involved – Sam and Zwad toured with the 2002 Soulive Revue – and the big horn leads atop an enthralling "El Ron" shifted things into another gear entirely. The Evans brothers stomped and strutted along, as Kraz ripped sweet hollow-body leads. A neck-snapper break propelled the gluttonous outro jam that saw Kininger, Zoidis, and Kofi Burbridge get busy as the grandiose climax closed "El Ron" with authority. The superstar Mr. Nigel Hall was again introduced to much fanfare. He took the stage with swagger and owned that shit immediately. Soon, Hall had the entire tent eating out of the palm of his hand with his incredibly soulful voice and powerful stage presence. A screaming "Too Much," the Hall/Soulive collabo, dripped '68 JB's. When the horns came in on the one with razor sharp precision the funk was simply too much to stand! What followed was a NOLA-meets-go-go cover of the ageless MAZE classic "Joy & Pain" (yep, the EZ-Rock/Rob Base sample), which pushed many over the edge. For a moment there I was transported to the Congo Square Stage with Frankie Beverly & Co. sweating in the Crescent City heat.Hall then cozied up to the mic stand like the Godfather himself, half-open stance, one knee quivering along with the hi-hat. With a gangsta lean, trademark James Brown gesticulations, spastic squeals, Hall's Godfatherisms had military precision. This was the Dark Star Orchestra of a James Brown experience. "Licking Stick" > "There Was A Time" > "Goodfoot" > "I Feel Alright" was an eight-plus minute relentless throwdown. Hall was even calling out the hits, the stops, and signals with little more than a shrug or a twitch. It's safe to say that after Reggie Watts and later Toussaint, Soulive has finally found a frontman.
Nigel Hall, the Shady Horns, Kofi, and Dubconscious trombonist John Lloyd relinquished the stage back to the trio for a triple encore. And what an encore it would be. First it was more Beatles with a rearranged "Eleanor Rigby" done jazzy drum and bass, breakbeat style with clean, emotional licks from Kraz. That banger segued directly into another timeless Fab Four cover, a crunchy, distortion-laden, Band of Gypsys styled "She's So Heavy (I Want You)," which saw the same aggressiveness Kraz brought to "Manic Depression" a day earlier. The set could have ended right there, but the trio graciously invited Karl Denson onstage for a tenor sax workout, another harbinger for the funk still to come. At this moment I caught a glimpse of fest curator Paul Levine in full Bill Graham mode, side stage, viewing the carnival he had so masterfully created with an enormous grin.
Though their Saturday night time slot left a bit to be desired, the Benevento/Russo Duo made the most of their appearance at Bear Creek. The North Jersey bred wrecking crew laid down extensive, mind-bending arrangements of tracks from their vast catalog. Cacophonous compositions like the seminal "Becky" saw drummer Joe Russo get busy on his wooden percussion boxes near his trap set. Marco Benevento was a mad scientist, spinning between a Hammond B4 plug-in, Fender Rhodes, and a laptop containing samples of many toys he has accumulated through the past few years. When "The Three Question Marks" segued perfectly into "Impact," The Duo shattered any sense of categorization that one may be tempted to apply to their art.
Next, the long awaited return of the late night funk champ and his posse was upon us. After some nagging sound issues (one of few complaints for the entire weekend; it seemed sound issues dogged every third band in the tent), KDTU took the late night stage and ran thru a stout boogaloo that served as de facto soundcheck and allowed the crowd to prepare for the forthcoming onslaught. Suddenly, the lights went out and familiar synth chords unveiled "Thriller." The vast, crowded, and dank circus tent grew dark and the costume-clad freaks got dirty. "Thriller's" lengthy outro-jam was a raucous hoedown, as Chris Stillwell, Staten, Brian Jordan, and keyboardist David Veith laid down the Quincy Jones base while Denson and Chris Littlefield got their King of Pop on, video dance moves and all. The Tiny Universe didn't come up for air, diving headfirst into a gigantic version of Band of Gypsys' "Power of Soul," a longtime set staple that kept the energy level at a fevered pitch. Brian Jordan was wailing away on a green Gibson SG, while Staten channeled his inner Buddy Miles, the hard-hitting skins steering the vessel.
And the haymakers just kept on flying from the stage, first with more Michael Jackson with a spunky, harmonious "Pretty Young Thing (PYT)," which segued flawlessly into the flute-driven title track of Denson's 2002 Blue Note solo album, Dance Lesson #2. An exercise in dexterity, this number shifted the KDTU paradigm back towards jazz; only to have Denson direct the troops back to finish "PYT." A succulent "Cool Is Back" brought back the plump West Coast boogaloo at its finest, with Veith's bubbling B3 washing Stillwell's nimble bass lines. Denson, Littlefield, and Jordan passed the jam around the horn during this unadulterated acid jazz showing.At this juncture, Karl D dropped the bomb. "Groove On" has long been the anchor of this band, a Jazz Fest anthem harking back to halcyon late night shows deep in the Quarter. Subtle accents and communal focus has always been a hallmark of the Tiny Universe, and Staten added a certain flair with electro handclaps during the verses, while Littlefield chimed in falsetto vocal harmonies on each bridge ("even giants…)". Brian Jordan's funky chicken scratch guitar strutted along, paced perfect for skanking. At this moment, as the magical brass head atop the "Groove On" outro-jam soared skyward, the Purple Hat Tent detonated. I mean it exploded! For the very first time since Karl Denson reformed his squadron nearly a year ago, the heavyweight champs of the late night funk finally reached the nasty disposition that had first crowned them kings many Jazz Fest moons ago. The lucky Bear Creek '09 faithful were again treated to something special – the reawakening of a giant.
"Rumpwinder," Denson's saucy update of the Lee Morgan chestnut "The Sidewinder," was rotund rare-groove that served as shelter from the atomic bomb that preceded it. The Dance Lesson #2 track was a playful romp that showcased fine trumpet work from Littlefield, clean hollow-body axe-manship from Jordan, and superb flute from Denson.
KDTU briefly left the stage at quarter till 4 a.m., but swiftly returned to deliver a two song encore. "Shake it Out," also played on Friday, was a slice of adult-contemporary R&B. Disappointing, but short. But we all know that Denson would "neva go out like that, out like a sucka" (EPMD), and he did no such thing at BC09. For a grand finale, KDTU unleashed a colossal rendition of the title track to their new record, Brother's Keeper. "Part I" called to mind Earth, Wind & Fire with stirring vocal harmonies on the chorus wedded to brilliant brass leads for a intoxicating mix. "Brother's Keeper Part II" was chock-full of pimp-slappin' swagger, KDTU's rugged funk calisthenics on torrid display. Jordan's dirty minor chords and Staten's tent-quaking thump directed the chunky groove, and Karl D blessed us with one final majestic throw down. Have mercy!
As he left the stage and headed for the tour van, I grabbed Chris Littlefield and asked him what he thought about the festival and their performance.
"This shit is off the hook yo! Off. The. Hook," said Littlefield.
Continue reading for Sunday's coverage of Bear Creek…
Sunday, 11.15
Avis Berry's Soul Revue was a great Sunday sermon, with gospel tinged blues and soul. Berry is a magnanimous singer, and she was joined by The Shady Horns, Skerik, Burbridge, and Scott Campbell. The highlight was a sharp cover of the Stevie Wonder/Rufus gem "Tell Me Something Good."Dubconscious took the stage to a thunderous ovation Sunday afternoon, and bandleader Adrian Zelski announced that this would be the band's final performance. An original ingredient to the Bear Creek stew, this news was met with tears from many in the audience and backstage. A powerful version of their strongest original, "Serious Times," and a vintage Gladiator's tune were the vehicles Solomon Wright, James Keane, John Lloyd and Zelski rode off into the sunset with. At Bear Creek, and all over the Southeast, Dubconscious will be missed. Namaste.
Like Zach Deputy the day before, Nathan Moore warmed up the circus tent stage between artists all afternoon. Mixing folk tunes and acoustic prowess with measured poetics, Moore made many new fans during his weekend at the 'Wanee. Moore also performed a set with The Slip as the collaborative Surprise Me Mr. Davis, where all four members dressed in black tie garb and delivered potent, emotive indie-folk to those who needed a breather from the funk assault.
Galactic took to the Big IV Stage on a beautiful Sunday afternoon. In between New Orleans Saints chants, Ellman and Henry worked Drew Brees (Saints QB) cheers into and between songs. Stanton Moore was fiery behind the kit, standing on his stool and creating his patented syncopated bop beneath the rumblings of bassist Rob Mercurio and guitarist Tim Raines. The band welcomed Dubconscious trombonist John Lloyd to the stage, and he promptly engaged in a bone-battle with Corey Henry. Later, Raines and Moore could be found slaying Led Zeppelin's "Whole Lotta Love" while keyboardist Rich Vogel channeled the lyrical Robert Plant melodies. The NOLA stalwarts then brought out JJ Grey of Mofro for a spirited rendition of "Sympathy for the Devil." The band closed things out for their weekend with a little help from NOLA royalty Ivan Neville on set closer "Hercules."
Dr. Klaw was the penultimate scheduled performance for Bear Creek 2009, and like last year's appearance, was certainly a highlight of the weekend. The all star collective is an amalgam of NOLA and NYC, including bassist Nick Daniels and Ian Neville of Dumpstaphunk, Adam Deitch, Nigel Hall and Eric Krasno of Lettuce, as well as Kofi Burbridge in for Big Sam. This collaboration usually occurs at Jazz Fest or in NYC, but Paul Levine makes it happen each year right here at Bear Creek. Needless to say, the performance was littered with guests, and had several moments of grandeur, not the least of which was a Daniels led march thru Stevie Wonder's "Higher Ground" so wicked it would have made Flea blush. The Dr. Claw set ended with possibly the finest song performed over the entire weekend. Joined by The Shady Horns, Skerik, John Lloyd, and a few others, Dr. Claw uncorked a colossal take on the Head Hunters' opus "Hang Up Your Hang Ups." No superlative that I could possibly apply would do justice to this malevolent creation. Filthy, sordid drums from Deitch laid an undercurrent for Nigel to get his Herbie on proper, with Nick Daniels nailing the Paul Jackson bass mechanics with vigor. A cadre of turgid, grandiose horns rose to levels previously unattained this weekend. To the eyes and ears of your humble narrator, this very song was the zenith of Bear Creek 2009.

Dumpstaphunk actually had to take the stage after Dr. Claw and close the festival. If there was anybody up for the challenge, it is the Neville family and their cohorts. Ivan, Ian, and the rest of D-Phunk did their best to move things along, and "Turn This Thing Around" was quite enjoyable. JJ Grey emerged for the Sly Stone chestnut "Thank You (Fa Lettin Me Be Mice Elf Agin)" and the scene turned into a family affair. Apparently applying the credo, "If you can't beat 'em, join 'em," D-Phunk invited the remaining members of the Royal Family onstage for one more incestuous romp through James Brown classics, this time finding Nigel belting out a powerful "Soul Power" and a hedonistic "Superbad." Superstardom is on the horizon for Mr. Nigel Hall.As the Festival wound down, Mr. Levine had one last treat in store for those of us who had stuck around until late Sunday night: The annual staff and artists party at the Treehouse, a veritable residence built into the side of a bunch of oak trees, with a stage and large fenced in yard. After Tallahassee Southern rockers Stillwood played a set, Levine arranged for a conglomerate of hangers-on to take the stage for a final jam. Again, Eric Krasno, Adam Deitch, and Nigel Hall took command, grooving out the final stretch alongside the likes of John Lloyd, The Slip's Brad Barr, and a host of others.
While the Sweetwater kegs, good vibes, and tears of joy flowed, I took some time to reflect on both the magic and the madness. The dark Florida night turned icy cold, the wind whipped as campfires crackled and slowly burned to soot, but the Spirit of the Suwannee, Bear Creek, and the inimitable "Purple Hatter" was never as heart-warming as on this autumn Sunday night.
I give the final word to Paul Levine, the man behind what makes this fest so incredibly special.
"The reason Bear Creek works and flows so well is because of our dedicated and experienced staff. This team, which has been together now for a number of years, loves each other and the music scene as a whole, and understands how to work together for a common goal," said Levine. "The Bear Creek family takes pride in doing an exceptional job. No one wants to let each other, the artists, the fans, or the community down. This type of dedication, love, and teamwork translates into a very warm and creative environment."
JamBase | Florida
Go See Live Music!